Sarah Palin Has A Good Primary Night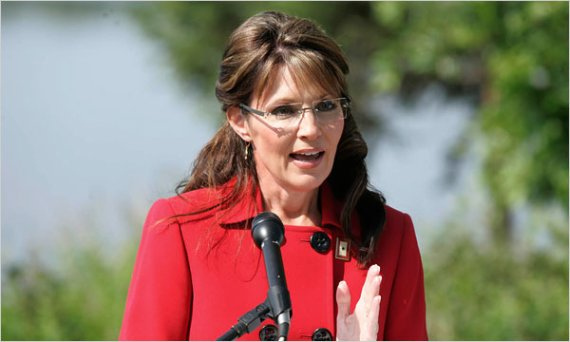 Some are referring to yesterday's election results as a good night for women, but it was also a good night for one specific woman:
Some of Sarah Palin's riskiest endorsements scored major victories Tuesday for the former Alaska governor, showing off her power in Republican primaries.

Palin had four primary endorsements in play – Carly Fiorina, Nikki Haley, Terry Branstad and Cecile Bledsoe – and three won or moved on to a runoff.

Palin served different roles for each candidate – sometimes spotlighting conservatives not well known to the national scene while at others validating conservative credentials to an unsure grassroots and even stepping in to deflect nasty attacks.

Perhaps Palin's most powerful demonstration came in South Carolina, where her endorsement propelled a major swing in the polls for Haley's primary campaign for governor and sustained the state representative through accusations of two separate affairs.

"Her decision to get – and stay – involved in the race here in South Carolina was a huge boon to our campaign, because it caused a lot of South Carolinians to take a second look at a rising in the polls but once-little known state legislator who was fighting to give them back their government," Haley spokesman Tim Pearson said of Palin.

Palin was quick to defend Haley from blogger Will Folks, who claimed to have had an "inappropriate physical relationship" with Haley, writing on her Facebook page that Folks was trying to "make things up."
Some of Palin's endorsements angered her supporters, such as in California:
After announcing her support for Fiorina, the former governor's Facebook page was overrun by negative comments trashing Palin's support of the more moderate candidate with strong establishment ties.

But Palin rebuffed her conservative critics by touting Fiorina's pro-life credentials as well as her 100 percent NRA rating – thus helping build the conservative grassroots narrative the multimillionaire former businesswoman utilized to dispatch both DeVore and former Rep. Tom Campbell.
The most surprising endorsement, though, was her decision to get involved in the Iowa Governor's race:
Palin also surprised some conservatives with her endorsement of Terry Branstad in the Iowa gubernatorial race over Bob Vander Plaats, a top aide to Mike Huckabee's 2008 operation in the state and a grassroots favorite.

As with Fiorina, Palin was able to successfully reassure many of her troubled fans that Branstad was indeed a strong conservative amidst protests on Facebook.
Branstad, who served four terms as Governor from 1983-1999 is immensely popular in Iowa and seems assured of victory in November. As Marc Ambinder notes, Palin's endorsement of the man who will become the most powerful Republican in Iowa makes perfect sense if she's thinking about running in 2012:
There's a simple answer to the question, I think. He's going to be the next governor of Iowa, assuming that there are no stunning surprises next week and Chet Culver, the Democrat, doesn't mount a miraculous election year comeback.

(…)

If you're thinking about running for president, and I think Palin really is thinking about running for president, you don't get on the wrong side of the guy who will probably be governor during the caucuses by endorsing his opponent, no matter how conservative and Tea Partyish Bob Vander Plaats seems to be. By the way: Vander Plaats's biggest proponent: Mike Huckabee, whose campaign he co-chaired in '08.
Whatever her plans, Palin is racking up an impressive list of endorsements of candidates who may arguably consider themselves indebted to her two years from now.In fact, putting her recent endorsements (Rand Paul, Haley, Fiorna, Branstad) up against those of President Obama (Arlen Specter), she seems to be doing a better job of getting candidates elected than the President of the United States.