Sarah Palin Lambastes House GOP, Tells Republicans To "Fight Like Girls"
Sarah Palin was back speaking to a Tea Party crowd yesterday, but it just doesn't seem like matters anymore.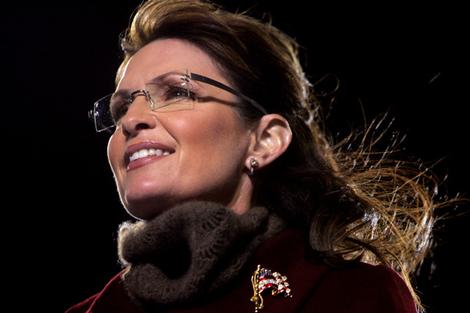 After several months where she seemed to limit her appearances to Fox News programs and closed venues, Sarah Palin was back on the public scene yesterday at a Tea Party rally in Madison, Wisconsin:
Sarah Palin unleashed a withering critique of congressional Republicans Saturday, lambasting them for not cutting spending deeper and faster, and saying the party needs to "fight like a girl."

"We didn't elect you just to rearrange the deck chairs on a sinking Titanic," Palin said during a rally in front of the Wisconsin statehouse in Madison. "What we need from you, GOP, is to fight." Pointing to the national champion University of Wisconsin women's hockey team, Palin said the GOP could learn from its resolve and "needs to learn how to fight like a girl."

Palin took issue with the GOP leadership for promising $100 billion in cuts from the current budget, trimming that pledge to $60 billion and finally settling for $38 billion in the recent budget battle.

"Then after some politics as usual and accounting gimmicks we found out — ya know that $38 billion? We're actually borrowing that $38 billion," Palin said. "That is not courage, that is capitulation."

The former Alaska governor also painted President Barack Obama as unserious about cutting government spending. "Our president isn't leading, he's punting on this debt crisis," Palin said. "Win the future? The only future he wants to win is his reelection."
Palin also commented on the ongoing battles in Wisconsin over Governor Scott Walker's efforts to reform public sector union contracts with the state:
Palin praised Walker for taking what she described as steps to make Wisconsin financially stable. Those steps include a law, now tied up in court, that curbs the collective bargaining power of public employees and spurred a series of demonstrations.

"He's not trying to hurt union members," Palin said of Wisconsin's Republican governor. "Hey, folks, he's trying to save your jobs and your pensions."

Some people attending the rally carried anti-Walker signs. One, which made a reference to Palin leaving the Alaska governor's post, said: "Scott: Pull a Palin – quit."
Not surprisingly, Palin's fans on the right are praising the speech and, if you watched (I've embedded it below if you're interested) I suppose you can say that it was a pretty effective rally the base speech, but I'm beginning to think that Sarah Palin doesn't really matter anymore. She's got her core group of fans, and they're going to be loyal to her to the end, but they represent a substantial minority of Americans as a whole, most of whom have a more unfavorable opinion now than when the 2008 Presidential Election ended. Even if she were to choose to run for President, current polling shows her trailing the leaders for the GOP nomination, and losing badly to President Obama in a head-to-head match-up. As I've noted many times before, nominating Palin would be a kamikaze mission for the GOP, and as Republicans start to look at they're prospects seriously, it seems like they're finally starting to realize that. Palin has, it seems, reached the point where she's not going to recover from the stumbles she made over the past two years, most recently in the wake of the shootings in Tucson. Most importantly, when it comes to outrage, and celebrity, it's pretty clear that Palin is being eclipsed by a head of orange hair from New York City.
As for Palin's comments about the budget deal, it displays a stunning lack of seriousness about policy. Given the political realities involved, his was the right deal to make. Yea, it would've been nice to see deeper spending cuts, the fact that the GOP controls only one-half of one-third of the entities involved in the budget process means that they aren't going to be able to do that. Additionally, it's still not clear to me that the American public is ready for the kind of cuts that are needed to bring our fiscal house in order and return American government to the limitations set forth in Constitution. Finally it's worth noting that we were talking about the final few months of FY2011 here and the opportunity for cuts in funding that hadn't already been spent and/or committed wasn't all that extensive. All Palin was doing was throwing raw meat to the Tea Party, not committing to any serious philosophy of how to act when the majority of the players in government don't support your position.
It's unclear if this speech represents the beginning of a new phase of public appearances for Palin, or whether she'll once against retreat behind the safety of Facebook, Twitter, and Fox News. Whatever happens, though, it's pretty clear from this speech that any chance she's ever going to be anything other than a Tea Party cheerleader is pretty much out the window.