Sarah Palin, One Year Later
One year ago today, Sarah Palin resigned as Governor of Alaska after only 2 1/2 years in office.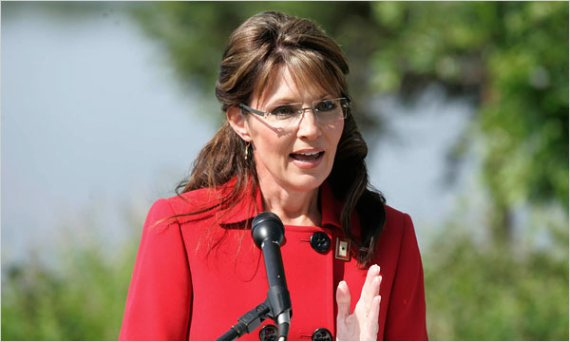 It was a year ago today that Sarah Palin shocked the political world by abruptly quitting her job as Governor after only eighteen months two and a half years in office, and what a year it's been:
(CNN) – One year after announcing she was stepping down as Alaska governor, Sarah Palin remains firmly in the national spotlight, thanks to television appearances, a national book tour, speaking engagements, Facebook and Twitter.

The 2008 GOP vice presidential nominee also remains a force on the campaign trail, endorsing numerous fellow Republicans in the GOP primaries this year. But the big question remains: Does Sen. John McCain's running mate in the last race for the White House want to make her own bid for the top job in next presidential contest?

On July 3, 2009, the governor, who had 18 months left in her first term in office, announced "that I am not seeking re-election."

Palin went on to say that "I have determined it is best to transfer the authority of governor to Lieutenant Governor Parnell."

She stepped down on Sunday July 26. If anyone thought her resignation would be an end to the national fascination surrounding Palin, they would be mistaken.

Palin's visibility and income have skyrocketed, thanks to her best selling book, "Going Rogue," her contract as a contributor on Fox News Channel, her own TV show on TLC, and speeches that are believed to bring in $100,000 a pop. Her keynote address at the first National Tea Party convention in Nashville Tennessee in February was carried live by the cable news networks. A new book is due out in November, which is expected to be followed by a second national book tour.

Just in the past two weeks, her speaking engagements have taken her from California to Texas, Virginia, Georgia and Nevada, where Wednesday she served as keynote speaker at the International Bowl Expo in Las Vegas.

Palin has also been busy over the past year taking on the Obama White House and Congressional Democrats, getting her messages out on her Facebook page and Twitter.

Palin has remained a force in Republican party politics. She's endorsed a slew of candidates in the Republican primaries who've gone on to win their nomination battles. Among those she's successfully backed on the statewide level include Rand Paul in Kentucky, Nikki Haley in South Carolina, Terry Branstad in Iowa, Susana Martinez in New Mexico and Carly Fiorina in California.
However, while she's become a major force inside the Republican Party, it's fairly clear that Palin's national appeal isn't any better today than it was when she stepped down:
An NBC/Wall Street Journal poll conducted two weeks ago indicated that 33 percent of Americans hold a negative view of Palin, with 29 percent saying they see her in a positive light, and 24 percent saying they hold a neutral view of Palin.

While very successful so far in the GOP primaries, according to the survey, 52 percent of all voters said they would respond in a negative manner if they knew Palin endorsed a candidate they were considering voting for in the midterm elections.

As for the big prize, recent national polling does not look favorable to Palin. Only three in ten people questioned in a CNN/Opinion Research Corporation national poll from April thought Palin was qualified to be president, in line with other national polls conducted earlier in the year.
It's unclear if Palin really wants to run for President, though. Her endorsements certainly seem to have behind them the idea of building a network of supporters among elected politicians, but, at the same time, she seems to be quite enjoying riding the speaking tour circuit and making thousands of dollars just for delivering a speech.
Running for President is hard work and would require Palin to step outside the protective media bubble she's created for herself on Facebook, Twitter, and at Fox News. Given all the reports about how she was clearly run down by even the two months of campaigning she did as a Vice-Presidential running mate in 2008, one wonders if she'd want to subject herself to that again. After all, it's much easier to pontificate than actually do something.