Scientists: Universe 80,000,000 Years Older Than Previous Estimates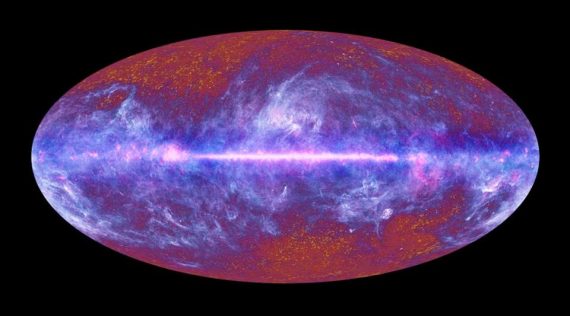 Astrophysicists are updating their estimates of the age of the universe, and moving science closer to the moment of creation than ever before:
"It's a big pat on the back for our understanding of the universe," California Institute of Technology physicist Sean Carroll, who was not involved in the project, told The Associated Press. "In terms of describing the current universe, I think we have a right to say we're on the right track."

The Big Bang — the most comprehensive theory of the universe's beginning — says the visible portion of the universe was smaller than an atom when, in a split second, it exploded, cooled and expanded faster than the speed of light.

The Planck space probe looked back at the afterglow of the Big Bang, and those results have now added about 80 million years to the universe's age, putting it at 13.81 billion years old.

The probe, named for the German physicist Max Planck, the originator of quantum physics, also found that the cosmos is expanding a bit slower than originally thought, has a little less of that mysterious dark energy than astronomers had figured and has a tad more normal matter. But scientists say those are small changes in calculations about the universe, whose numbers are so massive.
Dark Matter, of course, remains something of a theoretical construct whose existence has not been proven emphatically. However, it existence has been inferred from gravitational effects on physical objects that cannot be accounted for otherwise. It may turn out that there is no "dark matter" per se, but that the gravitational effects are due to something that our current science has not yet fully accounted for.
As for this discovery itself, it's worth noting that another unmanned space vehicle has helped to enhance our understanding of the universe in which we live and, perhaps, bring us closer to the day when we understand how the universe came into existence.
Of course, none of this applies in the Bible Belt.
Photo via The Boston Globe