Second Presidential Debate Draws 66.5 Million Viewers
Viewership for the second debate fell some twenty percent from the first debate, but that doesn't necessarily mean that voter are losing interest.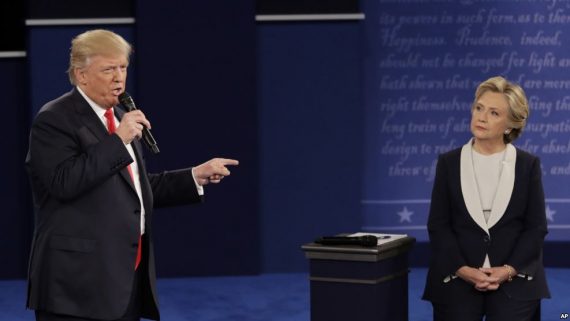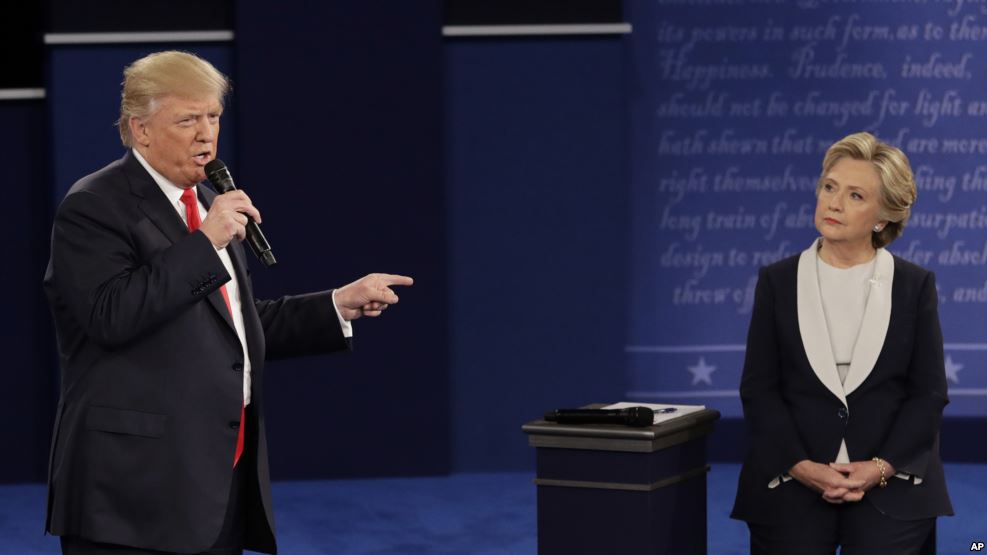 Sunday night's second Presidential debate saw a significant fall off in viewership from the first debate back in late September:
Maybe Americans are starting to get fed up with the ugly tone of this strange presidential election. Maybe viewers are tired of R-rated video clips and scorched-earth attacks.

Or maybe people just prefer football.

Whatever the reason, the audience for Sunday night's bout between Hillary Clinton and Donald J. Trump fell sharply from their first debate. About 66.5 million people watched on television, according to Nielsen, down 20 percent from the record 84 million who tuned in last month.

Sunday's figure was nothing to sneeze at. It was roughly the same number of people who watched the first two debates between President Obama and Mitt Romney in 2012. And it is unusual for a second debate to draw a bigger audience than the first.

Still, the release on Friday of a bombshell recording, which showed Mr. Trump boasting in vulgar terms about aggressively kissing and groping women, had seemed to promise a dramatic showdown, on a night of the week when many Americans stay in.

But one broadcast network, NBC, ran an N.F.L. game instead of the debate. There was a baseball playoff game airing on TBS. And, perhaps, the novelty of Mrs. Clinton and Mr. Trump clashing on the same stage had worn thin.

CBS had the largest viewership of any network, with about 16.5 million viewers. CNN, whose anchor Anderson Cooper served as a moderator alongside Martha Raddatz of ABC News, was the winner on cable, drawing 11.2 million viewers, its biggest-ever debate audience.
More from CNN media reporter Brian Stelter:
The second Clinton-Trump debate had about 20% fewer viewers than the first face-off did.
Why the drop-off? The "Sunday Night Football" game was definitely a factor. There is speculation that the ugly, bitter nature of the presidential campaign also had something to do with it.

"I think people are repulsed by it now," a senior TV executive said Monday morning when the overnight ratings came in.

The audience was still massive by any measure. The six biggest channels that televised the debate — CNN, ABC, CBS, Fox News, MSNBC, and the Fox broadcast network — had a combined 60 million viewers.

With the addition of Spanish language broadcasters and smaller channels, the total reached 66.5 million.

For comparison's sake, the first debate, held on September 26, averaged 84 million viewers via TV, setting an all-time record for presidential debate viewership.

Millions more people watched both debates via the Internet.

In the days leading up to Sunday's rematch, TV executives predicted that the second debate would have a slightly smaller audience. A chief reason: one of the big broadcast networks that aired the first debate, NBC, showed the Giants-Packers game during the second debate instead.

The game attracted more than 15 million viewers, which accounts for some of the decline between debate #1 and debate #2.

There are other factors too, like Hurricane Matthew, which displaced families and disrupted power (by extension affecting television ratings) in some Southeastern markets.

But some analysts immediately wondered on Monday if campaign divisiveness — driven by Donald Trump — is also partly to blame.

Fox Sports research guru Michael Mulvihill tweeted, "Have to say I'm surprised and maybe a little encouraged by debate decline. Looks like it's finally gone too far for millions of people."

Ken Bone, a town hall questioner who became an overnight celebrity, may have said it best. "It felt almost like watching mom and dad fight. It got very uncomfortable," he told CNN's Carol Costello on Monday.

While that is true, the ratings remained relatively steady from the beginning until the end.

Some channels fared better than others. CBS, which was boosted by NFL coverage earlier in the evening, had the biggest overall audience, with more than 16 million total viewers.

ABC had 11.5 million viewers and CNN had 11.3 million. ABC's Martha Raddatz and CNN's Anderson Cooper co-moderated the debate.

Sunday's match-up ranked as the most-watched general election debate in CNN's history.

Fox News averaged 10 million viewers, Fox broadcast had 5.6 million, and MSNBC had 5.5 million. PBS had about 2.9 million and Univision had about 2.4 million.

While the ratings fell between debate #1 and #2, online chatter was even higher the second time around.

According to Facebook, which crunched its numbers overnight, the debate between 9:03 and 10:37 p.m. ET was "the most talked-about debate on Facebook — ever."

The company found that about 20 million users in the United States were commenting, liking and sharing content about the debate.

The same thing was true on Twitter (TWTR, Tech30). "Tonight's #debate was the most tweeted ever," the company said afterward, "with more than 17 million debate-related tweets sent."

Furthermore, Twitter said, Sunday was "the most tweeted day of the entire 2016 election, with nearly 30 million tweets sent."
As both articles note, the drop off between the first two debates isn't all that surprising. Historically, it has generally been a rule that the first debate draws the most interest from viewers and that the number of viewers traditionally drops with each subsequent debate. The fact that this is true even this year, when debates and election coverage are drawing record numbers of viewers to broadcast and cable coverage and the rise of video streaming service is allowing even people who have cut the cord with cable television to watch the debate on any number of social media and other outlets. Additionally, as noted, there were a number of factors at play on Sunday night, ranging from large numbers of people in Florida, Georgia, and North and South Carolina dealing with the aftermath of Hurricane Matthew and the fact that there was a football game on that involved two teams that have fan followings all across the country, the New York Giants, and the Green Bay Packers, meant that potentially millions of people were focused on something other than politics for most of Sunday evening, and  I can hardly blame them. Finally, the fact that many states have already started early and absentee voting could mean that many voters have already made up their minds and thus don't see a reason to tune in to a debate late on a Sunday evening.
Notwithstanding the drop in viewers, and the fact that the Vice-Presidential debate drew lower ratings than any such debate in since 2000, it's worth noting that viewership of the debates continues the pattern established in the primary for record numbers of viewers. Sunday's debate got roughly the same number of viewers that the Romney and Obama debates did four years ago, and it's entirely possible that we'll see the numbers for the final debate on October 19tn return to something closer to the ratings for the first debate. What this means for the election is unclear. A good part of it could just be public fascination with the spectacle of Donald Trump and Hillary Clinton, both of whom have been celebrities in different ways for many years now, on a stage together that doesn't translate into more voters coming to the polls. On the other hand, we could be looking at a numbers that are a reflection of intense interest in the election as a whole that will result in higher turnout both for early voting and on Election Day itself. In the end, only the final turnout numbers will answer that question.