Should the LGB Separate from the T?
A leading same-sex marriage advocate is pushing back on the trans movement.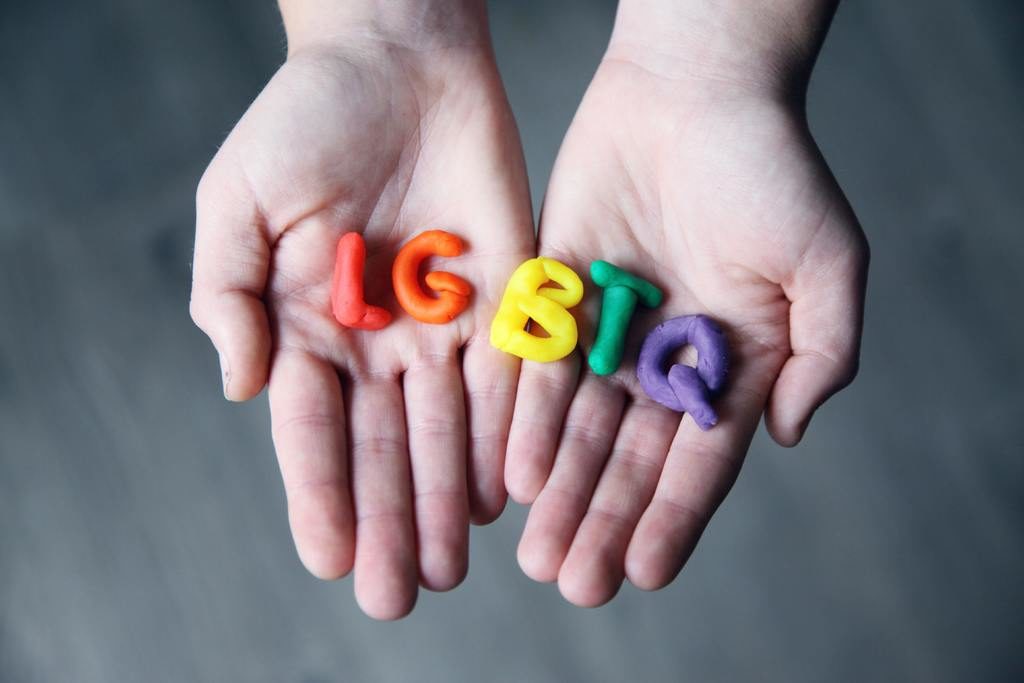 Andrew Sullivan, one of the most important voices in the argument for marriage equality—certainly, from a conservative point of view—argues that transgender identity politics is a bridge too far.
I wondered when this would happen. How long would it take, I asked, before a younger generation revolted against the new left orthodoxy that there is no sex binary, or gender binary, or indeed any place for biology in understanding the differences between men and women? How long before boys rebelled against the notion that their sex is actively toxic and in need of psychotherapy? Or how long before girls felt violated or just uncomfortable seeing people of the opposite biological sex in their bathrooms, locker rooms, and showers? How many are miffed that they have to compete with biological males in athletic contests?

New data suggests that that time could be now. For the first time, we're seeing a sharp drop in tolerance of "LGBTQ" people among the younger generation. This is an entirely new phenomenon. It used to be the young that spearheaded toleration and inclusion. Now they're suddenly bolting in the opposite direction: "The number of Americans 18 to 34 who are comfortable interacting with LGBTQ people slipped from 53 percent in 2017 to 45 percent in 2018 — the only age group to show a decline," according to the annual [GLAAD] Accelerating Acceptance report. And that is down from 63 percent in 2016. (Perhaps they should rename the report Decelerating Acceptance.) "36 percent of young people said they were uncomfortable learning a family member was LGBTQ in 2018, compared with 29 percent in 2017, and 24 percent in 2016. 34 percent were uncomfortable learning their doctor was LGBTQ vs. 27 percent a year earlier. 39 percent were uncomfortable learning their child had a school lesson on LGBTQ history vs. 30 percent in 2017."

Or check this out: 62 percent of young men regarded themselves as "allies" of LGBTQ people in 2016; only 35 percent now say the same — a near-halving of support. Women "allies" have dropped from 65 to 52 percent.
The change in attitude is indeed shocking. One would expect either a modest change or a change in the opposite direction. After all, we have normalized same-sex marriage and made remarkable progress on transgender understanding in a very short period.
Sullivan argues that's precisely the problem:
The turn began in the year that the Obama administration — with no public discussion or congressional support — imposed critical gender theory on America's high schools, determining sex to be whatever a student says it is. The imposition of trans ideology by fiat on the entire country's young — along with severe public stigma for those with even the slightest questions — was almost textbook left authoritarianism. Well meant, perhaps. But dictatorial.
While that's a somewhat over-the-top characterization, I'm sympathetic to the broader point. Unlike racial, gender, and gay equality—debates that took place over decades with attitudinal shifts coming slowly—the trans movement seemed to come out of nowhere. The notion that people ought use the public restrooms that comported with their anatomy went seemingly overnight from a blinding flash of the obvious to so monstrously intolerant that it would be inconceivable to play professional basketball games in a state that deemed it otherwise.
Still, it's old farts like Sully and me that are the problem* here. Surely, the young simply take this sort of thing in stride? Certainly, the few teenagers that I know seem to.
Sully thinks otherwise:
Even GLAAD, the culture police for the gay left, concedes that the transformation of the gay-rights movement into a trans movement steeped in critical gender theory in the past few years is likely the reason: "The younger generation was coming in contact with more LBGTQ people, particularly individuals who are non-binary and don't identify simply as lesbian or gay." GLAAD of course blames Trump, and social media, and vows to crack down ever more firmly on those who aren't fully onboard with its agenda. The last thing GLAAD would do is ask itself if it is actually exacerbating the problem, and that the redefinition of almost everyone's sex and gender to accommodate less than 1 percent of the population is why this resistance is happening.
Now, some may call Sully obtuse or even hypocritical here. After all, the same arguments were made against gay rights and, in particular, same-sex marriage. Why, marriage had always been between one man and one woman, just as there were always just those two sexes. Obviously, though, he doesn't see it that way.
Take a look at this video of a young student in Britain refusing to concede that there are more than two genders. The kid had been thrown out of class for stating his opinion. He is told he has to keep his opinion in his own home and to obey the school's authority policy. Now imagine those who agree with the student that there are not 54 genders and never say it. Kids are not stupid. They know they are being propagandized. This poll suggests the backlash has arrived, and it will likely grow.
I'm honestly not sure there's any evidence that the transgender issue is what's driving the changes in the poling. Or, indeed, that we have any idea. It could just be an anomaly that won't be repeated in other polling.
It's happening among young straight women especially, women who were once bedrock supporters of gay rights: "Driving the dilution of acceptance are young women whose overall comfort levels plunged from 64 percent in 2017 to 52 percent in 2018." Hmmm. Why do you think that could be? Did Trump do this all on his own? Maybe, just maybe, it has something to do with the increasing presence of biological males in their sports, restrooms, locker rooms, and other traditionally all-female spaces. Maybe it is being told that your biological sex is meaningless, that someone with a dick is no less a woman than you are, and that boys can have periods too. As for young men, they are becoming aware of how the feminist left regards them.
Again, I think this is over-the-top and, frankly, beneath someone of Sully's intellect. Nobody is arguing that boys can have periods; they're arguing that people who have periods can be boys. That is, they're arguing that what defines being a "boy" or a "girl" isn't just what's between their legs. Surely, that's not too much for someone who grew up with the argument that his preferred form of intercourse was immoral because, "hey, the parts aren't designed to work that way" to understand. I mean, it was Adam and Eve, not Adam and Steve, amirite?
Of course, we could find out more with a more carefully parsed survey. We could, for example, end the claptrap that dictates an "LGBTQ" identity and start referring to reality again. We could ask separate polling questions about feelings about gay men, lesbians, bisexuals, and transgender people. We could ask about gay rights and about trans rights separately — because they are very, very different experiences. That way, we could better understand what's going on.
On this, I'm a thousand percent in agreement. "LGBTQ" is simply too complex a set of phenomenon to lump into a single category. While I see the utility in grouping them for some discussions, they mask a whole host of attitudinal and policy issues. It makes sense to disaggregate them in polling to see what's driving the attitudes in question.
Having gotten the ranting out of his system, Sullivan circles back to compassion:
All of this is a disservice to transgender people, most of whom are very invested in the sexual and gender binary, not in hock to postmodern jargon, and who could simply make the argument that their brains appear to be of one gender and the rest of their bodies the other — and that they'd like to be treated with dignity and respect. Instead of demanding a redefining of everyone's sex and gender following critical queer theory, what if activists simply asked for equal treatment for transgender people? I think that's a persuasive argument, I passionately support it, and it would win if accompanied by the voices of trans people who are not on the extreme left and who can tell their stories and bring others along in a slow but durable and human way. That's how we won marriage — by telling our stories, talking about what we all have in common, and insisting that including gay people in civil marriage would not affect straight marriage in any way.
Like Sullivan, I don't have any good answers for how to deal with transgender athletes. I simultaneously despair for Caster Semenya and the psychological abuse to which she's been subjected and think it's unfair for her to compete as a woman.
But, surely, the answer starts with treating people whose situations we don't understand with respect and compassion. And I agree with Sullivan that we're more likely to get there by listening to their stories and seeing them as fellow humans struggling to cope with a world arranged for people unlike them.
Alas, Sullivan closes with this:
Of course, there is almost no chance that the gay-rights Establishment will relinquish the "LGBTQ" label. They, like most extensions of the Democratic Party, have completely embraced postmodern critical gender and queer theory. My fear is that this will fail to win support and that, as the trans movement keeps pressing and pressing, the backlash will grow and gays and lesbians will become collateral damage. The T activists, having embraced an extremist theory of gender, could undermine not just their own case but also equality for the Ls, Gs, and Bs. They could swiftly reverse the gains we have won. They sure have made a good start in turning the next generation against us.
Having read a couple of his other essays on this broad topic, I understand that Sullivan is deeply worried that a complete victory for the school of thought means that we'll abandon the idea of gender as a binary construct altogether and, by extension, render gays and lesbians irrelevant. That is, to the extent that being gay requires that both partners identify unabashedly as men, there's no such thing as being gay if there's no such thing as "a man." I'm dubious of that argument for a variety of reasons but haven't spent a lifetime emotionally invested in my gender identity.
In the short term, though, the addition of the T may keep the animus that once motivated Republicans against Democrats on gay marriage alive for another few election cycles. In the longer term, though, it's the Republican position that will be anathema to voters.
_____________
*To be clear: While it had never occurred to me before the controversy over the North Carolina bathroom bill that anything other than anatomy ought decide which facility one should use—as I wrote in the early days of the blog, "urinals would be nigh unto useless for people with female genitalia, their psychological predispositions notwithstanding"—I quickly came around to the notion that, if we can't provide private restrooms, letting people choose was the least hurtful option. Still, I'm still working through trans issues that don't seem at all problematic to the teenagers in my life.