Caster Semenya and the Limits of Binary Gender
We segregate men and women in sports for good reason. How we do that is complicated.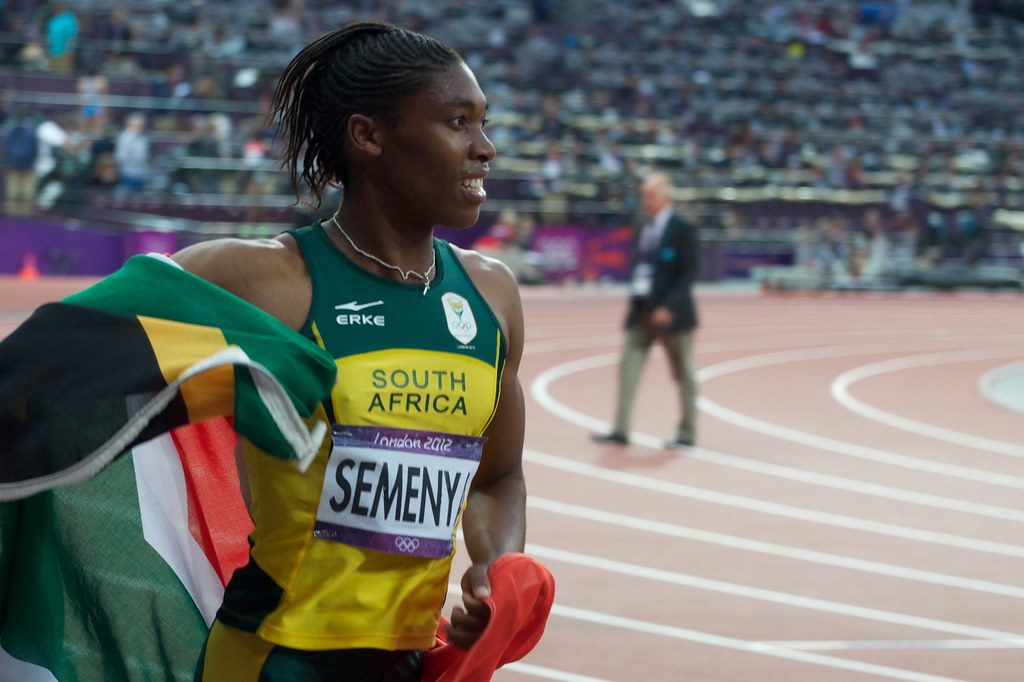 South African runner Caster Semenya has been fighting for years against rules that insist she's too much of a man to compete as a woman. This week, she appears to have lost.
The Court of Arbitration for Sport's panel of three judges gave a complex verdict and "dismissed both requests for arbitration" from Semenya and the governing body of track and field.


In a landmark judgment, the court said the IAAF's proposed rules on athletes with "differences of sex development (DSD)" are discriminatory but should be applied.


The judges ruled 2-1 that "on the basis of the evidence submitted by the parties, such discrimination is a necessary, reasonable and proportionate means of achieving the IAAF's aim of preserving the integrity of female athletics in the Restricted Events."


Semenya, a two-time Olympic champion in the 800 meters, will now be forced to medicate to suppress her testosterone levels if she wants to defend her world title in September in Doha, Qatar.

Still, the CAS panel "strongly encouraged" the IAAF to note its concerns when it applies the rules — which the judges believe might have to be modified in future to be fair.


"Indeed, it may be that, on implementation and with experience, certain factors may be shown to affect the overall proportionality of the DSD Regulations," the court said.


The IAAF went into the case with the scientific argument that female runners with high testosterone levels have an unfair advantage in events from 400 meters to the mile.

However, the judges want the IAAF to apply the rules only up to the 800 because the evidence was not clear that women with hyperandrogenism have a competitive advantage in the 1,500.


"The CAS Panel suggested that the IAAF consider deferring the application of the DSD Regulations to these events (1,500 and the mile) until more evidence is available," the court said.


That could give Semenya a route to compete at the world championships without taking medication. She was the bronze medalist in the 1,500 at the 2017 worlds in London.


A further appeal is possible to Switzerland's supreme court in Lausanne. Federal judges rarely overturn CAS decisions but can intervene if legal process was abused.

USA Today, "Caster Semenya loses appeal in controversial case over IAAF's testosterone rules"
No one expects this to be overturned. Many are, understandably, outraged by the ruling and, especially, the rules themselves.
Lindsay Crouse of the NYT:
While there's no easy answer to the broader debate about who belongs women's sports, it's spectacularly unfair that Semenya has had to endure this toxic combination of racism, sexism and homophobia; the court even admitted that its ruling discriminates against her. No one disagrees.
We can only speculate about how she feels when she's forced to expose her own body to astonishing degrees of invasive scrutiny, and is called a man and far worse. That's because she keeps quiet.

But we do know how she works: She races to win, she shakes her opponents' hands and she follows the rules. Meanwhile, she stays true to herself. And she perseveres.


Her ability to behave like this — to endure — is a trait of real champions, athletic and otherwise. We should celebrate her demonstration of character just as we do for our other heroes. Her fight is just as great a feat. As is her athleticism; it's a shame that we hear more about the hormone levels of one of the most decorated female athletes today than her achievements.

Paradoxically, Semenya has become one of the world's most visible female athletes right when she's being told she can't be one. She's impeccable (she has to be), exhibiting all the qualities of sportsmanship we look for in athletes, regardless of whom they race.


What's more remarkable is that, Semenya, and her determination to keep showing up, are forcing us to pay attention to female athletes, and the extent to which we value them.

NYT, "When One of the World's Most Visible Athletes Is Told She Can't Be One"
WaPo columnist Monica Hesse:
For about a decade — a time that Olympic historians may someday classify as "the Michael Phelps era" — I've been reading about the unique genetic blessings bestowed upon the greatest swimmer to ever live. Phelps possesses a disproportionately vast wingspan, for example. Double-jointed ankles give his kick unusual range. In a quirk that borders on supernatural, Phelps apparently produces just half the lactic acid of a typical athlete — and since lactic acid causes fatigue, he's simply better equipped at a biological level to excel in his sport.


I'm thinking of those stories, because I'm thinking about the ways Michael Phelps was treated as wondrous marvel. Nobody suggested he should be forced to have corrective surgery on his double-jointed ankles, nobody decided he should take medication to boost his lactic levels.
Which brings us to this week, and to Caster Semenya.

Semenya is an in­cred­ibly powerful runner from South Africa, a two-time Olympic champion. She has also been the subject of controversy since the beginning of her career a decade ago. Semenya is believed to have an intersex condition, though she doesn't publicly speak about it: Her body allegedly produces testosterone at a higher level than most women. On Wednesday, the Court of Arbitration for Sport ruled that if Semenya wanted to continue to compete, she would be required to take medications to lower it.


The CAS, which was upholding a previous ruling by the International Association of Athletics Federations, admitted that the decision was tantamount to discrimination. But, a statement read, "discrimination is a necessary, reasonable and proportionate means of achieving the IAAF's aim of preserving the integrity of female athletics."

[…]

The CAS ruling is based on the idea that gender can be measured, that it exists in a vial.


The court seems to buy into the concept that there are exactly two genders, and that there's a bright line dividing them: If Caster Semenya has 4.99 nanomoles of testosterone per liter, the "integrity of female athletics" will be preserved, but at 5.01, it won't.

[…]

While we're talking about the diversity of gender experiences in the field of athletics, we could be talking about a lot of different things. We could be talking about how hordes of aspiring gymnasts have their careers cut short when their genetics cause them to grow taller than 5 feet, and we could talk about the talented would-be female basketball players who spend puberty waiting for a growth spurt that never comes. Competitive athletics are full of biological advantages, both massive and minute: I held multiple swimming records as a kid because of a glitch in my hip that granted me a sublime breaststroke.

We could talk about the medieval-sounding "sex verification test" that Semenya was first forced to undergo in 2009, and how the details of it were murky, and how it's hard to imagine such a test as anything other than humiliating. "I have been subjected to unwarranted and invasive scrutiny of the most intimate and private details of my being," she said at the time.


We could talk about all the prurient, invasive, and frequently racist ways we have talked about Caster Semenya over the past 10 years. "It is clear that she is a woman but maybe not 100 percent," Pierre Weiss, then-secretary general of the IAFF, said of her in 2011. He didn't specify how it was clear, or whom it was clear to, or what percentage of womanhood he was willing to give her.
Most of all, we could talk about what it means to be a woman. And what it means to insist someone is not a woman. And why Michael Phelps was treated like a marvel, and Caster Semenya is treated like a mutant.

— "We celebrated Michael Phelps's genetic differences. Why punish Caster Semenya for hers?"
Karren Brady, a British MP and sporting executive, agrees that the ruling is heartbreaking but nonetheless defends it:
In the face of this ruling, some have asked — and you can see why — whether athletes born with unusually long legs, say, will need to have them shortened in order to run on a level playing field with less-blessed athletes.


There is also irony, isn't there, in the fact that athletes competing in a sport with some of the toughest anti-doping laws around will be required to TAKE drugs to suppress natural levels of testosterone? This seems wrong.


But I agree with the ruling. I do not think it is fair for female athletes who have the advantage of an elevated male hormone count to compete with women who do not.


I feel for Semenya. She is a brilliant athlete and totally dedicated. She is also a three-time world champion over 800 metres — and the 28-year-old has won her past 29 races over the distance.

She has not taken steroids or hormones to enhance her performance. This is just the way she was born, which is why she refers to her DSD as a "gift".


Tennis legend Martina Navratilova backed her this week, branding the ruling unfair and saying: "She has done nothing wrong and it is awful that she will now have to take drugs to be able to compete. General rules should not be made from exceptional cases."


Martina has been accused of being transphobic when she suggested it was potentially cheat-ing for transgender athletes to compete in women's sports.


Her point is that it is unfair for people who were once biologically men to compete as women.

Some suggested that a solution would be a "protected" category based on hormone levels, rather than gender. But the idea of creating a third category for people with DSD is ridiculous, as the pool would be so small.
Unfortunately, there is no perfect solution.


Semenya did not ask to be born with additional testosterone. But it is true that as long as she has it, the playing field is not level.
Her hormones make her unbeatable, which is not fair to other athletes dedicating their lives to training and knowing they can come no better than second.

— The Sun, "I feel for Olympic champion Caster Semenya in hormone row, but the ruling is right"
My fiance and I were having this discussion yesterday. She adamantly sides with Navratilova and Crouse, contending that since Semenya did nothing to artificially increase her testosterone levels, she should be allowed to compete. That it's no more unfair an advantage than Phelps' long arms or Shaquille O'Neal's height.
While I'm sympathetic to that argument, I ultimately reject it. We don't tend to segregate athletic competition on the basis of height, weight, or wingspan. We do segregate men and women because, otherwise, women wouldn't be able to compete in most sports.
The problem, which Hesse alludes to, is that this segregation operates on the misconception that there are exactly two sexes. In fact, we now understand that this isn't the case. But, unless we create more categories for competition, preserving the concept of "women's sports" requires some process for adjudicating who gets to compete as a woman. Testosterone levels is a rather imperfect way to do this but it's what we have.
Further, Let's Run co-founder Robert Johnson brings up an important point mostly missing from this discussion:
The mainstream reporting on Semenya is very misleading, to say the least so let me share a few key facts that you likely haven't read anywhere else.

1) Caster Semenya Has XY Chromosomes
It's absolutely mind-boggling that virtually every major outlet in the world reporting the Court of Arbitration for Sport ruling yesterday has failed to mention one of the most important facts of the entire case. Caster Semenya has XY chromosomes. It was generally accepted by people following the case closely that Semenya was XY, but now it's been confirmed as fact since the CAS press release specifically says, "The DSD covered by the Regulations are limited to athletes with '46 XY DSD' – i.e. conditions where the affected individual has XY chromosomes." If she wasn't XY, the IAAF's regulations wouldn't apply to her and she'd have no reason to challenge them.

Because of the glaring XY omission, many across the globe ended up reading opening paragraphs like this from the front page of the New York Times:

Female track athletes with naturally elevated levels of testosterone must decrease the hormone to participate in certain races at major competitions like the Olympics, the highest court in international sports said Wednesday in a landmark ruling amid the pitched debate over who can compete in women's events.


If I had been writing for the NY Times, I'd have added just six words and there would have been no confusion as to what really happened.

Intersex track athletes with XY chromosomes and naturally elevated levels of testosterone must decrease the hormone to participate in certain races versus women at major competitions like the Olympics, the highest court in international sports said Wednesday in a landmark ruling amid the pitched debate over who can compete in women's events.

This is an incredibly complex issue, and one of the reasons for that complexity is that the IAAF has two categories in which athletes can compete: male and female. The problem is, human biology doesn't always neatly divide into male or female. Some people — intersex people — have traits of both sexes. Semenya isn't male, but in addition to Y chromosomes, she is believed to have internal testes and lack a womb or ovaries — characteristics we don't traditionally associate with females. However, you'd likely never know that from reading the coverage in the mainstream press on Wednesday.


The issue is complex but nuance matters. Our own title on the homepage of LetsRun.com about the news was originally incorrect. Originally our headline on the homepage said, "Caster Semenya Loses CAS Case, Can Only Compete In 800 If She Suppresses Testosterone." A visitor pointed out that title was inaccurate as Semenya was free to compete in the "open" or "men's" category without suppressing her testosterone. So we changed it to "Caster Semenya Loses CAS Case, Can Only Compete In Women's 800 If She Suppresses Testosterone."

— Let's Run, "What No One Is Telling You About Caster Semenya: She Has XY Chromosomes"
Obviously, this is an incredibly emotional issue in addition to a fairness issue. Semenya identifies as a woman and is being told that, for the purposes of competition, she's not one. That's incredibly hurtful. It's probably also infused with bigotry. Strong women have long been told that they "look like men" and are otherwise not feminine. Add in the fact that this has been especially true for black women judged by white standards of beauty and it's even more upsetting.
Still, none of that gets us past the fact that we segregate sports based on sex for a reason and that requires classifying athletes based on sex. And, distasteful though it may be, Johnson is right:
Many people who support Semenya use the argument that elite sports are often about genetic outliers dominating.Usain Bolt had really long legs and Michael Phelps had really long arms, so why can't Semenya have really high testosterone?


That's a bad analogy. Sports organizations don't classify athletes by arm or leg length, but they do classify athletes by sex. If they didn't, women wouldn't have a chance to excel at the very top levels of sport as men's world record are consistently 10-12% better than women's world records in sports like track and swimming. In tennis, even a great like Serena Williams admits she couldn't get a game off a top male pro like Andy Murray. If sports organizations didn't classify by sex, there would be almost zero female Olympians save for sports like maybe equestrian.
There is no human right to compete in a particular category of professional sports. Sports governing bodies exclude certain types of people from certain categories of sports all the time. In boxing, a 210-pound boxer can't fight as a flyweight (112 lb max) as the flyweight would have little realistic chance of winning.


To say that an XY human can't compete in the women's category of professional sports unless they lower their testosterone below 5 nmol/L — a figure that is still 7.5 times the value of the average woman competing at the 2011 and 2013 track and field World Championships and a figure that not a single healthy woman born with XX chromosomes, ovaries, and producing estrogen at puberty can reach — isn't a huge human rights travesty. It's a protection of women's sports.
It's not a conclusion I feel good about. It punishes Semanya, who has done absolutely nothing wrong and who by all accounts is not only a fantastic athlete but a great sport. But it's nonetheless right.