Michael Phelps Breaks Olympic Medal Record; Greatest Olympian Ever?
Michael Phelps today won his 18th and 19th Olympic medal, breaking the old record held by gymnast Larysa Latynina. Does this make him the greatest ever?
Michael Phelps today won his 18th and 19th Olympic medal, breaking the old record held by gymnast Larysa Latynina. Does this make him the greatest ever?
WSJ ("Phelps Breaks Olympic Record With Two Medals"):
Michael Phelps became the most decorated Olympic athlete in history Tuesday night, winning two medals to raise his all-time total to 19 and join the company of the world's best all-time performers.

Phelps tied the previous record of 18, held by gymnast Larysa Latynina of the former Soviet Union, by winning silver in the 200-meter butterfly. He broke the record by swimming the anchor leg of the 4-by-200-meter relay, in which the U.S. team took the gold.

Phelps won his medals over three Games—2004, 2008 and 2012—and swam in the 2000 Olympics without winning a medal. He won eight gold medals at the Beijing Olympics in 2008, a record for a single Olympics, surpassing American Mark Spitz's seven golds won at the 1972 Olympics in Munich.

Phelps entered the London Games with 16 medals but had a rocky—for him—start. He finished fourth in the 400-meter individual medley after winning the event the past two Games, losing to American rival Ryan Lochte. Phelps won silver on Sunday as part of the 4-by-100-meter relay team, finishing behind France.

Phelps will swim a total of seven events in the London Games.
"Medals" are by no means equal. While Phelps is just one ahead of Latynina in "medals," he blows her away in golds: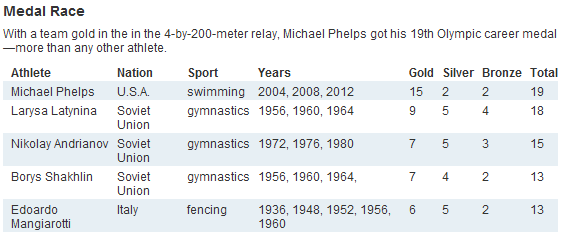 This doesn't, however, definitively answer the question "Is Michael Phelps the greatest Olympian ever?" Indeed, Steve Verdon and I discussed this very question a quadrennial ago and I argued:
Phelps has been truly remarkable.  He's certainly in the "Greatest Olympian of All Time" conversation.  He's absolutely dominated his sport over two Olympiads and swimming in so many events in rapid succession against, in many cases, athletes specializing in one event and thus not nearly as fatigued, makes his achievement that much more remarkable.

On the other hand, the medal count isn't dispositive.  Swimming is the only Olympic sport where it's possible to win so many medals.

The great Al Oerter won gold in discus in four consecutive Olympiads — a span of 16 years — and set world records each time.  But there's only one gold per Olympiad in that sport.

Carl Lewis was dominant in sprints and the long jump in three Olympiads and still didn't achieve Phelps' medal count.

And then there's Eric Heiden, who won five golds in speed skating in the 1980 Lake Placid winter games.  Not only was that every single medal in his sport, but he dominated both the sprints and the distance races, winning at 500, 1000, 1500, 5000, and 10000 meters.  That's the equivalent of winning the 100 meter dash and the 10k in sprinting, which is simply unthinkable.

None of this is to take anything away from Phelps.  It's just worth noting that others are at least in the conversation for Best of All Time.
Obviously, by adding to his total in a third Olympiad helps strengthen his case, showing dominance over time. Then again, Mangiarotti won his medals over five Olympiads–albeit in a sport that's much less physically demanding.
Given the variables involved, there's really no definitive answer possible to the question. It's probably not even a fair question, in that Phelps is an all-time great whether he's the all-time great and there's no reason to take any of his hard-won glory from him. On the other hand, rushing to declare him the best ever diminishes others who have arguably accomplished just as much.