Sign Language Interpreter At Mandela Funeral Was A Fake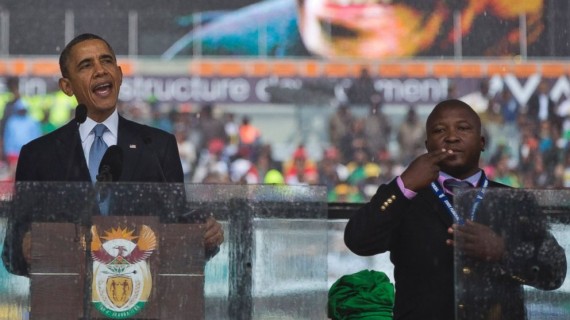 If you watched Nelson Mandela's funeral yesterday, you probably caught sight of the sign language interpreter standing next to the speakers as they spoke, including President Obama. A fairly standard thing these days, of course, but as it turns out this guy was a complete fraud:
To those outside the deaf community, the sign language interpreter for Nelson Mandela's memorial may have looked like he was working hard, translating the spoken words into gestures for four hours.

But he has been dubbed "a fake," and his actions outraged deaf people, according to an association for the deaf community in South Africa.

The service to commemorate the revered statesman, who died last week at the age of 95, was broadcast to millions of viewers around the world.

While dignitaries addressed the crowd Tuesday at Johannesburg's FNB stadium, the unidentified suited man with a security pass produced a series of hand signals that experts say meant nothing.

The Deaf Federation of South Africa (DeafSA) said the "interpreter" was not a recognized professional, nor was he known by the deaf community in the country.

"The so-called 'interpreter' who interpreted at the official memorial service for late former president Nelson Mandela at FNB stadium has been dubbed the 'fake interpreter' and the deaf community is in outrage," Bruno Druchen, national director of DeafSA, said in a statement.

"He is not known by the Deaf Community in South Africa nor by the South African Sign Language interpreters working in the field."

The man did not use facial expressions, which in South African sign language are an important part of communication, and the hand signals he used were meaningless, Druchen said.

"The signs (self-invented signs) the interpreter used are not used in South African Sign Language and it is a total mockery of the language," he said.

During the man's appearance on Tuesday, Wilma Newhoudt, a deaf member of the South African Parliament and Vice President of the World Federation of the Deaf, tweeted: "ANC-linked interpreter on the stage with dep president of ANC is signing rubbish. He cannot sign. Please get him off."
The South African Government is apparently investigating how this guy managed to end up as the interpreter for the event and get so close to so many world leaders. Quite obviously, it raises some real security concerns.
Update: Maybe they should have hired Garrett Morris: