Sixth Democratic Debate Draws Lowest Viewer Numbers Yet
Thursday night's Democratic debate drew the lowest numbers of any of this season's debates.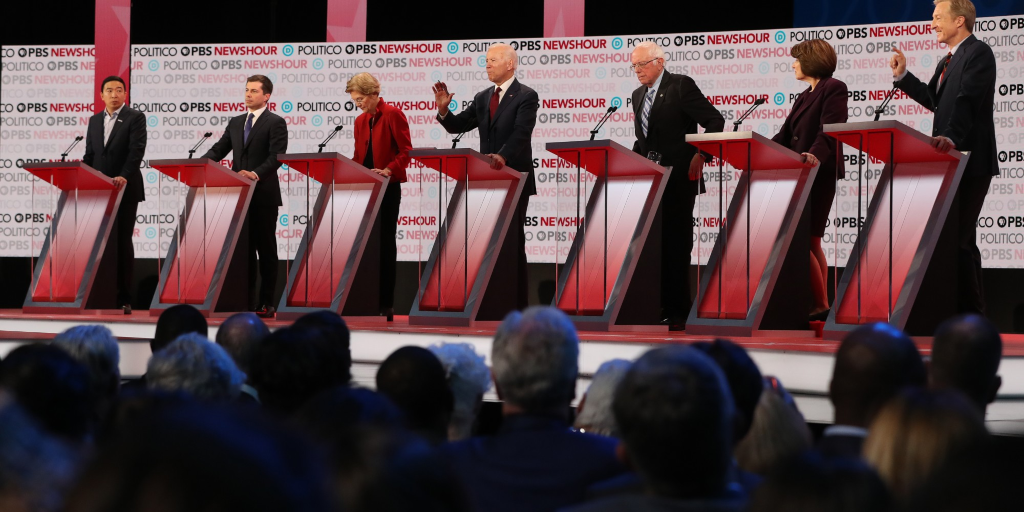 The sixth Democratic Debate, which aired on PBS, CNN, and a variety of streaming outlets, had the lowest viewership of any of the debates so far this season, which some are interpreting as a sign that interest in the debates is waning:
Last night's Democratic debate, which inevitably dealt with the recent impeachment of President Donald Trump, drew just over 6 million total viewers for PBS and Politico, according to Nielsen figures. Topics such as the economy, climate change, racism, Afghanistan, and taxing the wealthy were also on the agenda.

That total, which counts the PBS broadcast and the simulcast on CNN and CNN en Español, makes it the least watched debate so far in the current cycle, only just behind the previous MSNBC debate which drew 6.5 million. Last night's squaring off reached more than 2 million viewers across PBS stations nationwide, and was seen on CNN by just over 4 million people.

Per PBS, the debate live streams across PBS NewsHour's, Politico's, PBS's, and CNN's digital and social platforms totaled more than 8.4 million viewers.

None of the Democratic debates thus far in this cycle have come near to the 24 million viewership figure posted by Donald Trump's first debate on Fox News in August of 2015. The most watched debate from this cycle to date was the very first on NBC which drew 15.3 million total viewers, while the Democratic debate record to beat is the 15.7 million who tuned in for the CNN debate from the 2016 election cycle between Bernie Sanders and eventual nominee Hillary Clinton.

Only seven candidates took to the stage last night, after double digit numbers in previous debates. The seven who qualified were former vice president Joe Biden; Indiana mayor Pete Buttigieg; Minnesota senator Amy Klobuchar; Vermont senator Bernie Sanders; California billionaire Tom Steyer; Massachusetts senator Elizabeth Warren; and entrepreneur Andrew Yang.
More from U.S. News and World Report:
The Democratic presidential primaries may be drawing near, but Americans are increasingly tuning out of the televised debates.

An estimated 33 million Americans were introduced to the Democratic field in Miami over those first two nights. But that was the high point: no debate has reached the viewership of either of those two broadcasts since.

Thus far, six officially sanctioned Democratic debates have taken place over eight nights. The debate season kicked off in the early summer, when the massive field of candidates required two nights of debating to accommodate everyone.

Since the September debate in Houston, which aired on ABC and Univision, the number of television viewers has fallen steadily. Thursday's tussle in Los Angeles marked the low point: just 6 million viewers tuned in to the most intimate debate thus far.
This chart from U.S. News shows how viewership has dropped since June: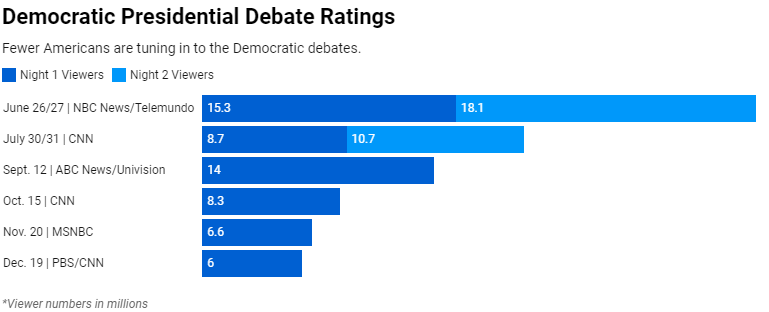 On addition to the fact that viewers may be growing tired of a debate format that includes candidates that essentially have no chance at becoming the nominee, the difference in viewership numbers may be due to the news outlet(s) covering the debate. The first and third debates, for example, were broadcast by NBC and ABC News respectively, In addition to each network's broadcast channel, the debate also showed up on a number of different cable news outlets such as MSNBC and Telemundo for the NBC debate and Univision for the ABC debate. The second and third debates, by contrast, were broadcast only on CNN, which may have limited the audience to some extent. With respect to the last two debates, the fact that they aired in the week before Thanksgiving and Christmas respectively also likely means that potential viewers were either out of town or engaged in other activities
In any case, going forward we are likely to see much smaller debates thanks to the increasingly difficult qualification criteria:
LOS ANGELES — The Democratic National Committee is again raising the thresholds to participate in the party's next presidential debate, despite calls from some candidates who have been excluded to lower the qualifying criteria.

In order to qualify for the next debate on Jan. 14, candidates must earn at least 5 percent in four qualifying polls released between Nov. 14 and Jan. 10, or 7 percent in two polls conducted in one of the four early-voting states on the nominating calendar: Iowa, New Hampshire, Nevada or South Carolina.

The polling thresholds for Thursday night's PBS NewsHour/POLITICO debate in Los Angeles were 4 percent in all surveys and 6 percent in early-state polls.

Additionally, candidates must receive donations from 225,000 individuals, up from 200,000 for Thursday's debate, with a minimum of 1,000 donors in at least 20 states.

The qualification deadline is Jan. 10 — four days before the debate, hosted by CNN and The Des Moines Register at Drake University in Des Moines, Iowa.

Five candidates have already qualified for the debate, according to POLITICO's tracking of public polling and donor information: Joe Biden, Pete Buttigieg, Amy Klobuchar, Bernie Sanders and Elizabeth Warren.
Biden, Buttigieg, Sanders and Warren have all previously said they have over 225,000 donors. On Friday morning, a spokesperson for Klobuchar also tweeted that she has qualified for the debate, meaning she has hit that donor mark as well.

Additionally, former New York Mayor Mike Bloomberg, who has been in the race for about only a month, has already hit the polling threshold. But Bloomberg, whose net worth has been valued at more than $50 billion, isn't accepting donations and won't be able to meet the donor threshold for the January debate without them.

Andrew Yang has also publicly said he's cleared the raised donor threshold. But he has accrued only one of the four required polls to be on stage. Tom Steyer, the last remaining candidate to participate in Thursday's PBS NewsHour/POLITICO debate, has two of the four polls needed and has not publicly said he's hit 225,000 donors.
This could mean that we'll have as few as five, or as many as seven, candidates on the stage in January. Of course, we'll be at the fever-pitch of impeachment by then so it's unclear if the public appetite for politics will be as insatiable as it was over the summer.