So Trump Is Getting His Military Parade
There won't be any tanks, but it looks like President Trump will get his military parade.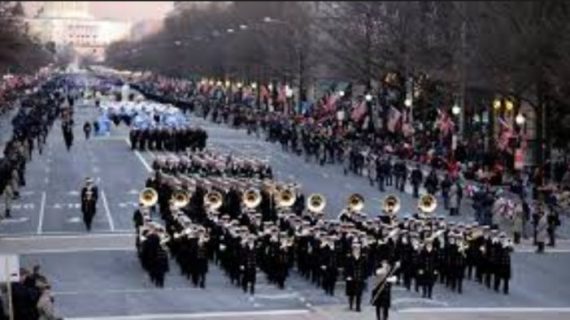 President Trump seems likely to get his much desired military parade, but it won't happen on the Fourth of July and it won't include tanks or other heavy military equipment:
It looks as if President Trump will get the military parade he has coveted for months. But it will not be on the Fourth of July — and it will not include tanks.

Instead, plans are underway to hold a plane-filled display on Veterans Day in Washington, according to a Pentagon memo sent to the chairman of the Joint Chiefs of Staff.

The memo, with Thursday's date, says its purpose is to "provide initial guidance for the planning and execution" of a procession that would run from the White House to the Capitol and integrate with the city's annual Veterans Day parade.

Medal of Honor recipients and veterans' organizations are to be included in the march, which, according to the memo, will feature a heavy dose of history.

"This parade will focus on the contributions of our veterans throughout the history of the U.S. Military, starting from the Revolutionary War and the War of 1812 to today, with an emphasis on the price of freedom," the memo said

In practice, that means "period uniforms," re-enactments and even the use of an "old guard fife and drum," the memo says.

The parade will also "highlight the evolution of women veterans from separate formations in World War II to today's integrated formations," the memo says. It will close with a "heavy air component," which officials hope will include older planes.

Why no tanks?

"Consideration must be given to minimize damage to local infrastructure," the memo notes, adding that there will be "wheeled vehicles only."

The details come more than a year after Mr. Trump first signaled interest in the possibility of a military parade.

His inaugural committee reportedly explored, but rejected, the idea of highlighting military equipment in his inaugural parade. Then, in July, Mr. Trump watched a Bastille Day celebration in Paris and days later called it "one of the most beautiful parades I have ever seen," adding that "we should do one one day down Pennsylvania Ave."

Two months later, while making remarks at the United Nations, Mr. Trump said he was actually looking into staging a Fourth of July parade, noting again that he had gotten the idea after watching the Bastille Day event.

Finally, last month, Defense Secretary Jim Mattis acknowledged that the Pentagon had been "putting together some options" for an event, which would be sent to the White House. A week later Mick Mulvaney, the White House budget director, estimated that the sort of public display that Mr. Trump had called for could cost between $10 million and $30 million.

Soon after that, Mr. Trump told Fox News that he would forgo the idea if it could not be done at a "reasonable cost," which might help explain the decision to integrate the new parade with one that already exists.
On some level I suppose, the idea of a parade celebrating what they are it seems inevitable that this military parade would end up being more about Donald Trump celebrating Donald Trump than anything else. As I've said before, it's become quite clear that Trump is utterly fascinated by displays of military might and that he enjoys the adulation that is typically given to authoritarian rulers. This, I think, explains a good part of the reason why he seems to find more in common with authoritarian rulers such as Egypt's President el-Sisi, Saudi Arabia's il-Saud family, President Duarte of The Philippines and, of course, Russian President Vladimir Putin than he is our democratic allies in Europe and elsewhere. More recently, he expressed admiration for the moves by Chinese President Xi Jinping that effectively make him the leader of China for as long as he wants the job, suggesting that maybe we should try something like that in the United States.
Given that, the idea of being able to put himself at the center of a nationalistic display like the one he witnessed in Paris, or those that are held by Russia, China, and North Korea is no doubt appealing to this President. The fact that the Administration will pass it off as a celebration of "the troops" provides him with the kind of absurd spectacle this is likely to turn into and to make it appear that those of us who are opposed to the idea of what amounts to a celebration of militarism and symbols of authoritarianism as being against the troops. To the extent that there is any dissent from the idea of this parade, Trump will no doubt label it as "un-American" and perhaps he'll even dust off the claim that such critics are "treasonous just as he believes it's treasonous to fail to stand up and applaud for the President when you disagree with his policies. This rhetoric will play well with Trump's base, of course, but it's also likely to resonate with other Americans.
If such a parade is going to take place, and it now appears that this will be the case, I suppose it's appropriate that it will happen on Veterans Day. In addition to the fact that it is far too late to schedule anything like this for an earlier date, the initial idea of having such a parade on the Fourth of July was simply impractical given the number of tourists and area residents who will be trying to get into the city for the festivities on the National Mall. Additionally, as the article above notes, there is already a parade of sorts in Washington, D.C. every year on Veterans Day so this would simply be an expanded version of what was already in the planning stages. Additionally, Veteran's Day this year also coincides with the 100th anniversary of the end of the First World War, which has quickly become something of a forgotten war and still lacks a monument on the National Mall. All of that is likely to be lost, of course, if this turns into the display of Trumpidian machismo it is likely to become, of course, but that may be the best way to look at all of this. At least there won't be any tanks in the streets.