Someone Is Trying To Sabotage The Iranian Nuclear Program
A crippling, and technologically advanced, computer virus and attacks against Iranian nuclear scientists lead to only one conclusion; someone is doing everything they can short of military action to make sure Iran doesn't develop nuclear weapons.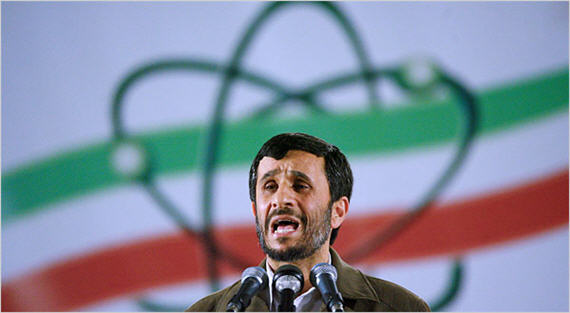 The ongoing story about what appears to be a well-organized effort to slow down Iran's nuclear research program continues to get more fascinating with today's news that two of Iran's top nuclear scientists were the target of a bombing attack in Tehran this morning:
Two separate explosions killed a nuclear scientist and injured another in the Iranian capital Monday morning, official news outlets reported.

Both scholars' wives and a driver were also injured in the attacks, according to the news agencies. The slain scientist, Majid Shahriari, was a member of the nuclear engineering team at the Shahid Behesti university in Tehran, according to the official Islamic Republic News Agency, or IRNA.

No one claimed responsibility for the attacks and no arrests have been made, Iranian officials said. But they prompted a stern warning by the normally cool-headed head of Iran's atomic energy agency, Ali Akbar Salehi, who described Shahriari as a former student.

"Do not play with fire," he said, according to IRNA. "There is a limit to the Iranian nation's patience and if we run out of patience the enemy will suffer adverse consequences. Of course we still maintain our patience."

The injured scholar, Fereydoun Abbas, also taught at Shahid Beheshti, one of Iran's most prestigious institutions of higher learning.

The assassins, riding motorcycles, tossed bombs at — or attached them to — vehicles of the two Shahid Behesti University professors as they drove with their spouses en route to work between 7 a.m. and 8 a.m..
These attacks, which are extraordinary in themselves, come at the same time that we continue to learn more about the mysterious Stuxnet computer virus which has apparently caused serious problems at Iran's nuclear labs:
In the 20th century, this would have been a job for James Bond.

The mission: Infiltrate the highly advanced, securely guarded enemy headquarters where scientists in the clutches of an evil master are secretly building a weapon that can destroy the world. Then render that weapon harmless and escape undetected.

But in the 21st century, Bond doesn't get the call. Instead, the job is handled by a suave and very sophisticated secret computer worm, a jumble of code called Stuxnet, which in the last year has not only crippled Iran's nuclear program but has caused a major rethinking of computer security around the globe.

Intelligence agencies, computer security companies and the nuclear industry have been trying to analyze the worm since it was discovered in June by a Belarus-based company that was doing business in Iran. And what they've all found, says Sean McGurk, the Homeland Security Department's acting director of national cyber security and communications integration, is a "game changer."

The construction of the worm was so advanced, it was "like the arrival of an F-35 into a World War I battlefield," says Ralph Langner, the computer expert who was the first to sound the alarm about Stuxnet. Others have called it the first "weaponized" computer virus.

Simply put, Stuxnet is an incredibly advanced, undetectable computer worm that took years to construct and was designed to jump from computer to computer until it found the specific, protected control system that it aimed to destroy: Iran's nuclear enrichment program.

The target was seemingly impenetrable; for security reasons, it lay several stories underground and was not connected to the World Wide Web. And that meant Stuxnet had to act as sort of a computer cruise missile: As it made its passage through a set of unconnected computers, it had to grow and adapt to security measures and other changes until it reached one that could bring it into the nuclear facility.

(…)

Experts, including inspectors from the International Atomic Energy Agency, say that, despite Iran's claims to the contrary, the worm was successful in its goal: causing confusion among Iran's nuclear engineers and disabling their nuclear program.

Because of the secrecy surrounding the Iranian program, no one can be certain of the full extent of the damage. But sources inside Iran and elsewhere say that the Iranian centrifuge program has been operating far below its capacity and that the uranium enrichment program had "stagnated" during the time the worm penetrated the underground facility. Only 4,000 of the 9,000 centrifuges Iran was known to have were put into use. Some suspect that is because of the critical need to replace ones that were damaged.
While there's no proof that there's any connection between Stuxnet and the attacks on Iranian nuclear scientists, it doesn't take much to think that there probably is and that there is a concerted effort being put forward to slow down or stop Iran's nuclear research program through covert means. Which leads one to wonder who might be behind Stuxnet:
Originally, all eyes turned toward Israel's intelligence agencies. Engineers examining the worm found "clues" that hinted at Israel's involvement. In one case they found the word "Myrtus" embedded in the code and argued that it was a reference to Esther, the biblical figure who saved the ancient Jewish state from the Persians. But computer experts say "Myrtus" is more likely a common reference to "My RTUS," or remote terminal units.

Langer argues that no single Western intelligence agency had the skills to pull this off alone. The most likely answer, he says, is that a consortium of intelligence agencies worked together to build the cyber bomb. And he says the most likely confederates are the United States, because it has the technical skills to make the virus, Germany, because reverse-engineering Siemen's product would have taken years without it, and Russia, because of its familiarity with both the Iranian nuclear plant and Siemen's systems.
Of course, it's unlikely that we'll ever really know who's behind this, which is of course the point of a covert operation. However, it seems pretty clear that there is an ongoing effort, perhaps international in origin, to sabotage the Iranian nuclear program. That in and of itself is a fascinating story.