State Department Goes After Maker Of 3D-Printed Gun
The State Department tries to scrub information about the 3D-printed gun from the Internet.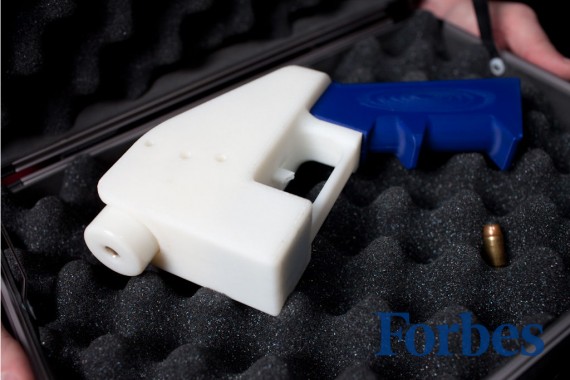 The company that made the world's first 3D-printed gun has received a notice from the State Department warning it to remove the schematic details of the weapon from its website and submit its blueprints for review in connection with enforcement of laws against international weapons trafficking:
The battle for control of dangerous digital shapes may have just begun.

On Thursday, Defense Distributed founder Cody Wilson received a letter from the State Department Office of Defense Trade Controls Compliance demanding that he take down the online blueprints for the 3D-printable "Liberator" handgun that his group released Monday, along with nine other 3D-printable firearms components hosted on the group's website Defcad.org. The government says it wants to review the files for compliance with arms export control laws known as the International Traffic in Arms Regulations, or ITAR. By uploading the weapons files to the Internet and allowing them to be downloaded abroad, the letter implies Wilson's high-tech gun group may have violated those export controls.

"Until the Department provides Defense Distributed with final [commodity jurisdiction] determinations, Defense Distributed should treat the above technical data as ITAR-controlled," reads the letter, referring to a list of ten CAD files hosted on Defcad that include the 3D-printable gun, silencers, sights and other pieces. "This means that all data should be removed from public acces immediately. Defense Distributed should review the remainder of the data made public on its website to determine whether any other data may be similarly controlled and proceed according to ITAR requirements."\

Wilson, a law student at the University of Texas in Austin, says that Defense Distributed will in fact take down its files until the State Department has completed its review. "We have to comply," he says. "All such data should be removed from public access, the letter says. That might be an impossible standard. But we'll do our part to remove it from our servers."

(…)

Wilson argues that he's also legally protected. He says Defense Distributed is excluded from the ITAR regulations under an exemption for non-profit public domain releases of technical files designed to create a safe harbor for research and other public interest activities. That exemption, he says, would require Defense Distributed's files to be stored in a library or sold in a bookstore. Wilson argues that Internet access at a library should qualify under ITAR's statutes, and says that Defcad's files have also been made available for sale in an Austin, Texas bookstore that he declined to name in order to protect the bookstore's owner from scrutiny.

Despite taking down his files, Wilson doesn't see the government's attempts to censor the Liberator's blueprints as a defeat. On the contrary, Defense Distributed's radical libertarian and anarchist founder says he's been seeking to highlight exactly this issue, that a 3D-printable gun can't be stopped from spreading around the global Internet no matter what legal measures governments take. "This is the conversation I want," Wilson says. "Is this a workable regulatory regime? Can there be defense trade control in the era of the Internet and 3D printing?"
At least part of the answer to that question would seem to be no. In the days since they were first uploaded to the Internet, it's estimated that some 100,000 people have downloaded the blueprints that Wilson posted when he first announced the successful manufacture of the gun, although it doesn't appear that anyone as of yet has been successful at repeating Wilson's effort. Moreover, those files were not uploaded to a server in the United States to begin with. Instead, they were hosted by Mega, a storage service based on New Zealand that was created by ex-hacker, entrepreneur, and frequent critic of the U.S. government Kim Dotcom. As the linked article notes, while the files have been removed from Defense Distributed's site, it's not at all clear that they've been removed from Mega, nor is it clear whether Dotcom would host the files elsewhere on his site. Moreover, the files have also appeared on Pirate Bay and several other well-known file sharing sites over the last couple days, all of them outside the jurisdiction of the United States. No doubt, the files will start appearing elsewhere now that the State Department has taken this action.
I know next to nothing about ITAR so I cannot comment on whether or not their actions are appropriate here,or whether Wilson is correct that he ought to be protected by the safe harbor allowed for research. At first glance, it would appear that he has a fairly good case that what he was engaging in is research, but the other side of the argument is that he's spreading weapon's technology to other parts of the world, including nations that we normally bar such technology to. That's the problem with the Internet, though, and why the government's actions here strike me as closing the barn door after the horses have left. In just the short few days that the files were publicly available, they have traveled around the world. Eventually, probably sooner rather than later, someone is going to replicate what Wilson did and others will begin to improve upon his design. Wilson started out this project to make a point about the uselessness of regulation in an era of the Internet and 3D printers. Despite the State Department's action yesterday, I'd argue that he's already largely succeeded.
A copy of the letter is embedded below.
Letter From Department of State to Defense Distributed by dmataconis