Stupidity Was The Other Plague We Mismanaged
Having failed to prevent or contain it, aggressive stupidity is now washing over us.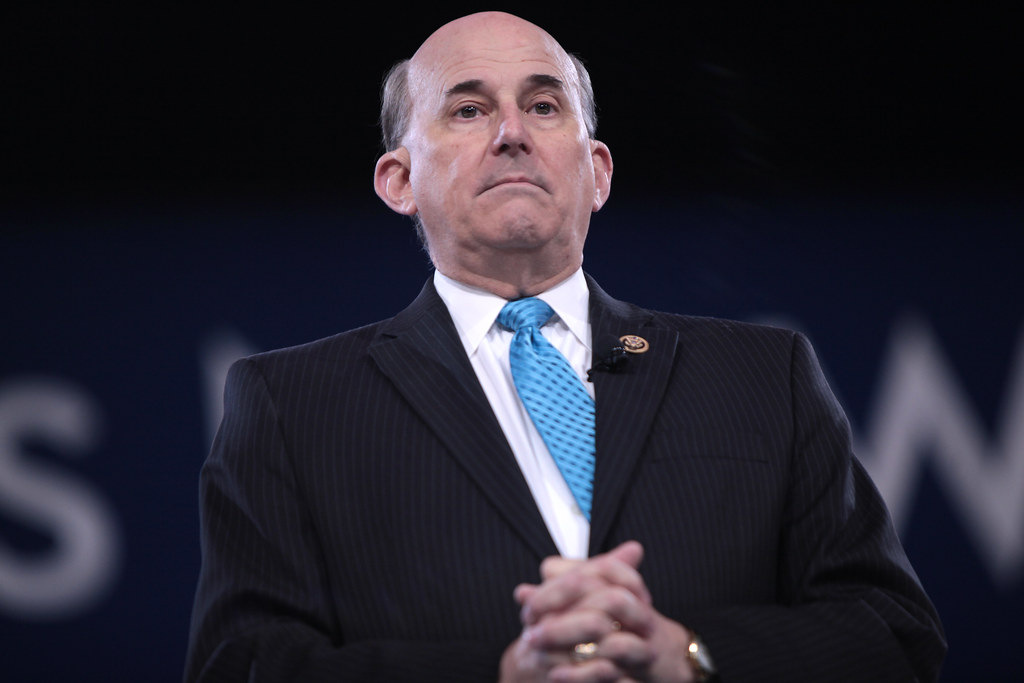 I have no doubt that Representative Louis Gohmert is a stupid person. He has made a career out of arguing strenuously for stupid positions. A quick Google search will reveal many of them, such as his belief that there was a German disinfectant that kept surfaces free from COVID-19 for 14 days. He does stupid things, like escorting children around the Capitol Building after being exposed to someone infected with COVID-19. Now that he is infected, he blames his infrequent mask wearing, which seems to happen as often as he quotes Marx and Engels. He announced that he was infected to his staff in person, in the enclosed space of their offices, not wearing a mask. Gohmert is so colossally stupid that you could easily imagine his name becoming a synonym for a stupid person. "You're really being a Gohmert today!"
Normally, you would expect some percentage of public officials to be stupid, just as a result of the bell curve of the quality of elected officials. Unfortunately, there are a lot of stupid people in both elected and appointed positions. Another recent example is Nino Vitale, a state legislator in Ohio. Vitale is trying to lead the charge in his state against COVID-19 testing ("!! NEVER GET TESTED !!"), mask wearing ("One of those principles is that we are all created in the image and likeness of God. That image is seen the most by our face. I will not wear a mask."), and public health officials (Vitale called the state's health director a "dictator" and "an unelected, globalist health director").
Stupidity, of course, is not the same as ignorance. Stupidity requires either the inability to learn, the unwillingness to learn, or both. Getting into epistemological questions about whether Gohmert and Vitale are actually (1) moderately intelligent people putting on an act to play to a particular constituency, or (2) sincerely stupid people, isn't really necessary. they speak and act in stupid ways.
And there are far too many Gohmerts and Vitale in public life today.
The Framers certainly had their doubts about human nature. For example, the Federalist Papers argued at length about the danger of "faction" as a natural human tendency that, unless unchecked, would inevitably divide the people responsible for making Solomonic decisions into hostile camps warring over petty differences. The results would be bad for everyone, but people drunk on factionalism aren't thinking that far ahead. I do not believe, however, that the Framers anticipated stupidity at the scale that we are seeing today. Even if they had, no one, not even the smartest leaders, might have been able to devise a "machine that would go of itself" that could have erected a dam against all the damage that unchecked stupidity could inflict. The problem of stupidity requires human solutions, not legalistic, electoral, or constitutional formalities.
Stupidity is a genuine political force, at both the elite and mass levels, to use a bit of political science framing. For every James Inhofe bringing a snowball into the Senate chamber to "disprove" climate change, we have tens of thousands of people dedicated to "disproving" climate change, evolution, the efficacy of vaccines, or a thousand other subjects. These individuals are mostly stupid by choice, because they refuse to learn. (My earlier post about conspiracy thinking discussed one strain of this particular disease.)
Perhaps you think my choice of words is overly judgmental, or I am merely exaggerating for effect. I am not. Instead, I am deeply concerned that the United States, as a country, is unable to cope with our simultaneous crises — the pandemic, economic collapse, creeping authoritarianism, and the world's horror at what we've become — because of a deep-seated denial of any responsibility to learn, a hostility to people who have deeper understanding of particular topics than themselves, and choruses of hosannas from people with the same uninformed opinions. Trickle-down economics will work, but it just hasn't been tried hard enough. All politicians are the same. Evolution is just a theory. The Framers wanted the Bible to be the basis of government. Climate change isn't a problem. The Civil War wasn't about slavery. Earth is flat. Hydroxychloroquine is a miracle cure. No amount of evidence can demonstrate the wrongness of these beliefs, to people who are as dedicated to not learning, or as organized in their collective stupidity.
Ignorance has always been a far easier issue to handle. Sure, average voters could not be an expert in macroeconomic trends, nuclear treaty verification, and the efficacy of particular teaching methodologies. However, they could have rough understandings of the economy, national security, and education, and they could certainly know what outcomes in those spheres they wanted. Therefore, they could be entrusted with the vote to select others who could be more expert than themselves. Even if those selected were not expert in everything important, they could manage a bureaucracy that included experts.
Now, we have a much worse situation. A segment of voters want their leaders to push the same uninformed opinions as themselves. They cheer officials who assault the experts within the government. As a result, people have died and more are dying, millions have lost their jobs (and health care, and homes, and careers, and hope for the future), hospitals are filling, people with other health problems than coronavirus infection are not getting treated, our relations with allies and adversaries are at an historic low point, trade and supply chains are disrupted, children are not being properly educated, a segment of the population will not take countermeasures against viral spread today, and may refuse inoculation later… This is not some depressing, Spenglerian wallowing in dark fantasy. This is where we are, because of stupidity run wild.
Anti-intellectualism has always been part of American political culture. An observer as early as Alexis de Tocqueville noted it, and later scholars, such as Richard Hofstadter and Seymour Martin Lipset, made note of it. What we are suffering now, a plague of stupidity, far outstrips anything that these earlier writers witnessed. Some American always wore their lack of learning as a badge of pride, while they bragged of their "homespun wisdom." That bragging has become an aggressive attack on people who can and want to learn, in the midst of a pandemic that requires all of us to be capable of learning.
Our current institutions are not capable of handling this level of aggressive stupidity. Perhaps no institutions can. A healthy political culture undergirds and animates political institutions. Without it, the choice of leaders, their authority in making decisions, and the consent of the populace in executing those decisions, is impossible. There is no magic combination of electoral laws, division of constitutional powers, or federalist arrangements that will substitute for the virtues of a democratic society, such as compassion, respect, humility, adaptability, and responsibility. Weimar Germany, after all, supposedly had the best constitution in the world before the Nazis and their right-wing allies at the time tore it up and burned it.
There is an immediate problem that requires an electoral remedy. It is only the first step in a long course of treatment. Recovery will not happen until we admit how shamefully, willfully stupid a country we have become, and then do whatever is necessary to repair that situation. We've seen the warning signs for decades, but the symptoms didn't rise to the level where we felt motivated to do anything about it. Now, we're faced with the necessity of either handling our stupidity plague, or succumbing to it.