Support For Same-Sex Marriage Reaches New High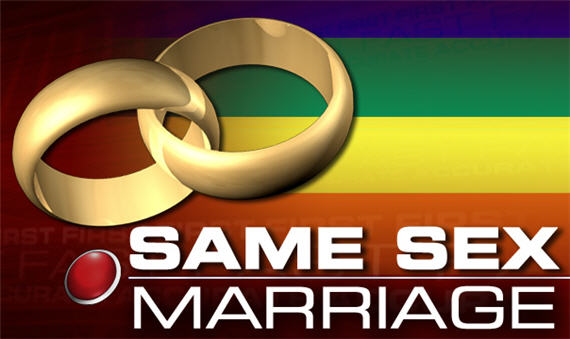 As the victories for marriage eqnuality in both the courts and the state legislatures continue to mount, a new poll shows support for same-sex marriage has reached an all-time high:
Half of all Americans believe that gay men and lesbians have a constitutional right to marry, according to a new Washington Post-ABC News poll in which a large majority also said businesses should not be able to deny serving gays for religious reasons.

Fifty percent say the U.S. Constitution's guarantee of equal protection gives gays the right to marry, while 41 percent say it does not.

Beyond the constitutional questions, a record-high 59 percent say they support same-sex marriage, while 34 percent are opposed, the widest margin tracked in Post-ABC polling.

The poll was conducted in the wake of a series of rulings by federal judges that state bans on same-sex marriage and prohibitions on recognizing marriages performed elsewhere are unconstitutional.

(…)

The shifting attitudes extend beyond issues of marital rights to more basic beliefs about the nature of homosexuality and its implications for child rearing. Nearly eight in 10 say that gays can parent as well as straight people, up from just below six in 10 in a 1996 Newsweek survey.

Sixty-one percent support allowing gays to adopt a child, up from 49 percent in 2006 and 29 percent in a 1992 poll by Time magazine and CNN. More than twice as many people consider being gay as "just the way they are," rather than something they chose.

Despite the changing views, deep chasms remain along religious, generational and political lines. Six in 10 evangelical Protestants oppose same-sex marriage, while about six in 10 Catholics, non-evangelical Protestants and eight in 10 with no religious affiliation support it. Three-quarters of Americans younger than 30 support same-sex marriage, while less than half of seniors say the same.

Although support for such unions has grown to clear majorities among Democrats (70 percent) and independents (61 percent), Republicans have moved at a slower pace. Fifty-four percent of Republicans oppose same-sex marriage in the new poll, while 40 percent approve of it.

"I just don't believe in the marriage thing; the Bible says that isn't right," said Musser, who opposed the Arizona legislation on the religious rights of businesses.

Republicans are split along ideological and religious lines. Support for allowing same-sex marriage is lowest, below one-third or less, among conservatives and evangelical Protestants.
As Greg Sargent notes, the GOP, specifically the religious/conservative wing of the GOP, is pretty much alone on this issue. Outside of demographic groups such as peoiple over 65, there are almost no segments of the American public left where a majority of those surveyed oppose marriage equality. As younger generations become a more vocal part of the political process, support for same-sex marriage is only likely to increase. However, Sargent suspects that it will still be some time before we see real change on this issue from the Republican Party:
Mike Huckabee has warned that if the GOP embraces gay marriage, "they're going to lose a large part of their base because evangelicals will take a walk." And indeed, the GOP has not meaningfully evolved on gay marriage. While many Republicans condemned the Arizona anti-gay bill, the House GOP still won't vote on the Employment Non-Discrimination Act, which would ban anti-gay hiring discrimination. Meanwhile, so few Republican lawmakers have embraced gay marriage that when one steps forward and does so, it's big news, a veritable act of political heroism.

Meanwhile, opposition to gay marriage among Republicans seems to be concentrated among the Tea Party. According to the Post polling team, Republicans and GOP-leaning independents who support the Tea Party oppose gay marriage by 54-38. By contrast, non-Tea Party Republicans and GOP-leaners support gay marriage by 57-36. Tea Party Republicans are often said to be more libertarian-leaning on social issues than other segments of the GOP base (such as evangelicals), but a majority of them still opposes same-sex marriage.

All of this sheds more light on the question of whether Republicans need to evolve their party to keep in step with diversifying America. As Ron Brownstein and Dem pollster Stan Greenberg have suggested, Dems may continue to profit politically in national elections from the GOP inability to broaden its appeal to segments of the electorate that include "diverse America" and the portions of white America "who are comfortable with diverse America." If this is right, then on gay rights, the GOP continues to be captive to a base that shows no signs of wanting to move into that latter category.
Most likely, what you will see in the short term are state Republican parties attempting to differentiate themselves from the national party on this issue, especially in states on the West Coast and in the Northeast where support for same-sex marriage is strongest. What will be interesting to see, though, is what might happen to these poll numbers if, as many suspect, the Supreme Court ultimately rules that state laws against same-sex marriage are unconstitutional. Will conservatives then react as they have to the abortion issue and go on a decades long crusade against so-called "judicial activism," or will they come to accept the ruling and end up fighting rear guard actions on issues like the the rights of people of religious faith to not provide services for same-sex marriage?