Susan Rice To Replace Tom Donilon As National Security Adviser
Denied her chance at being Secretary of State, Susan Rice will be moving to a position that is arguably just as important in shaping American foreign policy.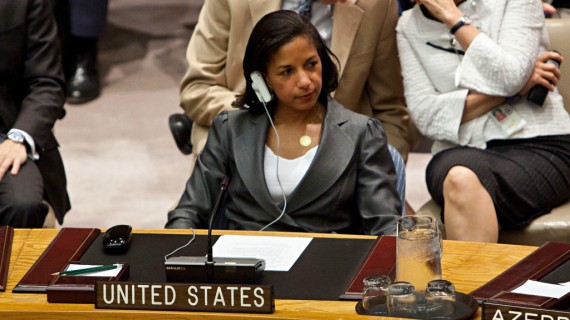 Later today, President Obama will announce that United Nations Ambassador Susan Rice will replace Tom Donilon as National Security Adviser:
WASHINGTON — In a major shakeup of President Obama's foreign-policy inner circle, Tom Donilon, the national security adviser, is resigning and will be replaced by Susan E. Rice, the American ambassador to the United Nations, White House officials said on Tuesday.

The appointment, which Mr. Obama plans to make on Wednesday afternoon, puts Ms. Rice, 48, an outspoken diplomat and a close political ally, at the heart of the administration's foreign-policy apparatus.

It is also a defiant gesture to Republicans who harshly criticized Ms. Rice for presenting an erroneous account of the deadly attacks on the American mission in Benghazi, Libya. The post of national security adviser, while powerful, does not require Senate confirmation.

(…)

A central member of Mr. Obama's foreign-policy team since he first took office, Mr. Donilon, 58, has exerted sweeping influence, mostly behind the scenes, on issues from counterterrorism to the reorientation of America to Asia from the wars in Afghanistan and Iraq.

Among his last big projects was negotiating the highly unusual informal meeting between Mr. Obama and President Xi Jinping of China on Friday at an estate in Southern California. Mr. Donilon, just back from talks in Beijing, clearly took pride of ownership.

"I don't know when there was a broad meeting like this," he said in an interview. "For the last 40 years or so, these conversations have taken place in a more formal, scripted context."

But Mr. Donilon has also hit a rough patch recently, with the publication of an unflattering profile in Foreign Policy magazine that cast him as a sharp-elbowed infighter and a domineering boss, who had strained relationships with colleagues, including his former deputy, Denis R. McDonough, now the White House chief of staff.

Mr. Donilon and Mr. McDonough, however, both denied those reports, with Mr. McDonough saying he had a "very good relationship with Tom." He added, "It pains me to think anybody would think he's leaving because of me."

(…)

For Ms. Rice, the appointment amounts to redemption after she withdrew from consideration as secretary of state because Republicans threatened to block her nomination over Benghazi.

Mr. Obama steadfastly defended Ms. Rice, and after he nominated John Kerry instead of her, White House officials said she became the front-runner to succeed Mr. Donilon, who has been in the job since October 2010 and had been the principal deputy before that.

A Rhodes Scholar who holds a doctorate in international affairs from Oxford University, Ms. Rice began her government career on the National Security Council during the Clinton administration, later serving as senior director for African affairs from 1995 to 1997.

A foreign policy adviser to then-Senator Obama during his 2008 campaign, Ms. Rice was viewed as a potential national security adviser in his first term. Mr. Obama instead sent her to the United Nations and chose Gen. James L. Jones, a former Marine Corps commandant.

At the United Nations, Ms. Rice earned good reviews for lining up balky members behind sanctions on North Korea and Iran. After Mr. Obama's re-election, she was seen as a prime candidate to replace Mrs. Clinton. But that was before she appeared on television to discuss the attack in Benghazi, which killed four Americans, including Ambassador J. Christopher Stevens.

Ms. Rice, using talking points drafted by the C.I.A., said the assault appeared to be a protest gone awry rather than a premeditated terrorist attack. That proved incorrect, and though Ms. Rice cautioned that the account could change with further intelligence, Republicans accused her of sanitizing the truth for political reasons.

After withdrawing her name as secretary of state, Ms. Rice returned to the United Nations, where she kept a low profile, immersing herself in issues involving countries like Syria and North Korea. But she has retained the confidence of the White House, playing an influential role in internal debates over questions like whether to arm the rebels in Syria.

"When she speaks," Mr. Biden said last month, "no one wonders whether or not she is speaking for the president."
When Rice withdrew her name from consideration for Secretary of State, it was assumed that she'd eventually be moved to the National Security Adviser, a position that does not require Senate approval, at some point in the near future. No doubt, the appointment will draw ire from those on the right who have long criticized Rice not only for her role in the events immediately after the Benghazi attack, but also for the policies she has helped usher through the United Nations during her tenure such as the resolutions that were used to justify Western intervention in the Libyan war. Of course, none of that matters since Rice will not have to get Senate approval for her new position. Effectively, though, even though she's been denied the Secretary of State position, she's being put in what is arguably the second most important foreign policy position in the American government.
Meanwhile, it's being reported that Samantha Power, who has long been a close Obama adviser and served on the staff of the National Security Council until stepping down in February of this year, will be nominated to succeed Rice as United Nations Ambassador. Given that Power has long been recognized as a primary advocate for the so-called "Responsibility to Protect" doctrine, and was among those who advocated U.S. intervention in Libya, one can expect that her confirmation hearings will be contentious, although it seems unlikely that Republicans will find the votes to block her nomination or that there will be enough opposition to mount a successful filibuster.
At the very least, this seems to be another example of Obama taking a defiant tack against Republican opposition, much like yesterday's decision to appoint three judges to the D.C. Circuit Court of Appeals. Denied the chance to make her Secretary of State, Obama is making Rice his closest foreign policy adviser in the White House and there isn't a single thing that the GOP can do about it.