Tea Party Senate Candidate In Mississippi Has Ties To Neo-Confederate/Secessionist Group
Several conservative groups have jumped on the bandwagon of what appears to be a controversial Mississippi politician.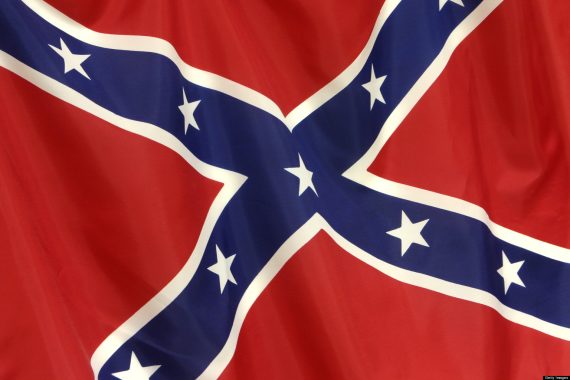 It was just a few days ago that Chris McDaniel, a Mississippi State Senator who has forged close alliances with Tea Party organizations in the Magnolia State, announced that he would be challenging Republican Senator Thad Cochran, who will be running for a seventh term in 2014 unless he decides to retire. McDaniel's announcement was almost immediately followed by endorsements from several high profile conservative groups ranging from Club For Growth to the Senate Conservatives Fund, one of the organizations behind this years "Defund Obamcare" movement which led to a Federal Government shutdown. As it turns out, those groups perhaps should've done a little vetting of McDaniel before jumping on his bandwagon:
Chris McDaniel is taking the "GOP Civil War" to a new level. Two months ago, the tea party-backed Mississippi Senate candidate addressed a neo-Confederate conference and costume ball hosted by a group that promotes the work of present-day secessionists and contends the wrong side won the "war of southern independence." Other speakers at the event included ahistorian who believes Lincoln was a Marxist and Ryan Walters, a PhD candidate who worked on McDaniel's first political campaign and wrote recently that the "controversy" over President Barack Obama's birth certificate "hasn't really been solved."

McDaniel, a state senator, is challenging incumbent Republican Sen. Thad Cochran in next summer's GOP Senate primary. After announcing his run last week, McDaniel quickly picked up endorsements from the Club for Growth and the Senate Conservatives Fund, a political action committee founded by former Sen. Jim DeMint (R-S.C.), a prominent backer of the tea party. Both groups are key players in the internal GOP battle between establishment-minded Republicans and tea party insurgents and are backing right-wing challenges to incumbent Republicans whom they deem insufficiently conservative. Cochran, who is finishing out his 35th year in the Senate and has not said if he will seek re-election, earned the ire of tea partiers by voting to re-open the federal government and avert defaulting on the debt. McDaniel, whose campaign bus features an image of Article I of the Constitution, has promised to make Cochran's debt ceiling vote a centerpiece of his campaign.

(…)

The Rosin Heels does more than regret the outcome of the Civil War. Its monthly newsletter routinely features articles and essays advocating for present-day secession. Its August newsletter highlighted the seven-year-old "Burlington Declaration" from the First North American Secession Convention, which stated that the right of secession was a "[truth] of natural law and the human experience." (While it did not advcoate for specific secession movement, the proclamation affirmed the right of the conference's various attendees to do so.) In September, the newsletter included an essay on secession from the League of the South, lamenting the loss of southern independence at the hands of the "plutocracy and proletariat of the world." A note from the editor stated that "we are living in the times that Jefferson Davis predicted would one day come," in which the conflicts that presaged the Civil War would flare up again. The June issue compared Obama's policies to the ravages of Reconstruction: "Our people have had to put up with for the last FIFTEEN DECADES!!!"

McDaniel is "just proud of his heritage and grateful for it, and that's the reason we wanted him to come in and speak a couple of times," says George Jaynes, a member of the Rosin Heels and the newsletter's editor, who confirmed that McDaniel had attended the events. "We're mainly here to remember the Confederate soldier, our Confederates beliefs, our culture, our civilization. We're here to remember their good names upheld them to tell the truth and to give the facts of the war whether it falls on our side or the other. We're here to tell the truth—that's what the SCV's about and that's the kind of speaker we bring in."
Of course, this being Mississippi, it's quite possible that this won't hurt McDaniel very much:
Hobnobbing with birthers and Lost Causers may not be an impediment for McDaniel as he tries to dethrone Cochran—he is, after all, in Mississippi. According a 2011 survey from Public Policy Polling, only 47 percent of Mississippians—and 21 percent of Mississippi Republicans—were satisfied with the outcome of the Civil War.
Perhaps, but this is the kind of candidate that, if he gains a foothold in the race is likely to become a focus nationally as we head into 2014 in a manner that isn't likely to do the GOP much good nationally, much in the manner in which candidates like Christine O'Donnell, Sharron Angle, Todd Akin, and Richard Mourdock did and said things that had implications for the party far beyond their particular races.  One blogger who has worked as a  political communications adviser for several Republican campaigns put it this way:
The man's pastime of speaking to people who aren't fully convinced the Civil War actually ended wasn't exactly a subtle one that ran just under the radar in his home state. McDaniel was the keynote speaker at multiple events. To be fair, of course, Mississippi is one of several states still reeling from the war's outcome, despite it having taken place more than a century and a half ago, and while I hope these aren't the kind of events southern politicians attend routinely, they seem to be, at least, routine events.

But here's the thing. While there are lots of potential excuses for McDaniel's extracurricular activity, none of them should have to be raised in defense of someone picked to potentially run a statewide campaign for a national office. If McDaniel wants to stay in Mississippi and appeal to the local flora and fauna by attending events that celebrate an era most Americans would rather forget, and blow out candles on Jefferson Davis' birthday cake, that's his prerogative, but he's certainly not qualified to go anywhere near the US Senate.Especially since embracing someone who frequents neo-confederate events plays directly into the larger liberal narrative about the Tea Party. But apparently, foreseeing such troubles is too difficult for people who frequently accuse nearly every other American political segment of shortsightedness.

This isn't an optics problem. This isn't a metrics problem. It's a candidate problem. And someone should have known better.
This seems to be something that anyone who has any experience at all in politics would seem to realize as a matter of course. Candidate selection is the first step in trying to win an election, and if you don't handle that correctly then everything else that follows is likely to be a disaster. Imagine, for example, that Republicans in Delaware had rallied behind a candidate in Delaware that could actually win a General Election in that state instead of the flashy Tea Party star. They would've had a realistic chance of winning in that state and reducing the Democratic Majority from 53-47 to 52-48. Instead of doing that by nomination longtime Congressman and former Governor Mike Castle, they went for perpetual Delaware political gadfly Christine O'Donnell, to predictable results. Similarly, Republicans in Nevada had a chance to knock off the Senate Majority Leader, but essentially signed that away when they nominated Sharron Angle. In 2012, they did much the same thing when they rejected longtime Senator Dick Lugar in favor of Tea Party hero Richard Mourdock.
This year, the GOP faces these same choices. In addition to Mississippi, there are potential primary challenges to long-serving Republicans brewing in Kentucky against Mitch McConnell, in Tennessee against Lamar Alexander, and in South Carolina against Lindsey Graham. There are also potential primaries for winnable open seats in Montana, South Dakota, and West Virginia, along with opportunities for GOP pickups in Arkansas, Louisiana, and North Carolina. Now, to be honest, most of these seats are likely to go Republican no matter who the nominee, this is especially true of Tennessee and Mississippi, but the potential seems to exist for Democratic pickups in Georgia and Kentucky if long -term incumbents are cast aside in favor of untested Tea Party candidates. How the races go in these states could be very important to how the race goes heading into the General Election. Additionally, as I noted above, selecting a candidate like McDaniel could have an impact nationally even if it doesn't end up being a problem in the particular state where the candidate is running.
There's still no word if Cochran is actually running for reelection. The fact that he's been in the Senate since 1978 and would be 82 if he served out a seventh term may be reasons he'll decide to retire. If that happens, it's likely that other Mississippi Republicans will enter the race. Whatever happens, though, the conservatives who jumped on his bandwagon may want to rethink their support.