Ted Cruz Tops Poll Of 2016 GOP Contenders
If nothing else, Ted Cruz's quixotic mission has succeeded in cementing him in the minds of Republican voters.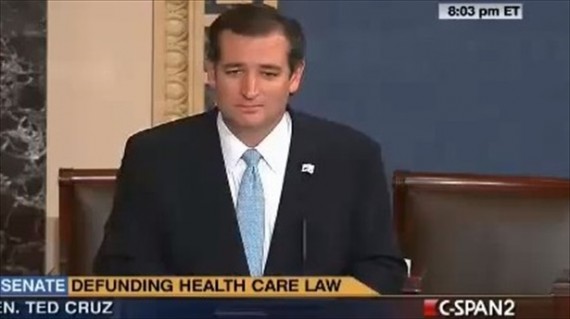 Just a few days after his non-filibuster filibuster, Ted Cruz finds himself at the top of a national poll of 2016 Republican contenders:
PPP's newest national poll finds Ted Cruz is now the top choice of Republican primary voters to be their candidate for President in 2016. He leads the way with 20% to 17% for Rand Paul, 14% for Chris Christie, 11% for Jeb Bush, 10% each for Marco Rubio and Paul Ryan, 4% for Bobby Jindal, and 3% each for Rick Santorum and Scott Walker.

Cruz has gained 8 points since our last national 2016 poll in July while everyone else has more or less stayed in place. He's made himself the face of a government shutdown over Obamacare, and the Republican base supports that by a 64/20 margin. It's not surprising that Republicans identifying as 'very conservative' support a shutdown 75/10, but even the moderate wing of the party supports it by a 46/36 margin.

Cruz is leading the GOP field based especially on his appeal to 'very conservative' primary voters, who he gets 34% with t0 17% for Rand Paul and 12% for Paul Ryan. Voters who fall into that ideological group make up the largest portion of the Republican electorate at 39%. With moderates Cruz gets only 4% with Christie leading at 34% to 12% for Jeb Bush and 10% for Marco Rubio, but they only account for 18% of GOP voters and thus aren't all that relevant to Cruz's prospects for winning a Republican nomination.

Our numbers also suggest that Cruz is now viewed more broadly as the leader of the Republican Party. When asked whether they trust Cruz or GOP leader Mitch McConnell more, Cruz wins out 49/13. When it comes to who's more trusted between Cruz and Speaker John Boehner, Cruz has a 51/20 advantage. And when it comes to Cruz and 2008 GOP nominee and Senate colleague John McCain, Cruz wins out 52/31. He now has more credibility with the GOP base than the folks who have been leading the party for years.
The usual caveats about early polling apply here, of course, but if nothing else this is an indication that Cruz's summer-long effort to lead the "defund Obamacare" movement, which came to a head with the events of earlier this week has had an effect on the Republican electorate. Of course, we've seen this happen before with other Republicans who get their names in the news for an extended period of time, ranging from Rand Paul to Chris Christie and it's entirely possible that this will just be seen as a momentary blip for Cruz that won't last for very long. It's also possible, though, that this is just the beginning of Cruz publicity machine that will last all the way past the 2014 elections.
Could a freshman Senator who clearly doesn't represent the broad middle of his party, or his country, end up winning the nomination, especially when its clear that the "establishment" of the party is going to be arrayed against him? Personally, I think it would be highly unlikely, but one never really knows in this world. At the beginning I also didn't think that a freshman Senator from Illinois would be able to beat the Clinton machine and look what happened. (And, yes, I know that Ted Cruz is no Barack Obama.)
I said earlier this week that it was clear that Cruz's effort was as much about building mailing and fundraising lists and enhancing his own brand as it was about actually advancing policy, perhaps more about that than anything else. To that extent, a poll like this would seem to suggest that Cruz has succeeded in his plan.