Texas High School Builds $60 Million Football Stadium
A rather egregious case of misplaced priorities in Texas.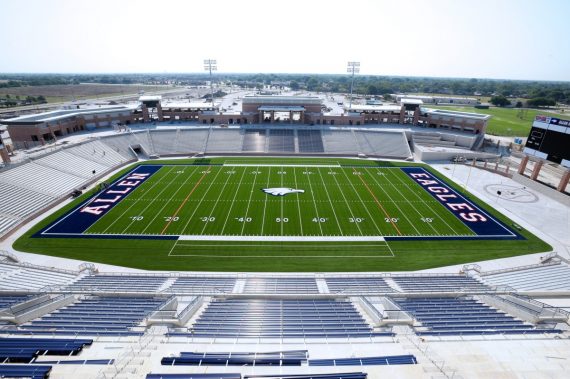 A high school in Texas opened their season last night in a brand new, state of the art, stadium that cost $60 million to build:
ALLEN, Texas — Call it the palace of high school football: A gleaming $60 million facility with seats for 18,000 roaring fans, a 38-foot wide high-definition video screen, corporate sponsors and a towering upper deck.

Welcome to the new home of Eagles football.

As school districts across the country struggle to retain teachers, replace outdated textbooks and keep class sizes from ballooning, the wealthy, burgeoning Dallas suburb of Allen christened its new stadium in front of a sellout crowd Friday night with a 24-0 victory against defending state champion Southlake Carroll.

It's not the biggest high school stadium in football-mad Texas, but Eagle Stadium is the grandest, with a spacious weight room for the players and practice areas for Allen High School's wrestling and golf teams. The school district decided to build it in a down economy, knowing full well it never will recoup the costs.

It's a decision that local officials and team supporters defend, saying the stadium will serve as a community centerpiece and source of pride for years to come and will more than pay the costs of operating it.

"There will be kids that come through here that will be able to play on a field that only a few people will ever get the chance to play in," said Wes Bishop, the father of a junior linebacker on the team and head of the local booster club.

(…)

Today, the high school has 4,000 students enrolled and a 700-member band that's among the biggest in the country. Collin County, which includes Allen and other Dallas suburbs, is one of the wealthiest areas of Texas — and home to some of the state's top football teams.

About 63 percent of voters supported a $119 million bond package in 2009. Construction on the stadium began a year later. District officials went with more expensive concrete seating over all-aluminum benches, adding perhaps $4 million more to the cost, according to officials. But they said they expected this stadium to last decades.

"Our intention is not to recoup the money it cost to build the stadium," Carroll said. "It's not practical to say we'll get that money back. (But) the revenue we receive from the stadium will far exceed the cost of operating it."

While the district did not have estimates, Carroll said he expects the stadium to be competitive in hosting high school playoff games and other events. The school has also sold six sponsorships for about $35,000 a year, he said.
Now, I realize that High School Football is pretty much a religion in Texas, and that Friday night's are the Lone Star State's second Sabbath, but this strikes me as just a bit ridiculous. It's bad enough that they spent $60 million, which is larger than the budgets of some school systems in this country, on a football stadium instead of on academics, or on upgrading the school facilities that all the students use. But, they did so knowing that they'd never get that money back. Granted, this is a apparently a very well-off area of the state, but making an investment that you know you'll never pay for in the end is monumentally stupid.
A blogger who goes by the pseudonym "Grover Cleveland" points out just how egregious the Allen Eagles stadium really is:
For the sake of comparison, Fenway Park cost $650,000 to build in 1912.  This is only about$15 million today!  The Cotton Bowl in Dallas, Texas was built in 1930 for the whopping price of $328,000.  In today's dollars, that is a mere $4.5 million.  Of course, those aren't the replacement costs for the identical structures.

So get this - The University of North Carolina-Charlotte is currently constructing a new football stadium.  Cost?  $15 million less than Allen's!
One could point to recent commercial sports stadiums for a different comparison, of course. The new Yankee Stadium cost roughly $1 billion to build, and the new Marlins Park cost $634 million. But those stadiums are both used by teams that generate a ton of revenue for their teams and will more than pay for themselves over the course of their usable lives. Can you say the same thing about this ostentatious sports palace in Texas? No, you cannot. They've already admitted they're going to lose money on the construction costs. It's perhaps one of the dumber financial decisions I've ever seen.
This is has been an issue in Texas before, apparently, and one of the state's most well-known residents has spoken out against it:
In 1982, when the West Texas city of Odessa built a 19,000-seat stadium for a then-unheard-of $5.6 million, it drew scorn from some people who questioned the district's priorities. Odessa would be featured a few years later in the book "Friday Night Lights," a national best-seller that inspired a movie and a TV series.

Ross Perot, the billionaire businessman and former presidential candidate, repeatedly took aim at his home state's football culture as he pushed the state to shed extracurricular activities and increase accountability measures.

"Do we want our kids to win on Friday night on the football field or do we want them to win all through their lives?" Perot said in a 1988 Washington Post column. "That's what we have to start asking ourselves."
Perot has a point here, I think, and this stadium is just another example of how our priorities in this country are seriously, seriously misplaced.  When we live in a nation where our students continue to lag far behind other students from other nations on standardized tests, spending this kind of money on a football stadium is quite simply just pathetically ridiculous. The voters of Allen, Texas ought to be ashamed of themselves, look in the mirror, and ask themselves what's more important, a cool football stadium or their children's future? So far, they've answered that question incorrectly.