Thanks To Government Shutdown, Minnesota About To Reinstate Prohibition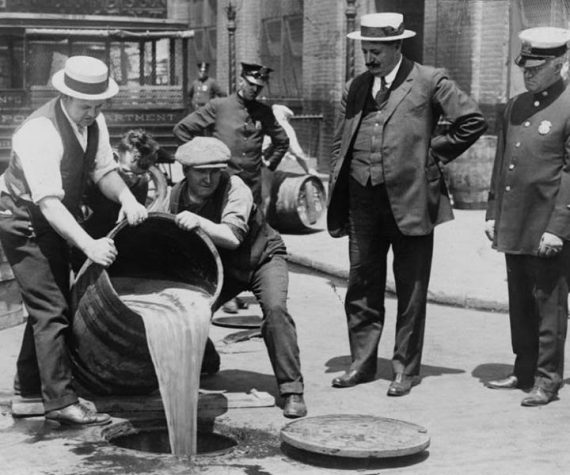 The state government in Minnesota has been shut down since July 1st due to the failure of the states Republican legislature and Democratic Governor to reach a budget deal. (Sound familiar?) As the shutdown has dragged on toward its two week anniversary its seemed like many Minnesota Republicans were content to let the shutdown continue, content they had the upper hand and that the public wasn't missing the government all that much. That may no longer be the case. Thanks to the closure of government offices, restaurants and bars across the state are in danger of running out of alcohol within the next several weeks:
Hundreds of bars, restaurants and stores across Minnesota are running out of beer and alcohol and others may soon run out of cigarettes — a subtle and largely unforeseen consequence of a state government shutdown.

In the days leading up to the shutdown, thousands of outlets scrambled to renew their state-issued liquor purchasing cards. Many of them did not make it.

Now, with no end in sight to the shutdown, they face a summer of fast-dwindling alcohol supplies and a bottom line that looks increasingly bleak.

"It's going to cripple our industry," said Frank Ball, executive director of the Minnesota Licensed Beverage Association, which represents thousands of liquor retailers in the state.

The Ugly Mug, a popular bar near Target Field, doesn't have enough beer to get through the baseball season.

"Our inventories are diminishing rapidly over the next month," owner Erik Forsberg said. He was among a cluster of bar and restaurant owners who appealed Tuesday to a court-appointed special master to be allowed to continue buying alcohol during the shutdown. "When [the Twins are] back on Thursday and people can't get Budweiser and they can't get whatever, they're just going to go somewhere else."

Come Labor Day, cigarette smokers will be in the same bind.

The state has stopped issuing the tax stamps that distributors must glue to the bottom of every pack before it's sold for retail.

(…)

Of the roughly 10,000 establishments that sell liquor in Minnesota, most of those who needed to renew their buyer purchasing cards managed to do so before the July 1 shutdown started. About 300 were caught with cards that expired on June 30 and no way to renew the permits.

That number will grow to 425 by the end of the month, according to state officials, and grow as more cards expire at random intervals.

"It's definitely going to get worse," said Jim Arlt, director of alcohol and gambling enforcement for the Department of Public Safety. "There will be more and more businesses affected." The alcohol regulation side of Arlt's office was laid off during the shutdown.

Trevor Berg, owner of Hoss' All American Liquors in Walker, Minn., says his card expires this weekend. He plans to stockpile as much as he can before then, hoping it will last until mid-August — or until the budget stalemate ends.

"This is going to treadmill across the whole state the longer they hold out," Berg said, referring to the Republican legislative leaders and DFL Gov. Mark Dayton. "It's going to hit every bar and restaurant that needs a liquor license."
It's not just bars and restaurants that are being impacted by the closure of the state liquor licensing authority, the shutdown is also hitting one of the largest beer companies in the country:
The MillerCoors brewing company landed in the cross hairs of Minnesota's government shutdown Wednesday when state officials said it would have to stop selling its beer in the state because of expired licenses.

The Department of Public Safety told the brewer it must stop distribution in Minnesota and devise a plan to pull its product from the shelves, including Coors, Coors Lite, Miller Lite, Miller High Life and 35 other name-brand beers. That would decimate choices for consumers. MillerCoors supplies 38 percent of the beer sold in Minnesota, and the state is one of the top five markets in the country for the brewing giant.

MillerCoors officials said on Wednesday they intend to fight the state and keep distributing. "We believe we've followed all applicable state laws on this," said Julian Green, director of media relations for MillerCoors. "It is our feeling that if we follow all state laws then we should be permitted and have the right to sell our products in the state."

But Department of Public Safety spokesman Doug Neville said the law is the law. "There's really nothing in the statute that allows us to make an accommodation for anybody," he said.

Retailers, meanwhile, were reduced to helpless spectators Wednesday, in yet another unexpected twist to a budget stalemate that has dragged on for 14 days and touched all corners of Minnesota.

"My advice would be come in and buy it now. Stock up," said John Wolf, owner of Chicago Lake Liquors in Minneapolis. He is unsure how it will affect business, since customers may simply opt for other brands of beer.
Obviously this will impact any bar or restaurant selling MillerCoors products, not to mention the citizens of Minnesota. In any case, once the alcohol starts disappearing from the bars and the stores, I have a feeling that the GOP strategy of waiting the Governor out might not continue for much longer.