The Absurdity of the Hunter Biden Story
He met with people. And, get this, with his father!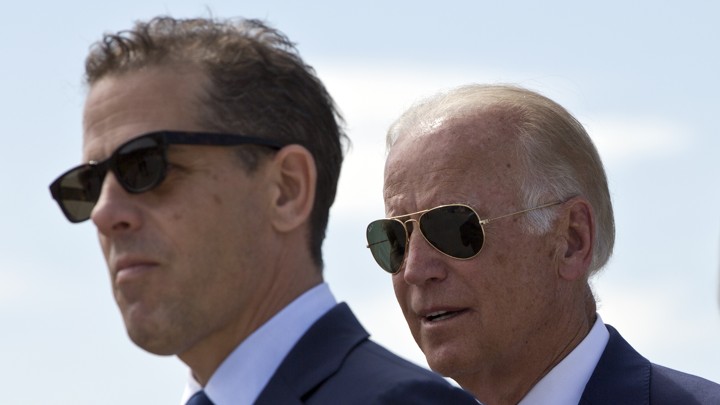 I know that the purpose of the NY Post (and other infotainment coverage of Hunter Biden) is to generate clicks and whatnot but I am still amazed at how they are trying to make something out of nothing. Along the same lines as the piece I noted a few weeks ago is this one: Hunter Biden laptop shows dozens of meetings with dad, business partners. Basically, the previous piece showed that, shock of shocks, that Hunter had a contact list on his laptop. In this latest installment we find out he had a calendar and met with people! Including his own father!!
Hunter Biden met with his father at least 30 times at the White House or the vice president's residence, often just days after he returned home from overseas business jaunts.

The breakfasts, lunches and other gabfests between 2008 and 2016 raise questions about whether Hunter was relaying messages to his father on behalf of foreign clients, and cast new doubt on the president's repeated denials that he had any role in his son's shady overseas business dealings.

The meetings were found in a review of the personal calendar on Hunter Biden's abandoned laptop.
Okay, so over an eight year period, a son met with his father at least thirty times (and sometimes at his residence!). I am not sure what the right word to describe this is, but I know that shocking doesn't even cover it.
I mean, it cast new doubts!
And it raises questions!!
And, you know, gabfests!!!
Look, as James Joyner and I have both noted: Hunter is clearly trying to cash in on his name. If he has done anything illegal, he should be prosecuted. And look, if his father has engaged in unethical behavior, then let the consequences rain down. But the fact that Hunter has had some meetings to try to make some deals and then subsequently also met with his own father does not mean much of anything.
The article is basically a list of some people that Hunter met with and a lot of innuendo that deals were going down that might, somehow, be shady and/or involve then VP Biden. Stuff like this:
In another meeting with royalty, the crown prince of Yugoslavia told The Post he was hoping Hunter could put in a good word to his dad about possible help rehabbing their royal palace in Belgrade.
First, I have to admit that I did not know that Yugoslavia had a crown prince (and we won't get into the fact that Yugloslavia isn't even a country anymore).
Second, so a guy asked a guy to put in a good word to his very important father. Truly the stuff of scandalous scandals.
A lot of the piece is dedicated to Colombia (it gets its own sub-head and there are several file photos!). I assume that Post editors assume their readers have late-90s/early 2000s sensabilities and therefore find Colombia to be especially scary.
A March 2, 2012 entry notes a meeting with Joe Biden and Andrés Pastrana Arango, the former president of Colombia, whose business Hunter had been courting for months, emails on the laptop show.
In the interests of full disclosure, I too have met with Andrés Pastrana Arango, but at the time he was a Senator and recently defeated presidential candidate. (And I was asking about political parties and such, not investment deals, but still).
The piece goes on to suggest a possible connection to what I assume was the Oderbrecht scandal but mostly references some potential deal with the OAS. The Oderbrecht scandal was pretty massive, and it strikes me as wholly within the realm of the possible that Hunter Biden and friends might have been sniffing around. But, inhlaing metephorical aromas does not criminality make.
Beyond that, people talked about projects. Some meetings were had, some dinners consumed, but it is wholly unclear whether any money was made by Biden, let alone in a shady fashion.
Again: I think Hunter is very much cashing in on his name. But there has yet to be any evidence of illegality and especailly nothing that would implicate Joe Biden.
I know I should avoid these stories, but it is fairly remarkable, nonetheless, how much these Post stories drag out utterly mundane facts (Hunter had meetings! He tried to make money!) and cast it in sinister tones with absolutely no substance whatsoever. And then this stuff is massaged and regurgitated on FNC and politicianis like Elise Stefanik try to make political hay out it:
House GOP Conference Chair Elise Stefanik — who has promised to subpoena Hunter Biden should Republicans win back control of Congress in the 2022 midterm elections — said it was more evidence of corruption.

"Hardly a day goes by without another revelation about how intimately involved Joe Biden was with his son Hunter Biden's corrupt foreign business dealings. The fact that Joe was in meetings with senior foreign leaders on behalf of Hunter and his business associates while Vice President further proves that Joe has been lying to the American people," Stefanik told The Post.
It will be quite the commentary on Republican politics that Hunter Biden's meetings with various global elites a decade ago will be seen as a priority for a new House majority, but hearings about the storming of the capitol are just old news not worth paying attention to.
Sigh.