The Afghan Surge Was A Failure
The Afghan Surge announced by President Obama in December 2009 is over. By any objective measurement, it was a failure.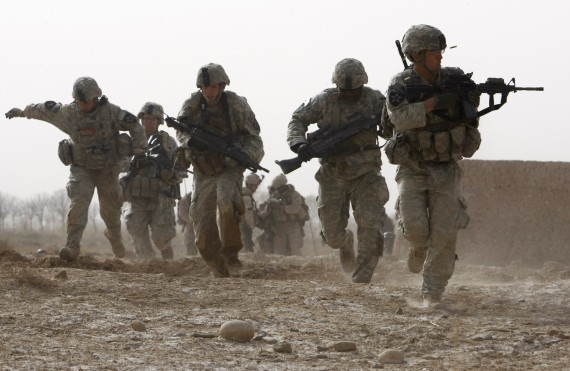 The Afghan Surge, announced by President Obama in a speech at West Point, came to an end last week when the last of the 33,000 troops sent to Afghanistan as part of the surge came home. Among the purposes of the surge was to reduce the ability of insurgent forces to attack ISAF and Afghan troops and to restore order to areas like Helmund Province, which has been a hotbed of insurgent and Taliban activity for years now. Today, Spencer Ackerman takes a look at the Pentagon's own records to determine just how successful the surge actually was:
The U.S. troop surge in Afghanistan ended last week. Conditions in Afghanistan are mostly worse than before it began.

That conclusion doesn't come from anti-war advocates. It relies on data recently released by the NATO command in Afghanistan, known as ISAF, and acquired by Danger Room. According to most of the yardsticks chosen by the military — but not all — the surge in Afghanistan fell short of its stated goal: stopping the Taliban's momentum.

(…)

In August 2009, insurgents used just under 600 homemade bombs on U.S.-aligned forces. They used just over 600 homemade bombs on U.S.-aligned forces in August 2012.

The same trend holds for every other month in 2009 compared to every month in 2012 for which there is data: The insurgency launched more attacks this year. In some cases, substantially more: insurgents attacked about 2,000 times in July 2009 and a shade over 3,000 times in July 2012. ISAF registered about 475 attacks from homemade bombs in July 2009; and about 625 in July 2012.

Other data provided by ISAF, measuring the changes in attack patterns during the summer fighting seasons, show that the 30,000-plus surge troops cumulatively suppressed summer attacks in 2011 and 2012. 2012-s summer attacks have maintained 2011 levels — something recently acknowledged by Marine Gen. John Allen, who cautioned that any dip from 2011 "may not be statistically significant."

But that suppressive force provided by the surge did not tamp down insurgent activity to levels seen in 2009, when Afghanistan looked sufficiently dire that a bipartisan consensus of Washington policymakers came to believe that a surge was necessary.
Ackerman also provides the chart below which. shows attacks by Taliban and other insurgent forces on ISAF forces. The occasional dips in the number of attacks are a reflection of the fact that there has a been a seasonal lull in the fighting since the beginning of the war itself. In August 2009 during the height of the fighting season, though, there wer roughly 2,700 attacks on ISAF forces by insurgents. In August 2012, there were roughly 3,000 attacks. Additionally, as Ackerman notes, 988 American soldiers have died since the day President Obama announced the troop surge.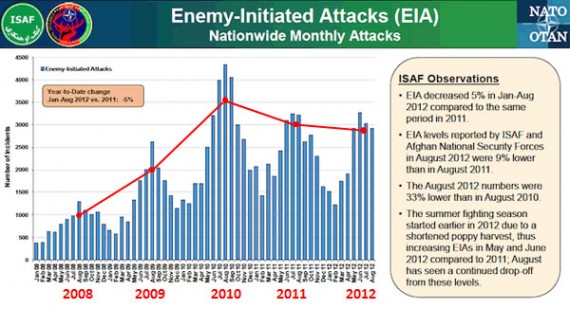 Given these numbers, it's hard to see exactly what it is that the surge accomplished. Afghanistan is no more peaceful than it was three years ago. Our goal of training the Afghan military and police forces so that they can take over controlling security of the country by 2014 has been imperiled by massive uptick in the number of attacks on ISAF troops by Afghan personnel that were supposed to be working together with them. Meanwhile, the Taliban doesn't seem to be any weaker than it was in 2009 and may even have become stronger if the "Green On Blue" attacks are any indication. Indeed, an attack earlier this month on a joint U.S.-British base in central Afghanistan resulted in one of the worst lost of U.S. air assets since the Vietnam War as the attack took out six Marine Harrier jets as they sat on the ground. Taking all of that into account it's hard to see how the surge can be described as anything other than an utter failure.
One thing this points out is the error that those who were advocating the surge in 2009 made in trying to argue that a strategy that succeeded in one country would succeed in another. Fresh off what seemed to be, and for the most part was, the success of General David Petraeus's surge, there were many people who believed that the same strategy would clearly work in Afghanistan. As Kevin Drum notes, however, the success of the Iraq surge was due as much to what was happening in the country at the time as it was to the fact that we sent a large number of additional troops into the country. Those factors didn't exist in Afghanistan and they don't exist now, so it's really not a surprise that the same strategy would lead to completely different results. In reality, history should have taught us that throwing more troops into a nation like Afghanistan doesn't necessary lead to success. The Soviets learned that lesson during their own ten year ordeal in the country.
With the surge finally over and the plan to hand over power by 2014 still in place notwithstanding our recent problems with our Afghan "friends," we seem to still be on the course to get out of this engagement on schedule. At this point, though, I don't really see any good reason why we can't or shouldn't ramp up that schedule and get most of our troops home rather than having them continue to be targets for the Taliban and the Afghan's that they're supposed to be training.