The Balanced Budget Amendment Is A Bad Idea
House and Senate Republicans are pushing a Balanced Budget Amendment. It sounds like a good idea, but it isn't.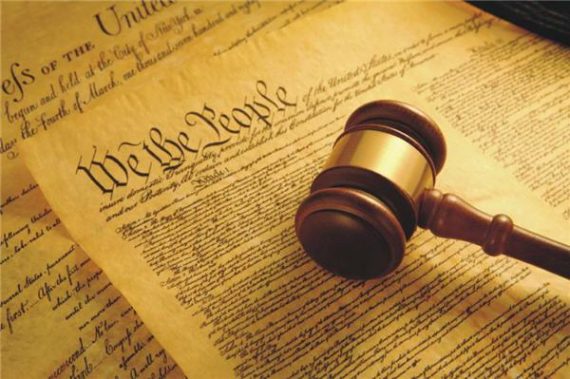 One of the Republican demands during the ongoing debt ceiling negotiations has been that Democrats agree to a vote on a Balanced Budget Amendment, something that's been batted around by GOP politicians ever since the Gramm-Rudman-Hollings Act was declared unconstitutional back in the 1980's:
The House of Representatives will vote on a bill that would amend the Constitution to require Congress to balance the budget each year, Republican Leader Eric Cantor said on Thursday.

The measure has little chance of becoming law, but it could give Republicans added leverage as they struggle with Democrats over a budget-cutting deal that would allow the country to continue borrowing money and avert a default on its debt.

(…)

Some conservative Republicans say they won't back a debt-ceiling increase unless Congress first approves the constitutional amendment. Cantor said he ould schedule the vote for the week of July 25, shortly before the August 2 deadline.
In addition to the action in Congress, the idea of a Balanced Budget Amendment has also made it's way into the Presidential race, where Senator Jim DeMint is laying out the terms of any endorsement he would give:
Sen. Jim DeMint (R-S.C.) threatened to withhold his support for Republican presidential candidates unless they sign a pledge requiring fiscal reforms in exchange for raising the debt limit.

(…)

The pledge, crafted by several conservative groups, would have signatories vow to oppose raising the debt limit unless three conditions are met: 1. Substantial cuts in spending (Cut), 2. Enforceable spending caps (Cap), and 3. Congressional passage of a balanced budget amendment (Balance).

"I'm telling every presidential candidate, if your name isn't on this list, don't come see me," DeMint said.
So far six Presidential candidates — Herman Cain, Newt Gingrich, Ron Paul, Tim Pawlenty, Rick Santorum, and Mitt Romney — have signed the pledge, but  one can assume that candidates like Michele Bachmann won't be far behind. Meanwhile, advocates for the amendment argue that it is the only way to finally get the Federal Budget under control:
A debt-ceiling deal is meaningless without the BBA. It's the only way to address this nation's long-term fiscal crisis. As long as there are politicians in Washington, they'll dream up new programs that require spending taxpayers' money in new ways. Only a binding constitutional limitation would hold them in check.

There has never been a better chance of passage, and securing ratification from at least 38 states next year would inevitably become the central issue of the 2012 election – no presidential signature is required. Now is the time for the Republican leadership to make a high-profile case for the Balanced Budget Amendment to the American people.
In the abstract at least, the idea of a Balanced Budget Amendment is appealing. Most of us are already familiar with them anyway since all fifty states are required to balance their budgets every year, or two years depending on what kind of budget cycle they operate under. Only spending what you take in also makes sense on a personal level, because that's how all of us operate, or at least how we're supposed to operate if we don't want to end up in Bankruptcy Court some day. Before we go all-in on this idea, it makes sense to stop and look at what's actually being proposed and ask ourselves if it would even work, and if we would want to have a government that operates under its provisions.
There are two versions of the Balanced Budget Amendment out there right now, House Joint Resolution 2 and Senate Joint Resolution 5, and there are some differences between the two. However, since it appears to be the one most likely to get a vote I will deal with the House version primarily while noting the major differences in the Senate version.
Here's the full text of the House version (the text of the Senate version is here):
Section 1. Total outlays for any fiscal year shall not exceed total receipts for that fiscal year, unless three-fifths of the whole number of each House of Congress shall provide by law for a specific excess of outlays over receipts by a rollcall vote.

'Section 2. The limit on the debt of the United States held by the public shall not be increased, unless three-fifths of the whole number of each House shall provide by law for such an increase by a rollcall vote.

'Section 3. Prior to each fiscal year, the President shall transmit to the Congress a proposed budget for the United States Government for that fiscal year in which total outlays do not exceed total receipts.

'Section 4. No bill to increase revenue shall become law unless approved by a majority of the whole number of each House by a rollcall vote.

'Section 5. The Congress may waive the provisions of this article for any fiscal year in which a declaration of war is in effect. The provisions of this article may be waived for any fiscal year in which the United States is engaged in military conflict which causes an imminent and serious military threat to national security and is so declared by a joint resolution, adopted by a majority of the whole number of each House, which becomes law.

'Section 6. The Congress shall enforce and implement this article by appropriate legislation, which may rely on estimates of outlays and receipts.

'Section 7. Total receipts shall include all receipts of the United States Government except those derived from borrowing. Total outlays shall include all outlays of the United States Government except for those for repayment of debt principal.

'Section 8. This article shall take effect beginning with the later of the second fiscal year beginning after its ratification or the first fiscal year beginning after December 31, 2016.'.
The Senate version differs as follows:
Provides that total outlays in any given fiscal year shall not exceed 18% of Gross Domestic Product for the immediately proceeding year
Passing an unbalanced budget or increasing the debt ceiling requires a two-thirds vote rather than a three-fifths vote
Requires that any bill that levies a new tax or raises an existing tax rate have a two-thirds vote in each chamber
The Senate bill, then, is more stringent than the House bill both in the number of votes required for an over-ride, and in the inclusion of the GDP and tax increase provisions.
So, is this the way to bring the government under control, a waste of time, or something insidious? In the end, I think it's a mostly a waste of time, and possibly insidious, at least in its present form.
First of all, there's the seemingly simple, but actually very complicated, issue of determining when the budget is "in balance." The proposed amendment speaks of total outlays equaling total receipts, but as we learned during the Clinton years (and as many states have discovered) it's very easy to balance the budget in this manner when you shift items off budget, or into future years. Would the amendment bar that, and, more importantly, how would you determine when that's actually happened? Obviously the courts would have to step in and figure that one out, and I'm pretty sure that the last thing the Judicial Branch wants is to get involved in any way in the Federal Budget process.
The second problem arises out of the very nature of the budget process itself. When a budget is proposed and voted on, Congress is relying on projections of the revenue that's expected to come in over the coming year. More often than not, those projections turn out to be inaccurate, often because they relied on economic projections that turned out to be unreliable. How would this work under the BBA? If we suddenly discovered three-quarters of the way through a fiscal year that a budget we thought would be balanced is going to end the fiscal year out of balance, does that mean that Congress must immediately either cut spending or increase revenues to make up the difference? Again, this seems like another situation where the courts would get involved, and that doesn't strike me as being in the interests of either the Judicial Branch or the country.
Former Reagan Administration adviser Bruce Barlett points out a third problem that is specific to the Senate version of the amendment:
The gross domestic product is not a concept defined in law and is revised constantly; from time to time, the Bureau of Economic Analysis revises the GDP data all the way back to 1929. And of course, the 18 percent figure is totally arbitrary; the proposal effectively assumes that all federal outlays consist of funds that are appropriated annually, rather than consisting primarily of mandatory programs such as Social Security, Medicare and interest on the debt. Even if Congress was willing to cut mandatory spending, it is practically impossible to do so quickly unless it is willing to reduce the monthly checks going to current retirees and other actions difficult to contemplate.
Can you imagine the court battles that would be waged over these issues?
A fourth problem is one that Jimmie Bise, Jr. points out, namely that the supermajority requirement (whether in the House or Senate version) is essentially meaningless:
If you can cobble together a supermajority, you can blow through this amendment like a cannonball through wet toilet paper. The Democrats managed that for a couple years not all that long ago all by themselves and even got a few controversial votes through with some Republican assistance. It wouldn't be exceedingly difficult to step around this amendment, especially if you pepper in phrases like "the children", "the elderly", "the poor", and "the districts back home".

If you don't think this can happen, you've not been paying attention to Congress the past few years. Not only have they blown through any semblance of  "balance", they've stacked trillions of new debt on our children's shoulders with barely a second thought.
If the public wants the government to spend, spend, spend, then they'll send enough people to Washington to override any supermajority. The Amendment isn't going to stop that at all.
The supermajority also poses a problem in the other direction, though, to the extent that it gives too much power to minorities in both Houses of Congress to block measures that are either popular or, just plain necessary. There are a limited number of provisions in the Constitution that require a supermajority in Congress, they are:
Convicting an Impeachment (2/3 majority in the Senate – Article 1, Section 3)
Expulsion of a member of one house of Congress (2/3 vote of the house in question – Article 1, Section 5)
Override a Presidential Veto (2/3 majority in both the House and the Senate – Article 1, Section 7)
Ratify a treaty (2/3 majority in the Senate – Article 2, Section 2)
Passing of a Constitutional Amendment by Congress (2/3 majority in both the House and the Senate – Article 5)
Restore the ability of certain rebels to serve in the government (2/3 majority in both the House and the Senate – 14th Amendment)
Approval of removal of the President from his position after the Vice President and the Cabinet approve such removal and after the President contests the removal (2/3 majority in both the House and the Senate 25th Amendment)
All of these are extraordinary events of one kind or another and it makes sense that the drafters of the Constitution or the applicable Amendments would require a supermajority vote in order to bring them about. Is it really wise, though, to adopt a similar rule for budgeting, which is one of the most common functions of government? The Founders certainly didn't think so, because there's no evidence they ever even considered the idea. requiring that any "unbalanced" budget, tax increase, or increase in the national debt ceiling be approved by at three-fifths (261 House members, 60 Senators) or two-thirds (290 House members 67 Senators) gives a tremendous amount of power to the a small group of Senators and Congressman. The number of ways in which that power can be abused should be rather obvious. More importantly, giving that a minority Constitutional authority to bring government grinding to a halt seems wildly out of sync with the structure that the Founders created.
Finally, Jimmie Bise makes another point about the BBA that calls the whole "Cut. Cap. And Balance" idea into question:
When Republicans say they're getting a BBA, they're not really getting a fully-fledged amendment supported by the Democratic caucus in Congress. They're simply getting an agreement to a vote on the amendment relatively free of political sabotage by the Democrats. Even if they got the amendment out of Congress with overwhelming Democratic support, they'd still need Democrats to prevail on their ideological brethren in state governments so that the amendment would get the majority of the vote in 38 out of 50 states.

Can you imagine that? I certainly can't. In fact, it's far more likely that any Balanced Budget Amendment that could pass Congress would do so with the barest minimum of Democratic support and a lot of opposition.

In short, Republicans would give up something for a chance to do something else. That's not a good deal.
Then, you've got to find a way to get 38 states to ratify the thing. Considering that it's been more than 40 years since a Constitutional Amendment has gone from Congress to the states to ratification, that seems unlikely. In fact, if there were enough public support to get a Balanced Budget Amendment ratified, there would also be enough public support for Congress to actually bring fiscal sanity to Washington. As I've said many times before, the reason we're in the mess we're in is because of the choices that we as voters continue to make. Until that changes, no Constitutional Amendment is going to accomplish anything.