The Continued Politicization of Masks
If you are wondering why masks are political, look no further than 1600 Pennsylvania Avenue.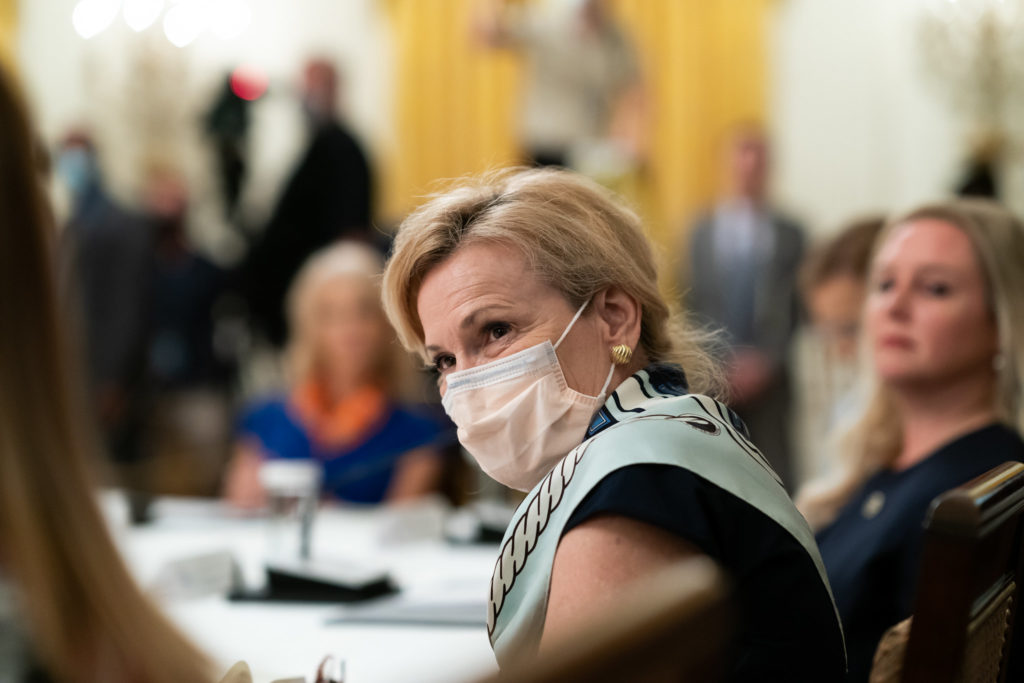 The President of the United States: Trump says 'I don't agree' with CDC director's mask message
In the interview, which is set to air on Fox News Sunday, Wallace referred to recent comments from Centers for Disease Control and Prevention head Robert Redfield that "If we could get everybody to wear a mask right now, I really do think over the next four, six, eight weeks, we could bring this epidemic under control."

"The CDC says if everybody wore a mask for four to six weeks, we could get this under control. Do you regret not wearing a mask in public from the start, and would you consider- will you consider a national mandate that people need to wear masks?" Wallace asked Trump in the interview.

"No. I want people to have a certain freedom, and I don't believe in that, no," Trump answered. "And I don't agree with the statement that if everybody would wear a mask, everything disappears."
This kind of talk is, without any doubt, damaging. It gives people who don't want to wear a mask an excuse (my freedom!) and, worse, gives politicians like Georgia Governor Brian Kemp cover to issue orders that undercut city-level attempts at enhancing public health.
(And can I note, as I did in a previous post, that CDC stands for the Center for Disease Control and Prevention, and therefore it would be nice if we listened to them help us do their eponymous job).
In regards to Kemp, whom Trump has praised on the issue of masks, Gov. Kemp says mask mandates won't solve issue of existing rules not being enforced:
While he personally supports wearing a mask and said "we all agree that wearing a mask is effective," he nonetheless believes "Georgians don't need a mandate to do the right thing."

He said he's heard from law enforcement agencies who don't believe they have the manpower to enforce a mandate. He analogized a mask mandate to speed limit laws, and said: "We have people that don't follow government laws and mandates."
People like Trump and Kemp can pretend like this about "freedom" or the difficulty of enforcement, but the reality is they are abdicating their responsibilities. Obviously, the ability of law enforcement in Georgia to 100% enforce a mask order is nonexistent (but of course, so is their power to 100% enforce the speed limit on I-85). The point of mask orders is not because enforcement is going to get people to "do the right thing," it is to demonstrate that, yes, this is serious and that we are all in it together. The more layers of leadership that can agree on collective action, the more likely it is that citizens will comply.
If the manager of Costco requires masks that has one specific, and limited effect. If, however, the mayor of the city in which the Costco sits signs a mask ordinance, that has a significant reinforcing effect. If the governor of the state on which the city with a mask ordinance resides that contains the Costco issues a mask requirement, the reinforcement is greater (especially if the mayor is a Democrat and the governor a Republican, or vice versa). If the President of the United States would use his bully pulpit, the reinforcement would be even greater and more significant. Instead, as leader of one of our two political parties, his current position helps reinforce the notion that mask-wearing is a political statement.
Side note: I am in squarely in the middle for planning for students to return to campus in Fall, and our plan includes a mask requirement. It was immensely helpful for our governor to have issued a statewide mask order. It would be even better if Trump would get on board.
Further, part of the reason to pass laws is not because their passage will always lead to full compliance, but to tell the public what the rule and expectations are. By no means is it assumed that all laws will be followed only if the government has the means to assure compliance. Most people follow the law because, well, its the law.
The science is increasingly telling us that masks are our best hope, and yet we get the nonsense noted above.
From the WSJ: Face Masks Really Do Matter. The Scientific Evidence Is Growing.
The research Dr. Redfield cited included a newly published study suggesting that universal use of surgical masks helped reduce rates of confirmed Covid-19 infections among health-care workers at the Mass General Brigham health-care system in Massachusetts.

[…]

Researchers from around the world have found wearing even a basic cloth face covering is more effective in reducing the spread of Covid-19 than wearing nothing at all. And many are now examining the possibility that masks might offer some personal protection from the virus, despite initial thinking that they mostly protect others.
Here is an interesting experiment that illustrates the possible benefits of masks: KHQ Investigates: How effective is a mask?
The bottom line is that we need a national effort to get people to take the virus seriously, and that means, among other things, mask-wearing. Instead we get, as per WaPo: Rancor between scientists and Trump allies threatens pandemic response as cases surge.
This week's remarkable character assault by some top White House advisers on Anthony S. Fauci, the nation's leading infectious-disease expert, signified President Trump's hostility toward medical expertise and has produced a chilling effect among the government scientists and public health professionals laboring to end the pandemic, according to administration officials and health experts.
And, hence, we get things like this: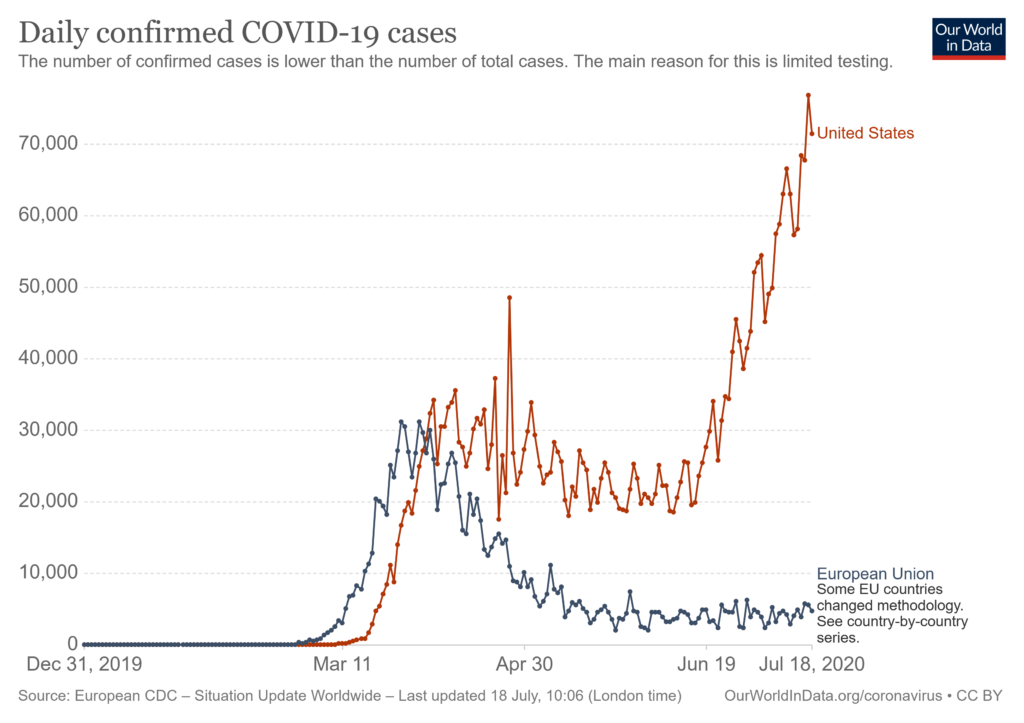 When the assessments are written, this is going to go down in history as a major, and utterly avoidable, public policy disaster.