The Death Star As An Example Of Bad Defense Contracting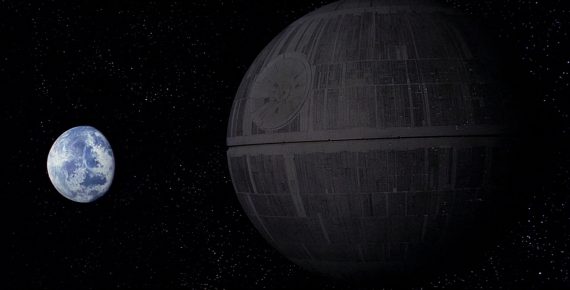 Via Instapundit comes this Adam Rawnsley piece at Wired's Danger Room about the greatest failure in the history of fictional military contracting:
Meet the biggest cautionary tale in the world of defense procurement: the Death Star. Thanks to the Pentagon's in-house acquisition journal, Defense AT&L Magazine — not usually a venue for fan fic — we have a detailed explanation as to why. Air Force Lt. Col. Dan Ward provides a nerdy-but-accurate examination of the Empire's acquisition flaws in building the moon-sized death ray:

In the Star Wars universe, robots are self-aware, every ship has its own gravity, Jedi Knights use the Force, tiny green Muppets are formidable warriors and a piece of junk like the Millennium Falcon can make the Kessel Run in less than 12 parsecs. But even the florid imagination of George Lucas could not envision a project like the Death Star coming in on time, on budget.

It's embarrassing enough that the galaxy's supposedly most fearsome weapon was felled by crappy duct work.

But it was entirely predictable. A project so big and complex, Ward writes, will invariably stretch the oversight capabilities of acquisition staff. In this case, it led to manufacturing delays and prevented the Empire from realizing that one of its thermal-exhaust ports was a de facto self-destruct button.
It didn't stop there either. Some four years later, the same Empire is building a new Death Star. They've taken care of that pesky thermal duct problem, but they've created a design that allows ships to fly inside the station while it's being built to destroy the reactor, and the entire station with it. And they protected the entire thing with a shield based on a Moon inhabited by a disturbingly intelligent race of furry monkeys that they apparently didn't bother to subdue before building THE MOST IMPORTANT SHIELD GENERATOR EVER.
Makes you think those Sith Lords weren't particularly smart after all.