The Dumbest Op-Ed You'll Read All Week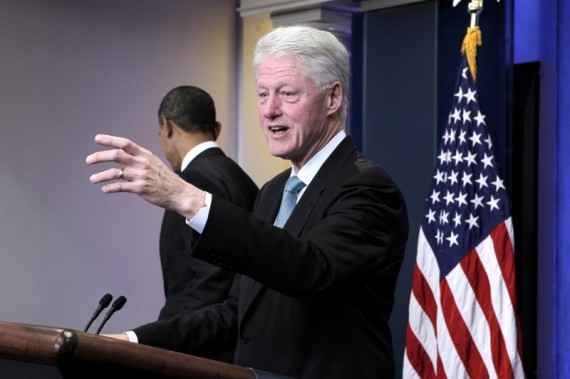 Former Virginia Democratic Party head Paul Goldman and George Mason Professor Mark Rozell make an argument for an Obama-Clinton ticket in 2012, but not the Clinton you're probably thinking of:
Washington's insiders say some Democrats involved in the 2012 campaign may want to drop loyal Vice President Joe Biden for Secretary of State Hillary Clinton. The buzz claims an Obama-Clinton ticket is the party's best hope for retaining the White House.

We like Joe and respect Hillary. But if President Barack Obama decides to follow the path of his favorite president, Abraham Lincoln, and change running mates, the insiders are buzzing about the wrong Clinton.

That's right: a Barack-Bubba ticket is the way to go. True, if elected, Bill Clinton would become our first vegetarian veep — since he's no longer the fast-food guy. Can a real Bubba eat tofu? And yes, he would be the first former president to hold the job, too.
Now, you're probably thinking the same thing anyone would after reading this — what about the 22nd Amendment?  Under that Amendment, Clinton is barred from being elected President again, as is anyone else who has served two terms or who was elevated to the Presidency with more than two years left in a term and then re-elected. Goldman and Rozell, however, come up with a convoluted theory to get around this problem:
But what happens if someone, like Clinton, is elected twice — and then wants to run for vice president? The "twice-elected and done" maxim left a back-end loophole. The amendment clearly states that a two-term president is ineligible to be elected again. It says nothing about being elevated to the office again through succession.

The idea of the once-most powerful person in the world serving in an office that John Nance Garner, FDR's vice president, reportedly said wasn't worth a "pitcher of warm piss" defied the logic for the Congress members who sent the 22nd Amendment to the states for ratification.

The only constitutional requirement for vice presidential candidates is that they be eligible for president, so the position has the same age and citizenship requirements. A vice president who occupies the Oval Office because of the death or incapacity of the president isn't legally "elected;" rather, that person is elevated by operation of law. Thus, Clinton is constitutionally eligible to serve again in the Oval Office.
Their argument falls apart, though, on the rocks of the 12th Amendment:
But no person constitutionally ineligible to the office of President shall be eligible to that of Vice-President of the United States.
Clinton is ineligible to serve as President by operation of the 22nd Amendment. Therefore, he's ineligible to be Vice-President. It's fairly obvious that the loophole that Goldman and Rozell point to was intended to cover those situations where a Vice-Presidents succeeds to the President within the first 23 months of a Presidency, not a President who has already served two full terms and now tries to run for Vice-President. That second situation is clearly barred by the 12th Amendment.
As for the policy arguments in favor of this idea, they are such complete nonsense that they don't even deserve to be addressed. Bill Clinton isn't going to be Obama's ru nning mate and Obama isn't going to ask him. In fact, absent Joe Biden voluntarily stepping aside, and why would he, all this talk about a change in the Democratic ticket in 2012 is utter nonsense.
What does this prove? That Politico will slap "Opinion" on the most idiotic thing written, and publish it, that's about it.
H/T: Frequent commenter Jay Tea at Wizbang