The Euro Zone: Join, Or Die
There may be only one solution to saving the Euro.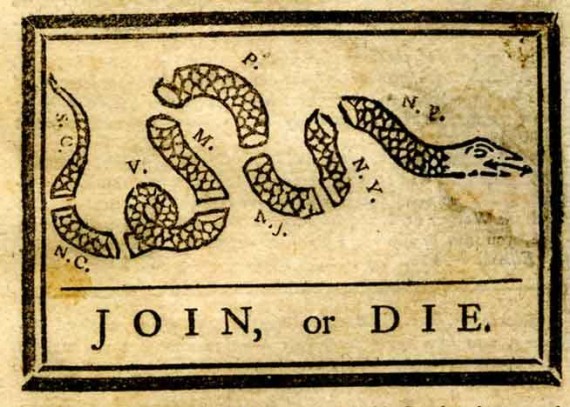 The head of the European Central Bank said this week that the Euro Zone is unsustainable under current conditions, and seemed to hint pretty strongly that the only way it can survive is if it becomes far more centralized than most Europeans seem comfortable with at this time:
U.S. and European officials, who just weeks ago seemed to be getting a handle on the euro zone's financial crisis, are now scrambling to prevent a new round of problems from pulling down some of Europe's largest economies.

European Central Bank President Mario Draghi warned in Brussels on Thursday that he considered the euro zone's current structure "unsustainable," and said the region's governments must surrender far more budget and regulatory power to a central authority if the currency union is to be saved.

His comments — and an intense week of high-level lobbying by U.S. officials — come amid a worldwide swoon on stock markets, a flight by investors to the safe haven of U.S. and German bonds, and a growing concern that problems in Spain's banking sector may force the euro zone's fourth-largest economy to seek a costly bailout. Major U.S. stock market indexes were down 6 percent in May and the euro is trading near a two-year low against the dollar.

(…)

A developing recession in Europe is part of the reason for the renewed sense of tension. The economies of major nations including Italy and Spain are shrinking, while France's has stagnated. The wider global
economy could be losing steam as well. With economic activity in China slowing, authorities there have recently tried to give it a boost by increasing government spending. As the global recovery stalls, crude oil prices have fallen 20 percent in the past two months.

On Friday, the U.S. Labor Department will release its monthly employment report, offering evidence of whether the American economy is continuing to buck the global slowdown or is being held back by global trends.

A sense of political drift in Europe, meanwhile, is taking hold. This is reigniting concern that the euro region's leaders may not act fast enough to prevent investors from abandoning countries such as Spain and Italy for fear they may default on their bonds or, more dramatically, drop the euro.

Political uncertainty has been stoked by the current political stalemate in Greece. With its leading political parties deadlocked ahead of June 17 elections, the country's current bailout program is being pushed off track, raising the risk that Greece may become the first country to exit the euro and fracture the euro currency union.

New leaders in Spain, Italy and, more recently, France, meanwhile, are pressuring German Chancellor Angela Merkel to put even more of her country's financial weight behind measures needed to prop up weakened European governments and banks.

The debate is increasingly focused on the possibility that the Spanish government may not be able to afford the costs of a banking-system rescue.

In recent weeks, European officials, the International Monetary Fund and others have urged that an existing European bailout fund be used to pump money directly into Spanish banks. At the moment, the Spanish government would have to borrow money to bail out the banks, and this would increase its own debt, aggravating concerns about Spain's financial health.

German officials are opposed to providing the bailout fund with the flexibility to help banks directly.

In Brussels on Thursday, Mario Monti, Italy's prime minister, said Germany was putting the goal of a more integrated Europe at risk by its "lack of promptness" in accepting the change.

Draghi, a critical voice in the discussion as head of the central bank used by the 17 nations, said Europe needed to do more to back its banking system. At the same time, he criticized the slow response of Spanish officials in dealing with their banking crisis.
Draghi has a point, of course. Right now, the Euro Zone is a collection of seventeen nations which have some things in comment, but many differences. Most importantly, though, it is a collection of seventeen sovereign nations, each of them with leaders that must respond to their constituencies and the economic conditions in their own countries. Outside of the fact that they have a common currency, the amount of actual coordination between these nations on important economic issues is rather minimal, and the ability of any nation or group of nations to compel consensus, or even collective action of any kind is rather minimal. The European Central Bank plays that role to some extent, of course, but as we've seen in Greece, and as we are apparently now seeing in Spain, there isn't much the ECB can do to force the banks in a sovereign nation to behave responsibly, and there's next to nothing it can do to force the governments of those nations to do so.
Ed Morrissey put it very well in a post about this whole issue the other day:
Europe has a reason for the disunity, which goes to the core of their experiment: multiple sovereign nations managing a single currency.  Germans end up having to suffer the consequences of irresponsibility in Greece, Spain, and France without having any real political power to prevent or punish it, short of pulling out of the euro.  That has always been the rot at the center of the euro, and it was just a matter of time until it became a critical problem.  The only way the euro would work in the long run would have been a federalization of Europe into one sovereign entity, an outcome that its peoples clearly do not want and which European language and cultural barriers wouldn't allow even if popular sentiment supported unification initially.  The UK looks like the most brilliant nation in Europe for its longstanding and prescient Euro skepticism.
In the early days of the Revolutionary Era in what were then Britain's colonies in North America, Benjamin Franklin penned a political cartoon that became popular among those urging collective action by the colonies to defend their interest, it's title was "Join, Or Die."  History also says that, at the Second Continental Congress, where the Declaration Of Independence was signed, Franklin said to those assembled, "We must, indeed, all hang together, or assuredly we shall all hang separately." The point of both of these statements, the second of which may be apocryphal, is that the colonies would only succeed in their struggle against the British, and indeed after independence, if they did it as one united nation.
That, I think, is the problem that the Euro Zone faces and has faced from the beginning. You can't have a common currency without having a common fiscal policy, and you cannot have a common fiscal policy when each of your members is a political sovereign in its own right. The reasons the Euro Zone isn't working aren't really all that different from the reasons that the Articles of Confederation didn't work. In both cases, you have an entity that purports to be a political authority while in reality it is merely a shell that has next to no control over its members and little ability to set "national" policy on issues that matter. The national "legislature" in both cases is mostly a joke, and in both cases the central authority has little ability to stop member states from taking actions that harm the "nation" as a whole. It is, in the end, a recipe for disaster.
America solved its problems by starting over again and drafting a new governing document that placed much more authority in the hands of a central government. It's unlikely that that can or will happen in Europe today. As it is, there is tremendous resistance to the idea of a centralized European state among the people that live within its prospective borders, and one of the continents most important nations still resists even the idea of becoming part of the Euro (a smart decision, in retrospect). It's possible that Europe's elites could come to an agreement about a new treaty that would place much more authority in the hands of Brussels and the ECB, but it seems unlikely that such an agreement would receive popular approval. The difficulties that the proponents of the Constitution faced in ratification in 1787-88 would pale by comparison to what Europe would see in such a situation, I submit.
That would seem to leave Europe with very few options. Dumping the Euro completely would be painful, and a tremendous setback to the entire idea of European unity, but unless the nations of the Euro Zone are all willing to surrender some of their sovereignty for the good of the collective enterprise, it may end up being inevitable.