The Insanity Of Preemptive War Against North Korea
A preemptive attack on North Korea would be illegal, immoral and, most importantly, insane.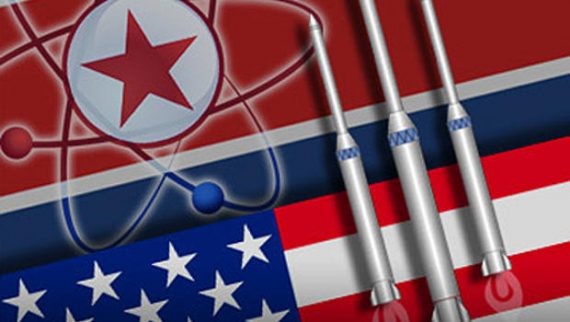 Over at The New Yorker, Evan Osnos notes that the sentiment in Washington, even outside the Trump Administration, seems to be drifting toward war with North Korea:
Chalk it up to Trump fatigue or North Korea fatigue, or a combination of the two, but members of America's political class—the "blob" of government officials, donors, and media types—have started to talk about war with Pyongyang as an increasingly likely prospect. Last week, I spoke to a former Cabinet secretary, a Democrat, who told me that if he were in the government today he would support attacking North Korea, in order to prevent it from launching a strike on America. This was not a vox-pop interview at the mall with a casual news consumer; it was a conversation with a seasoned American official who is inexpert on Asia but otherwise well informed and influential. It was a worrisome indicator not because the former secretary is privy to secret information—by his account, he is not—but, rather, because it reflects an emerging bout of groupthink that needs to be checked.

In another measure of the mood, the retired Admiral Dennis Blair, a former director of national intelligence who led the U.S. forces in the Pacific, wrote this week that if North Korea tests a nuclear missile in the Pacific Ocean, or conducts a nuclear test in the atmosphere—as it has threatened to do—the United States and its allies should launch a "massive . . . air and missile strike against all known DPRK nuclear test facilities and missile launching and support facilities." In Washington, some analysts say that the White House is considering a version of that plan, betting that it would not escalate to an all-out war. Driving much of this discussion is the White House's fundamental analytical position, which was summed in a briefing to reporters in Tokyo by a senior White House official, who said, "North Korea's goal is not to simply acquire these horrific weapons to maintain the status quo . . . They are seeking these weapons to change the status quo. Their primary goal is to reunify the Korean Peninsula and these weapons are part of the plan."

This belief—that if North Korea is allowed to retain its nuclear arsenal, it will seek to gain control of South Korea—has become an essential part of the White House's thinking about the crisis, and it narrows its options, leaving the President and his advisers wary of any negotiation that might allow North Korea to retain some or all of its nuclear weapons. But the idea that North Korea's "primary goal" is reunification is controversial. Some analysts believe that the regime's goal may be more modest—merely its own survival—and that overstating its ambitions (and understating the potential value of a negotiated solution) is a mistake. In that telling, the White House runs the risk of reënacting the George W. Bush Administration's march toward war in Iraq, when officials and pundits took to saying that war was not a choice but a grim necessity. To borrow a loaded phrase, some in Washington are edging toward the belief, so common in 2002 and early 2003, that it's a matter of a preventive war now or a larger war later.
Daniel Larison reacts with alarm:
I would have thought that the insanity of starting a war with North Korea was obvious enough that there would be broad, bipartisan resistance to the mere suggestion of it, but Osnos' report suggests that this is not the case. Attacking North Korea would be extremely costly for the U.S. and its allies, and could very well lead to the use of nuclear weapons that would claim millions of lives. It would also be a blatant violation of international law, and in the absence of Congressional authorization it would also be illegal under domestic law. On top of all that, there is no guarantee that attacking North Korea would "prevent" anything. It is more likely at this point that attacking North Korea would lead to North Korean attacks on American targets. There is no way to justify doing something that would cause all of that devastation.
The fact that Larison is correct and that Osnos's unnamed former Democratic Cabinet official is wrong is something that ought to be self-evident to even the most casual of observers of what's at stake in the current showdown with Pyongyang. First of all, the idea that even a limited military strike against North Korea would be unlikely to stay limited for very long. Even with reassurances from the United States, the Kim regime is not likely to see a limited strike as being, well, limited at all. Instead, it's likely to view such an attack as a prelude to war and respond accordingly. Such responses would likely include retaliatory attacks on U.S. forces in South Korea and Japan as well as attacks on the civilian population in South Korea that would likely leave to tens of thousands of casualties at the very least, and quite possibly something quite worse. Additionally, if the leaders in North Korea really come to believe that their backs are up against the wall, they could well decide to go forward with the unthinkable and actually make use of their nuclear arsenal in some bizarre last-minute attempt to stave off defeat. Add to all of this the fact that, as Larison notes, such an attack would violate all of the norms of international law, as well as the Constitution, makes even the suggestion that the Trump Administration might be considering it, and that the political class might actually support that decision, seem nothing short of absolutely insane.
As I said last week, there are really only two sane options when it comes to North Korea, diplomacy and deterrence. The diplomatic option involves the twin strategies of trying to persuade China, and to some extent Russia, to put further pressure on the North Koreans to hold back on further nuclear weapons and ballistic missile development and trying to pursue some way of getting the North Koreans to a negotiating table that allows all sides to save face and not appear to be capitulating. While we cannot know what is going on behind the scenes, this strategy at least seems to make some sense, although the idea that it is likely to result in North Korea completely abandoning its nuclear weapons program and giving up the technology that it has developed are pretty slim. Barring some diplomatic solution, the only other option is adopting a strategy of deterrence not unlike what we've seen on the Korean Peninsula since the end of the Korean War in 1952. Specifically, it should be made clear to North Korea that any use of nuclear weapons would be responded to with the use of overwhelming force in response, up to and including a retaliatory strike that would effectively destroy the regime itself. This doesn't mean that we shouldn't plan for a conflict in the unfortunate event that one should erupt notwithstanding our best efforts to avoid it, but it does mean that we should abandon the utterly insane idea of a pre-preemptive strike against North Korea that likely would spin out of control rapidly and result in a kind of conflict that we haven't seen since disengaging from Vietnam. The fact that such a strike seems to be something that the powers-that-be in Washington are even briefly considering is, quite honestly, terrifying.