[Updated x 2] The Latest On The Trump Document Investigation
Running down the latest "known knowns" with just a bit of analysis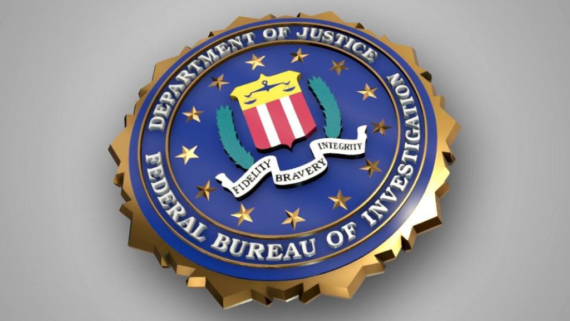 Last Friday, after Former President Trump's lawyers formally filed a document with the Southern District of Florida endorsing the release of the information, the warrant for the search of his Mar A Largo property was released. Additionally, the inventory of documents that were seized in the investigation was released as well. Before the release, copies of both documents were leaked to the Wall Street Journal and Breitbart news.
James has been covering some of the analysis of the decision to search the premises in order to recover classified documents. So I'll focus on the facts that have emerged over the last few days.
From documents the court released on Friday, we learned a few new pieces of information. First, we learned a bit more about the documents the FBI took. While we still have no verification about what the documents were about, we did get details on the security clearance. At least 28 collections of documents were removed from Mar A Largo. This included:
5 collections were identified as "Top-Secret," the most sensitive form of classified document.

This count includes one box containing some number of "Top-Secret/Sensitive Compartmented Information." This is a subcategory of Top Secret Documents. [Update] Commenter Andy, who has experience with classified materials from his days in the Service, provided some additional information about "SCI" below. The "tl;dr" version is that the "SCI" designation is separate from the secrecy level of the document. I highly recommend reading his thoughtful take for more details.

3 collections were identified as "Secret," a step down from "Top-Secret" in classification.
3 collections were "Confidential," the lowest level of classification.
There were a few other developments over the last few days as well.
The New York Times reported that one of former President Trump's lawyers signed a written statement in June that stated that all materials marked as Classified that were held at Mar A Lago had been returned to the Government. This assertation suggests why one of the crimes the warrant listed as being investigated is Section 1519 – the intent to impede, obstruct or influence the investigation or proper administration of any matter. The existence of the affidavit puts both Trump and the lawyer who signed the document in potential legal jeopardy. Lawyer Greg Doucette explains why that is the case in this succinct tweet:
Additionally, Trump's attempt to muddy the waters by claiming that former President Obama did the exact same thing led to a fact check from the National Archives on Friday as well. The Washington Post reported:
Trump has asserted in social media posts that Obama "kept 33 million pages of documents, much of them classified" and that they were "taken to Chicago by President Obama."

In its statement, NARA said that it obtained "exclusive legal and physical custody" of Obama's records when he left office in 2017. It said that about 30 million pages of unclassified records were transferred to a NARA facility in the Chicago area and that they continue to be maintained "exclusively by NARA."

Classified records from Obama are kept in a NARA facility in Washington, the statement said.

"As required by the [Presidential Records Act], former President Obama has no control over where and how NARA stores the Presidential records of his Administration," the statement said.

https://www.washingtonpost.com/national-security/2022/08/12/trump-obama-national-archives/
Also, sharp eye-ed analysts have noticed that the Southern District of Florida, in responding to a request from the Albany Times-Union to unseal the Mar A Largo Warrant, noted that there was a second warrant issued that day.
The second warrant doesn't appear to have anything to do with the classified documents warrant ("completely unrelated" in the language of the court) and was therefore not unsealed. Legal twitter accounts have noted that it's standard practice for a Magistrate judge to review and rule on warrants from multiple and unrelated cases at the same time.
Finally, I will leave you with a link to a thread by Berkeley Law Professor Orin Kerr on why he believes that a recent theory that the search of Mar A Lago somehow deprived Trump of his Fourth Amendment Rights doesn't hold up under scrutiny. It's dense and technical, but still worth a read.
---
[Update 8/15 PM EST] – I realized that I failed to know two other claims that surfaced from former President Trump. While we currently have no evidence from the Justice Department to prove the claims, it's worth recording that they were made.
First, over the weekend, Trump used his Truth Social account to state that his legal team believes some of the documents seized involved attorney/client privilege. There are procedures the government has in place for reviewing such documents. If this was the case, expect to hear something about "Taint teams" (one of Popehat's least favorite topics to discuss due to the unfortunate double-entendre).
Perhaps more importantly, early Monday afternoon, Trump announced that the search team had taken possession of his passports:
Note that a former president having both a personal and a diplomatic passport is standard practice. Alternatively, he might also have two copies of a personal passport if he regularly travels to places that require visas.
If this is true, it will be something to keep an eye on. It's entirely possible that the documents might have gotten caught up with the other files and taken unexpectedly. If that is the case, which I suspect it is, I would expect them to be quickly returned. If it turns out that the government is intentionally holding both passports, then I suspect that signals a significant development towards prosecution. In order for the government to hold his passport, Trump would need to be charged with a crime and then have a judge rule that he is a flight risk. The FBI cannot knowingly "seize and hold" a passport without due process.
---
[Update 8/15 PM EST] – There were two additional developments that are worth highlighting in the case.
Earlier this evening, a Trump spokesperson Taylor Budowich released an image of a redacted email from Jay Bratt, Chief of the Counterintelligence and Export Control Section (CES) of the National Security Division, confirming that the taint team (aka the filter team) had discovered 2 expired passports and one diplomatic passport belonging to former President Trump. The passports were being returned and could be picked up at the Washington Field Office (WFO) earlier this afternoon. So the government is not holding the passports and this appears to have been a mistake. Also, note that the timestamp (10:49 am MDT) suggests that this was sent prior to Trump's early afternoon post to Truth Social about the missing passports.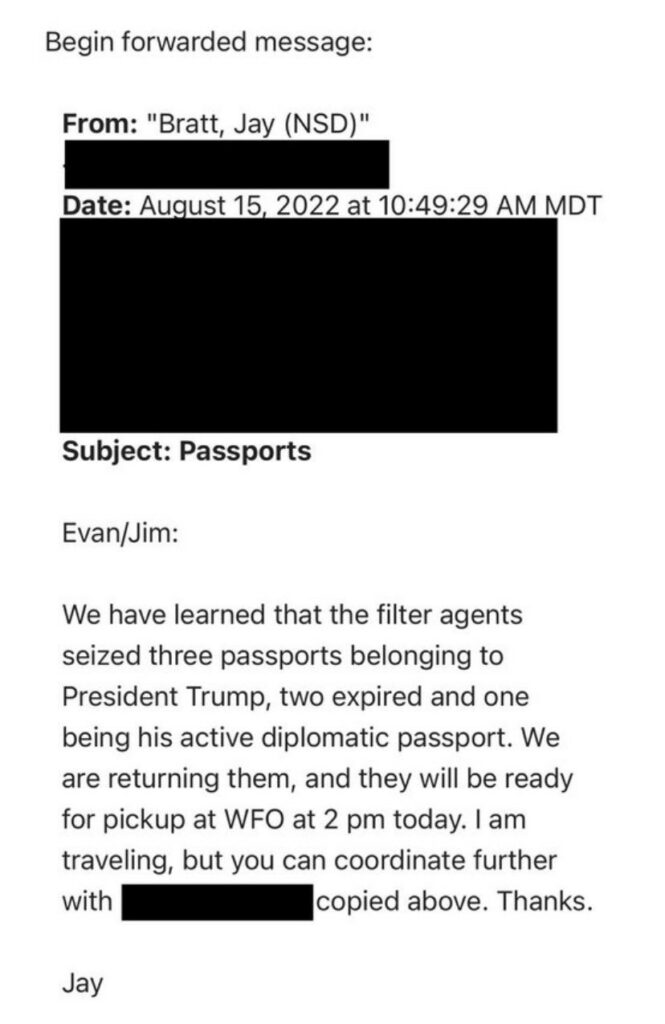 Secondly, the Justice Department has officially petitioned the Southern District of Florida to not to release the warrant affidavit. I expect a lot of people will make a lot out of the petition's rationale that such a release would "cause significant and irreparable damage to this ongoing criminal investigation." Ken White, aka Popehat, reminds us that this type of filing, and that language, is pretty standard for the Justice Department. It's rare to ever release a warrant affidavit at this point in the process. So I would strongly recommend not reading too deeply into this filing or the language it uses.