The Moore-Jones Race
Explaining what Tuesday is likely to bring.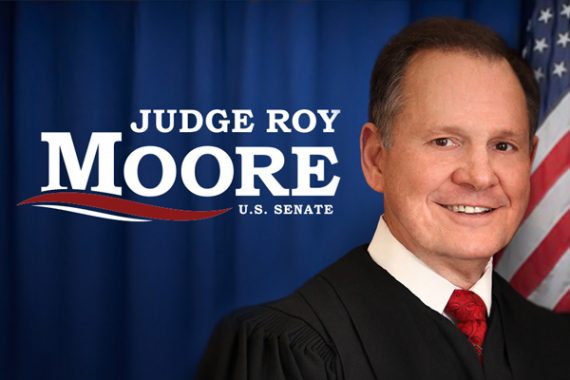 The special election to fill the rest of Jeff Sessions' Senate term will be held this coming Tuesday.  At the moment I write this, Moore has a +2.3% lead in the RCP polling average.  I would note that special elections are hard to poll, as the pollster needs an appropriate turnout model which is a tricky proposition under normal conditions.  Modeling this special election, which is unusual in a number of ways, has to be especially challenging.  This is not to say that I doubt the polling, but rather that it is difficult to know how well it reflects what we will see next week.  I will note further that as the effects of the initial allegations against Moore had faded, so too the polls have started to look a bit more Moore-ish.
Many might ask (indeed, many are asking):  how can it be that Moore can be seemingly the favorite to win at this point given the allegations of sexual assault against a minor and clear evidence he dated teenagers as a 30+ year-old man?
Let's start with the obvious:  Alabama is heavily Republican state.  Some numbers:
Donald Trump beat Hillary Clinton Alabama by 28 percentage points in 2016.
Mitt Romney beat Barack Obama by 23 percentage points in 2012.
John McCain beat Barack Obama by 22 percentage points in 2008.
When Jeff Sessions ran for re-election in 2014, he won 97.3% of the vote because he was unopposed (no Democratic thought it worth the time, effort, and money required to mount even a symbolic campaign).
In 2010, Robert Bentley won the gubernatorial election (an open seat that year) by 15.7 percentage points. In the 2014 gubernatorial race, Bentley won re-election by 27.4% percentage points.
Since 2011, there have been no Democrats who hold statewide office.
The last Democrat to win a Senatorial election in Alabama was current US Senator Richard Shelby in 1992 (after originally being elected in 1986). Two years after his re-election, however, he changed parties to the GOP and has won overwhelming re-election as a Republican in 1998, 2004, 2010, and 2016.  His lowest share of the vote during that time was 64%.
I could go on, but the evidence is overwhelmingly clear:  Alabama is a deep red state and in a race between Generic Republican and Generic Democrat, you can confidently lay your money on Generic Republican.
Now, of course, Roy Moore is not Generic Republican.  He is not, in the language of political science, a high quality candidate.  This is because he has flaws that make him under-perform partisan expectations.
To wit:  when Moore last ran for statewide office (his return to being Chief Justice of the Alabama Supreme Court after his first ouster) he under-performed the GOP's presidential nominee by 342,904 votes (Romney won 1,255,904 and Moore won 913,021).  As such, in that election a lot of Republicans either abstained from voting on that portion of the ballot, or switched votes to vote for a Democrat (indeed, Moore's Democratic opponent won 55,120 more votes than Obama did in that race).
So, going into the special election we should have expected a tighter race than Generic R v. Generic D would have predicted.  Further, the Democrats nominated a fairly high quality candidate (certainly relative to what they normally put up) whose resume includes the phrase "KKK-fighting."
So, even before the allegations of sexual impropriety, polls showed a only single-digit lead for Moore.  Moore was always a controversial candidate ans so was likely to be a fairly close contest.  Indeed, I expect Moore to win fairly narrowly on Tuesday (and think it not impossible that Jones could still win, but I shall not lay any money on the prospect).
As I noted last month, voters take a basket of variables into an electoral decision that requires a binary choice.  So, they rank-order preferences and come to a conclusion.  Usually party affiliation wins the day, although as Moore proved in 2012, distaste for a given candidate can lead to partisanship being over-ridden.
Readers might ask:  given the pre-existing controversy concerning Moore and the added gravity of the allegations against him how can Alabama Republicans elect him?
Some guy who thinks he knows something about politics said the following to an NPR reporter this week:
"If you believe that abortion is murder and if you believe that the post-Roe v. Wade era is tantamount to new genocide, then you're willing to say, 'I'm going to ignore all these allegations and vote for Moore anyway' or it helps to rationalize away the allegations," said Taylor.
Weirdly enough, I concur.
Note that in a 2014 Pew poll, 58% of Alabama adults stated that abortion should be illegal is most or all cases. Only Mississippi (at 59%) scored higher.
In short, and from a dispassionate point of view, we have the following:  a heavily Republican state in an era of high levels of partisan polarization nationally who have nominated a controversial candidate.  Democrats have countered with a candidate of high quality (especially relative to recent Senate contests), but who has to make up a substantial partisan gap to even be competitive.  The result is a far tighter than normal election contest that will likely result in a close outcome that favors the Republican.  This is outcome is motivated by the basic fact that despite the controversial nature of the GOP candidate, he will far more likely vote in the Senate in a way that GOP voters in Alabama would prefer.  This is especially true on the abortion issue, which is of high salience to conservative Alabamians (who are likely to dominate a low-turnout special election).