Explaining Votes for Moore
Voters rank factors before choosing how to vote.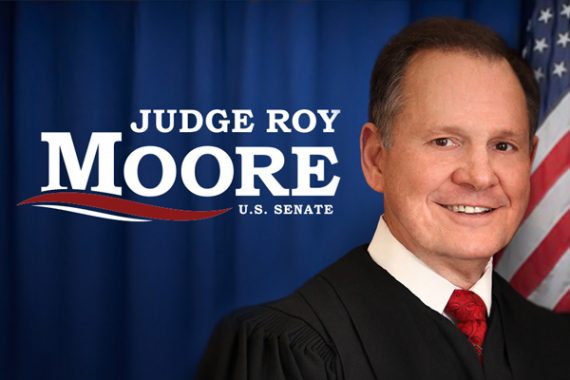 This is not a post about normative preferences. This is a post about how rules structure choices as well as how political calculations work in a broad sense. It is about policy preferences, hierarchical rankings, and identity in the context of mass behavior in a representative system of government.
If you think it is a post that is arguing in favor in any positive sense for a vote for Roy Moore, please see the first sentence of this post (as well as this post from earlier today).
Now, to business.
Let's start with a story from Alabama (via AL.com),  Gov. Kay Ivey to vote for Roy Moore in U.S. Senate race:
"I'm going to cast my ballot on December the 12th, and I do believe the nominee of the party is the one I'll vote for," Ivey said. "I believe in the Republican Party, what we stand for, and most important, we need to have a Republican in the United States Senate to vote on things like the Supreme Court justices, other appointments the Senate has to confirm and make major decisions. So that's what I plan to do, vote for Republican nominee Roy Moore."
We can even throw in a Kellyanne Conway sighting (via CNN),  Kellyanne Conway on Roy Moore: 'We want the votes' for tax bill:
Kellyanne Conway suggested that the White House remains open to Roy Moore's embattled senate candidacy on Monday when she told Fox & friends that "we want the votes in the Senate to get this tax bill through" — less than a week after Conway said that "no Senate seat is worth more than a child" in the wake of a series of sexual allegations against Moore.
Conway was interviewed by Fox News on Monday morning, and was discussing tax reform when she began hammering Doug Jones, the Democrat in the Alabama Senate race.

"Doug Jones in Alabama, folks, don't be fooled. He will be a vote against tax cuts. He is weak on crime. Weak on borders. He is strong on raising your taxes. He is terrible for property owners."
Fully recognizing the seriousness of the charges against Moore (and further recognizing that many readers likely have strong opinions about at least one of the persons quoted above), these positions make rational sense as political calculations (whether on abortion, taxes, or any number of other subjects). This is where I again point out that normative judgement about the candidate, or even about the policy options that drive voter choices, is not the point of this post.
This entire scenario underscores what is often pointed out about political campaigns by political scientists:  the candidate matters a lot less than voters (and the press) like to think is the case.  The reality is that voters make a calculated choice based on the options available as to which party will best represent their interests in office.  Voters have to rank their policy preferences and their political identities and then weigh those against the parties (and their candidates) the system produces.  This is made all the more true in electoral systems that limit the choices voters have (such as ours).
This is not to say that candidate quality does not matter at all.  It does, and because it does Moore will, at best, do far more poorly in this special election than would a less controversial Republican nominee.  He may, in fact, lose.
Why point all of this out?  Well, at least for two reasons.  First, is basic understanding.  This is the reality of how electoral politics and mass voting works.  Second, these types of political calculations do not make Moore voters monsters (at least any more monstrous than calculations we all might make)–and recognizing this could help with general discourse (yes, my optimism is showing).  On this latter point is the acknowledgement that such calculations are not limited to one ideological group. The reality is that almost every single person reading these words could make similar choices depending on the available options in a given election.  We tell ourselves we vote the candidate and not the party, but the reality is that most of us vote party (because we are voting policy and identity).  If voting for a scoundrel over the nicest, most moral candidate of all time would further racial justice, reduce income inequality, and promote world peace (while voting for the nice guy would produce the opposite) a lot of people would have no problem voting for the scoundrel.
This is why a lot of sincere feminists voted for, and supported, Bill Clinton.
This is why a lot of social conservatives voted for, and continue to support, Donald Trump.
It is also why voters often justify their support and dismiss real allegations, because most people don't want to be utilitarians, they just want to be right and so actively rationalize their positions.
I will say, if we move away from empirically explaining behavior to normatively evaluating it:  it is utterly fair to look at a given person's political calculations and ask whether they did the math right, so to speak.
This is the part of the post wherein I point out that if we had a different electoral system, we would have more parties and therefore there would be more choices on the table for Alabama voters than currently exist. It is here that I would like to underscore yet again the single-seat elections with plurality winners helps to create two large parties. Using primaries to choose candidates only deepens and solidifies that dynamic.
Create a system of rules that force voters into binary choices, they will often have to make decisions based on rank-ordered preferences that might find that voter privileging a specific policy preference (or identity marker) ahead of some personal characteristic that may be repugnant about the candidate (or that the voter feels the need to rationalize away).  The rules matter.