Moore's Bio Helps Bolster Credibility of Charges
This continues to be a highly credible story, and Moore himself has helped that credibility.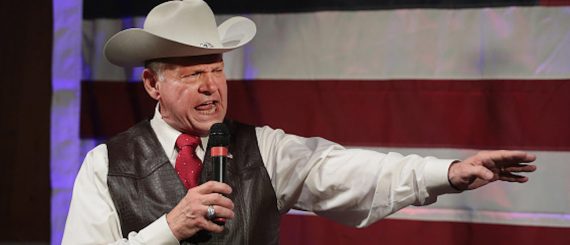 Of the things that have been utterly bizarre about the Moore story is the rather anemic defenses that he has offered, insofar as he essentially confirms that he dated teenagers when he was in his thirties.  As such, Moore himself has substantially added to the credibility of this story.
In his interview with Sean Hannity he provided the weakest possible general defense of the allegations he sought out and dated teenage girls:
HANNITY: At that time in your life…Let me ask you this you do remember these girls would it be unusual for you as a 32 year old guy to have dated a woman as young as 17? That would be a 15 year difference or a girl 18. Do you remember dating girls that young at that time?

MOORE: Not generally, no. If did, you know, I'm not going to dispute anything but I don't remember anything like that.
Indeed, that interview provided what may be one of the weirdest defenses I have ever read: "I don't remember ever dating any girl without the permission of her mother." This was in the context of confirming dating a girl who was, at the time 18 or 19.
Moore's own history, as accounted by Moore himself, adds substantial context and credibility that he did, indeed, pursue women much younger than himself.  When the allegations first emerged, I took mental note that Moore's wife is 14 years younger than him–a gap that fits in the pattern described in the original WaPo story.
AL.com's Kyle Whitmore elaborated on this fact this week:  Don't believe Roy Moore's accusers? Then listen to Moore:
Specifically Moore's account of how he met his now-wife, Kayla Moore.

First, read his book. In it, Moore describes how he met his wife at a Christmas party hosted by friends. He would have been 37. She was 23.

"Many years before, I had attended a dance recital at Gadsden State Junior College," Moore wrote. "I remembered one of the special dances performed by a young woman whose first and last names began with the letter 'K.' It was something I had never forgotten. Could that young woman have been Kayla Kisor?"

Moore later determined that it was.

"Long afterward, I would learn that Kayla had, in fact, performed a special dance routine at Gadsden State years before," he wrote.

[…]

In an interview Moore gave earlier this year, he gave a similar account, but for one detail.

"It was, oh gosh, eight years later, or something, I met her," Moore said. "And when she told me her name, I remembered 'K. K.,' and I said, 'Haven't I met you before?'"

It's a simple matter of subtraction. When Roy Moore first took notice of Kayla she would have been as young as 15.
All of which just adds substantial strength to the allegations leveled.  On the one hand, being present at an event, even "a special dance routine" is not evidence of much of anything (although given the charges about the Gadsden Mall and the YMCA, it does make one wonder).  After all, as a prominent member of the community (i.e., a district attorney) he might have been invited to attend–in small towns things like this could have some community significance in ways they never would in a larger city.  On the other, being that struck by a 15 year-old (or even 16 year-old) so much so that eight-ish years later one remembers is just, well, odd (to be kind) especially given the information we have about his dating proclivities.
The campaign is also trying to undercut the "banned from the mall" stories:  Moore campaign refutes allegations that Moore was banned from the mall.  As defenses go, this is not the strongest (it is pitting one set of recollections against another set).
Now, the mall ban may be the weakest of the allegations, since they are all predicated on decades-old memories and a lack of solid documentation, but they are also the least significant part of the story, since Moore himself has confirmed the dating of teens.
The assault allegations are, of course, the most serious here and are not spoken to by any of the above, at least not directly.  The  broader context of what we know give those charges, in my opinion, a great deal of credibility. It is not much of a leap at all that a man who pursued a significant number of young women would also attempt sexual encounters with them.
This continues to be one of the most thoroughly reported and credible stories of this nature that I can recall.  Although in the current context, where sexual misconduct, harassment, and assault are all seemingly daily stories now, it has some serious competition, unfortunately.