The Reparations Debate Reaches Capitol Hill
Congress is considering a bill that would establish a commission to examine the issue of reparations for slavery.;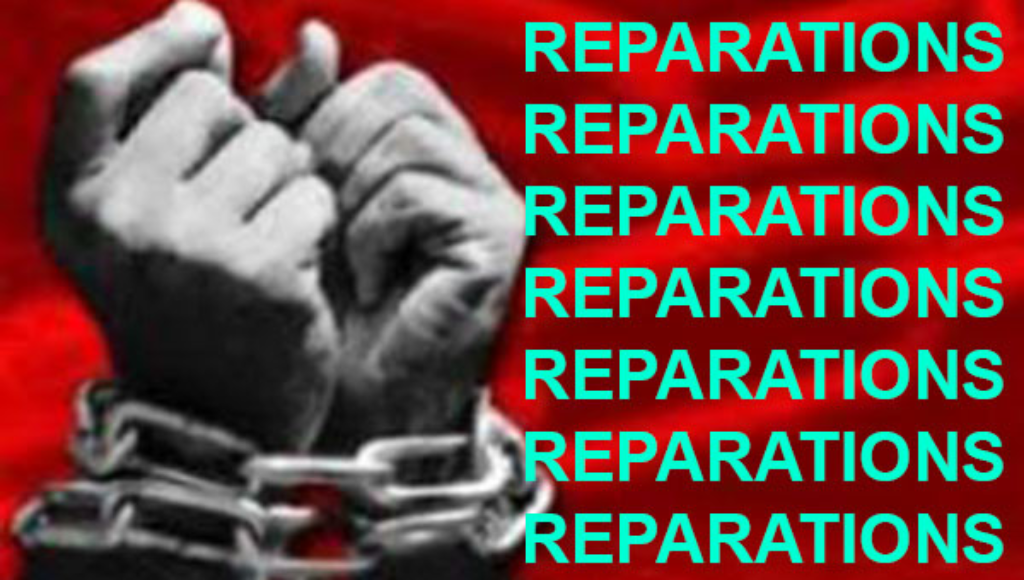 A House committee held hearings yesterday on a topic that is likely to prove to be controversial, the issue of whether or not African-Americans are entitled to reparations for slavery some 150 years after it was eradicated and 50 years after the Federal Government stepped in to break up the stranglehold of Jim Crow, segregation, and racial bias in the south and elsewhere in the United States:
WASHINGTON — Frail but sharp at 88, the Rev. Doris Sherman woke up at 4 a.m. on Wednesday to travel here from Philadelphia for an event that, even after the nation elected its first black president, she never thought she would see: a meeting in the capital of the United States on reparations for African-Americans.

Dressed all in white, the color of the suffragist movement — it was a coincidence, she said — Ms. Sherman, who is black, reflected on the unfulfilled Civil War-era promise to former slaves of "40 acres and a mule." As a schoolteacher for 30 years before entering the ministry, she recalled so many black parents struggling to provide day care, their children "left back and left out."

If the government did anything, she said, it should do something for the children. "We don't want that mule now," she said. "We don't want that 40 acres. We are asking for remembrance. Remember the struggle. Remember the injustice and remember the now."

Ms. Sherman was among hundreds of other mostly black spectators — so many that they filled three overflow rooms — who descended on Capitol Hill for Wednesday's historic hearing, the first time Congress has considered a bill, H.R. 40, that would create a commission to develop proposals to address the lingering effects of slavery and consider a "national apology" for the harm it has caused.

The sometimes raucous session before a subcommittee of the House Judiciary Committee lasted nearly three and a half hours and dug into the darkest corners of the nation's history, exposing the bitter cultural and ideological divides in Washington and beyond. Republican lawmakers and witnesses — including Burgess Owens, the retired football star — were jeered when they argued that black people could pull themselves up by their own bootstraps and that reparations might damage their psyches.

"We've become successful like no other because of this great opportunity to live the American dream," Mr. Owens, who is black, told the panel. "Let's not steal that from our kids by telling them they can't do it."

That the hearing took place at all was remarkable, a reflection of the shifting landscape in the Democratic Party and the wrenching national debate over racial justice in the era of President Trump. Nearly 60 House Democrats, including Speaker Nancy Pelosi, support the bill. And at least 11 Democratic presidential candidates — with former Vice President Joseph R. Biden Jr. a notable exception — have embraced either the concept of reparations or the bill to study it.

"We have not had a conversation about reparations on this scale or level since the Reconstruction Era," William A. Darity Jr., a professor of public policy at Duke University who is writing a book on reparations, said in a telephone interview. "To be blunt, I am more optimistic than I have ever been in my life about the prospect of the enactment of a reparations program that is comprehensive and transformative."

The first time the federal government considered reparations for black people was in 1865, when 400,000 acres of coastal land were awarded to former slaves, the result of a special order issued by the Union general, William T. Sherman. It lasted less than a year. When President Abraham Lincoln died, he was succeeded by Andrew Johnson, who rescinded Sherman's order.

In the late 1800s, the idea of pensions for former slaves — similar to pensions for Union soldiers — took hold, championed for a time by a Nebraska congressman. But the idea fizzled in the face of strong opposition from federal agencies.

In 1989, Representative John Conyers Jr., who retired in 2017, introduced legislation to create a commission to develop proposals for reparations. He introduced it every year for nearly 30 years. It went nowhere. Even President Barack Obama opposed reparations, calling the idea impractical.

It is that bill, titled the "Commission to Study and Develop Reparation Proposals for African-Americans Act," and now sponsored by Representative Sheila Jackson Lee, Democrat of Texas, that the subcommittee has before it. It would authorize $12 million for a 13-member commission to study the effects of slavery and make recommendations to Congress.

"I just simply ask: Why not?" Ms. Jackson Lee said Wednesday. "And why not now?"

(…)

Advocates for reparations say their cause is misunderstood, and emphasize that it does not necessarily mean the government would be writing checks to black people, though Mr. Coates said he was not opposed to the idea.

Rather, they say, the government could offer various types of assistance — zero-interest loans for prospective black homeowners, free college tuition, community development plans to spur the growth of black-owned businesses in black neighborhoods — to address the social and economic fallout of slavery and racially discriminatory federal policies that have resulted in a huge wealth gap between white and black people.

"When a black woman or man is arrested, they may land in jail for how many days because they don't have the home, the mortgage to get the bail — and cash bail is discriminatory," Julianne Malveaux, an economist, told the subcommittee, her voice rising in anger. "I want y'all Congress people to deal with issues of economic structure."

Wednesday's hearing was laden with symbolism. This year is the 400th anniversary of the first documented arrival of Africans to the port of Jamestown in what was then the colony of Virginia. Wednesday, June 19, was Juneteenth, the holiday that celebrates the end of slavery in the United States. And the bill carries the designation H.R. 40, a reference to "40 acres and a mule." past and talk constructively about how to move this nation forward."
More from The Washington Post:
Prominent African American writers, activists and scholars on Wednesday addressed a House panel as lawmakers took their first step in a decade toward debating the role of reparations in correcting what many called "the original sin."

The hearing of the House Judiciary Subcommittee on the Constitution, Civil Rights and Civil Liberties was set to coincide with the observance of Juneteenth, a day commemorating the emancipation of enslaved black people in the United States.

It also came as the Democratic-led House is pressing forward with H.R. 40, a measure that would create a national commission to study the legacy of slavery and make proposals on reparations to African Americans.

But much of the debate centered on remarks made by the leader of the other chamber, Senate Majority Leader Mitch McConnell (R-Ky.), who said Tuesday that the country had addressed its historic racial injustices in part through the election of President Barack Obama.

"There's a tremendous amount of ignorance in that statement," Sen. Cory Booker (D-N.J.), who is running for president, said in an interview with SiriusXM ahead of the hearing.

McConnell said Tuesday that he opposes reparations in part because "none of us currently living are responsible" for slavery.

Writer Ta-Nehisi Coates responded at Wednesday's hearing by walking through the social and political environment that grew out of slavery, a system that he called a "relentless campaign of terror — a campaign that extended well into the lifetime of Majority Leader McConnell."

"Majority Leader McConnell cited civil rights legislation yesterday, as well he should, because he was alive to witness the harassment, jailing and betrayal of those responsible for that legislation by a government sworn to protect them," Coates said. "He was alive for the redlining of Chicago and the looting of black homeowners of some $4 billion. Victims of that plunder are very much alive today. I am sure they'd love a word with the majority leader."

The hearing also included testimony from actor Danny Glover, documentary film producer and director Katrina Browne, writer Coleman Hughes and former National Football League player Burgess Owens, among others.

The House and Senate issued separate apologies for slavery about a decade ago, with the Senate acting in 2009 and the House in 2008.

An April Fox News poll asked Americans whether they favor or oppose "paying cash reparations to descendants of slaves." A 60 percent majority was opposed while 34 percent favored paying reparations. Fifty-four percent of Democrats approved of paying reparations, while a majority of Republicans — 81 percent — opposed the idea.

Booker on Wednesday called on the country to engage in an active discussion about slavery and its implication in current-day injustices, including disparities in education and the violence that plagues many black communities.

"I look at communities like mine, and you can literally see how communities were designed to be segregated, designed based on enforcing institutional racism," he said.
As a preliminary matter, it's worth noting that the advocates for reparations do make several good points, at least from a historical point of view. There's no question that the history of American slavery of people brought here involuntarily from Africa is a deplorable one, and that the 200+ years of slavery that lasted from the time the first African slaves were brought here from in the 1600s to emancipation at the end of 1865 had and arguably continues to have an impact on African-Americans even with the passage of time. The same is true of the century after the end of the Civil War during which African-Americans in the South were subject to the harsh legacy of Jim Crow and a legacy of racism and those in other parts of the country were often subject to segregation that made economic, social, and political advancement difficult if not impossible. In some ways, the racism that motivated both of those eras still lingers in parts of the country and African-Americans continue to deal with its legacy in their every day lives.
At the same time, though, the idea of reparations a century and a half after the end of slavery and half a century after the end of Jim Crow is a controversial one in which there are good arguments against the idea. On the practical side, there is the fact that none of the people who benefited from or practiced slavery are alive today and the people who benefited from or enforced Jim Crow are either dead at this point or very, very old. If anyone is responsible for the legacy of slavery and Jim Crow it is those people, which leaves open the question of why Americans alive today should be held responsible for their mistakes. As a general rule, our society has rejected the idea of inherited or collective guilt, and yet that is exactly what the argument for reparations is all about, the idea that Americans and specifically Americans who are not African-American should be made to pay for in some way the sins of people who are long dead.
Further complicating the matter is the fact that there are tens of millions of Americans who can trace their ancestry back to people who came to the United States after the Civil War and after slavery was abolished. In my cases, my maternal and paternal Great-Grandparents didn't arrive in this country until the late 1870s and 1880s. They ended up settling in Northeastern Pennsylvania, which became home to many. waves of European immigrants thanks to jobs related to the coal mining industry that dominated the area at the time. Many other Americans are descendants of people who arrived here as recently as the 1920s or earlier. Why should they be held responsible for things that occurred before their ancestors arrived here, and before they were born, is an entirely legitimate question.
Further extending that argument, it's sadly true that African-Americans aren't the only ones who have been victims of discrimination and racism at some point in American history. The same has been true of Latinos, Asians, and immigrant groups that have faced their own issues as part of their efforts to become assimilated into American society. In addition to those immigrant groups, one can also point to Native Americans, who arguably have as good a claim as African-Americans to compensation for the manner in which their ancestors were treated and the manner in which it continues to impact their lives. Given that, why should anyone from these groups be held responsible for what happened hundreds of years in the past?
The final complication, of course, is the question of what form reparations would take. In the minds of some people, it would be a "simple" matter of writing a check, but that doesn't really answer the question. How much money is "enough" to compensate for the claims at issue here, for example? Who would be entitled to these checks? Would it only include people who can trace their lineage back to slavery itself? What about people who are, at least nominally "African-American," but who have no connection to slavery at all either because their ancestors were not held as slaves or because they or their ancestors are immigrants from Africa or elsewhere who came here after slavery and Jim Crow were abolished?
Others suggest that reparations don't necessarily have to include checks. Instead, they make reference to social programs and business promotion ideas that would give African-Americans the opportunity to lift themselves up. Several of these ideas have already been tried, though, under both Republican and Democratic Administrations. The other issue is how such programs could be designed to ensure that they benefit the people who actually need help rather than lining the pockets of lobbyists and hucksters like Al Sharpton and other so-called "activists."
As I said, this is a complicated issue and I don't necessarily have an answer for all these questions, but there would obviously have to be some sort of societal consensus on these issues before anything meaningful could be done. Trying to ram something through at this point, before there is such a consensus, is only likely to increase resentments on all sides of the issue.
Toward that end, the bill that the House Judiciary Committee is considering does not propose a reparations plan, it simply would establish a commision to study the idea and make recommendations to Congress. Perhaps that would be a step toward trying to build a national consensus on the issue, but I am afraid it would be more likely to increase resentment at a time when, thanks to current President, racial and other resentments seem to be getting worse rather than better.
In any case, even if the bill passes the House, it clearly isn't going to go anywhere after that. Senate Majority Leader Mitch McConnell has made his feelings on the issue clear, and that means the bill will die in the Senate. Nonetheless, this is likely to come up again, especially during the race for the Democratic Presidential nomination, so perhaps we ought to begin talking about it.