The Solar Storm That Nearly Destroyed Civilization As We Know It
Just about two years ago, we dodged a bullet. We might not be so lucky next time.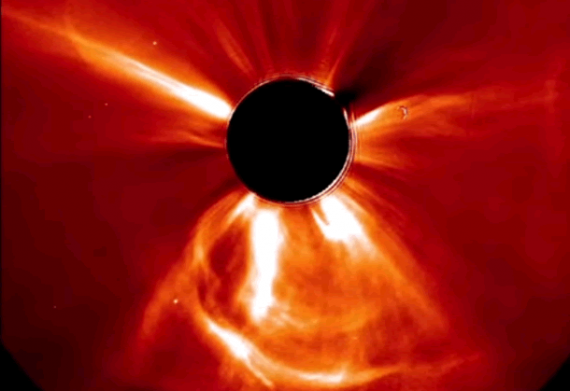 Two years ago, we apparently came alarmingly close to an event that we could not have possibly avoided which would have had widespread devastating consequences:
On July 23, 2012, the sun unleashed two massive clouds of plasma that barely missed a catastrophic encounter with the Earth's atmosphere.  These plasma clouds, known as coronal mass ejections (CMEs), comprised a solar storm thought to be the most powerful in at least 150 years.

"If it had hit, we would still be picking up the pieces," physicist Daniel Baker of the University of Colorado tells NASA.

Fortunately, the blast site of the CMEs was not directed at Earth.  Had this event occurred a week earlier when the point of eruption was Earth-facing, a potentially disastrous outcome would have unfolded.

"I have come away from our recent studies more convinced than ever that Earth and its inhabitants were incredibly fortunate that the 2012 eruption happened when it did," Baker tells NASA.  "If the eruption had occurred only one week earlier, Earth would have been in the line of fire."
This short video explains what nearly happened two years ago:
As NASA notes, Earth has been in the path of a CME before, but it's never happened at a time when we are so dependent on technology:
Extreme solar storms pose a threat to all forms of high-technology.  They begin with an explosion–a "solar flare"—in the magnetic canopy of a sunspot.  X-rays and extreme UV radiation reach Earth at light speed, ionizing the upper layers of our atmosphere; side-effects of this "solar EMP" include radio blackouts and GPS navigation errors. Minutes to hours later, the energetic particles arrive.  Moving only slightly slower than light itself, electrons and protons accelerated by the blast can electrify satellites and damage their electronics. Then come the CMEs, billion-ton clouds of magnetized plasma that take a day or more to cross the Sun-Earth divide.  Analysts believe that a direct hit by an extreme CME such as the one that missed Earth in July 2012 could cause widespread power blackouts, disabling everything that plugs into a wall socket.  Most people wouldn't even be able to flush their toilet because urban water supplies largely rely on electric pumps.

Before July 2012, when researchers talked about extreme solar storms their touchstone was the iconic Carrington Event of Sept. 1859, named after English astronomer Richard Carrington who actually saw the instigating flare with his own eyes.  In the days that followed his observation, a series of powerful CMEs hit Earth head-on with a potency not felt before or since.  Intense geomagnetic storms ignited Northern Lights as far south as Cuba and caused global telegraph lines to spark, setting fire to some telegraph offices and thus disabling the 'Victorian Internet."

A similar storm today could have a catastrophic effect. According to a study by the National Academy of Sciences, the total economic impact could exceed $2 trillion or 20 times greater than the costs of a Hurricane Katrina. Multi-ton transformers damaged by such a storm might take years to repair.

"In my view the July 2012 storm was in all respects at least as strong as the 1859 Carrington event," says Baker. "The only difference is, it missed."

In February 2014, physicist Pete Riley of Predictive Science Inc. published a paper in Space Weather entitled "On the probability of occurrence of extreme space weather events."  In it, he analyzed records of solar storms going back 50+ years.  By extrapolating the frequency of ordinary storms to the extreme, he calculated the odds that a Carrington-class storm would hit Earth in the next ten years.

The answer: 12%.

"Initially, I was quite surprised that the odds were so high, but the statistics appear to be correct," says Riley.  "It is a sobering figure."
It is quite sobering indeed, not the least because there would apparently be very little advancing warning of such as solar storm, and little that we could do to prevent the damage to infrastructure that would result. Quite literally, tens of millions of people at least could find themselves living in a very different world in a very short period of time.  Furthermore, even if we did have a fairly good idea that the Earth was about to become the target of a CME or similarly event that could cause disruption to communications, electronics, and other infrastructure, there's nothing we could do to stop the event from happening. If we're in the path, of a CME, we're in its path and by the time we realized that fact there wouldn't be much we could do about. The consequences would be whatever they would be.
That being said, there are steps that could be taken to deal with those consequences in advance. Power systems and critical infrastructure could be more heavily shielded against the electomagnetic pulses that accompany a CME that would cause the most damage. Canada took many of these steps after suffering damage from a much smaller event back in 1989, and one estimate prepared for the insurance industry estimates that it would take as little as $100 million to do the upgrades to the power grid in North America that would at least mitigate the damages from an event similar to what almost happened two years ago. Some might argue that this is a lot of money given the fact that we're talking about something that is rated at "only" a 12% risk, but compared to the potential costs that would be incurred if such an event actually occurred, it seems like a bargain.