The Trump Hurricane Hits The First GOP Debate
It's a Donald Trump debate, where the facts are made up and the truth doesn't matter.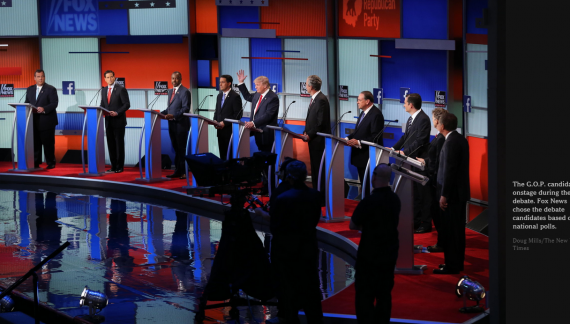 Five hours after what I suppose you would call the "also ran" crowd held their debate in an obviously empty cavernous stadium, the top ten Republican candidates for President met in the Quicken Loans Arena in Cleveland, Ohio for what I can only describe as an utterly surreal debate that centered in large part around Donald Trump:
Shedding any pretense of civility and party unity, Donald J. Trumpoverwhelmed the first Republican presidential debate on Thursday night by ripping into his rivals and the moderators alike, but also drew fire fromJeb Bush and other rivals who are seeking to stop Mr. Trump's breathtaking surge.

Mr. Trump displayed his trademark pugnacity from the start with a bravura moment: refusing to rule out a third-party run for the presidency if he does not win the party's nomination. Facing loud boos from audience members in a Cleveland sports arena, he held his hand up in defiance as several other Republicans looked flabbergasted.

"I have to respect the person that, if it's not me, the person that wins," said Mr. Trump, the billionaire businessman and reality television star who has attracted legions of fans in part by attacking traditional politicians like Mr. Bush, who Mr. Trump has said should not be president. He then quipped, "If I'm the nominee, I will pledge I will not run as an independent."

In the first of several freewheeling moments in the debate, Mr. Trump's statement drew an instant, contemptuous retort from Senator Rand Paul of Kentucky, who nodded to Mr. Trump's past donations to former Secretary of State Hillary Rodham Clinton.

"He buys and sells politicians of all stripes," Mr. Paul said. "So if he doesn't run as a Republican, maybe he supports Clinton, or maybe he runs as an independent?"

Mr. Trump — whose withering put-downs have become legendary, his favorite pejorative being "loser" — was true to form in dismissing Mr. Paul.

"Well, I've given him plenty of money," he said.

Mr. Trump's outsize presence in the two-hour debate, shown on Fox News, was an emphatic reminder that, after eight years out of power, Republicans' quest to regain the presidency will be complicated in the months ahead by their own internal divisions. While Mr. Trump may not ultimately become the nominee, his appeal among some conservatives has underscored how hungry many in the party's base are for an uncompromising and authentic figure who will challenge the political order.

Unpredictable and often rambunctious, the Republican gathering was anything but a tentative affair, unlike so many other first debates of campaign cycles. Mr. Trump repeatedly made the most of his center-stage position, and ensured he would star in weeks of video clips.

In addition to refusing to rule out a third-party bid and sparring with the Fox News moderators, he boasted that the Clintons attended his third wedding because he demanded it and said, "Our politicians are stupid" while dismissing President George W. Bush's tenure as "a catastrophe."

Even as some of the other Republicans showed moments of strength, with Mr. Paul frequently going on the attack, it was little match for the bombast of Mr. Trump.

Establishment-oriented Republicans had hoped that two terms of President Obama would make grass-roots activists pragmatic about 2016, perhaps rallying around a well-known, well-financed candidate like Mr. Bush. But the popularity of Mr. Trump's message suggested that the party's rank-and-file were just as interested in finding a pugilist.

Mr. Trump and Mr. Bush, who have been lashing out at each other for weeks, mostly over tone and fitness to be president, barely tangled at all. But near the end of the debate, in a moment that encapsulated the race, Mr. Bush said that Mr. Trump, who has portrayed some Mexican immigrants as rapists, was a "divisive" figure who would ensure that Republicans continued to lose.

"I want to win," Mr. Bush said. "We're not going to win by doing what Barack Obama and Hillary Clinton do each and every day: dividing the country, saying, creating a grievance kind of environment. We're going to win when we unite people with a hopeful, optimistic message."

Mr. Trump shot back that the threats against the United States were too urgent for such concerns about "tone."

"When you have people that are cutting Christians' heads off, when you have a world at the border and at so many places that it's medieval times," Mr. Trump said, "we don't have time for tone — we have to go out and get the job done."

The exchange of fire between Mr. Trump and Mr. Bush — the dominant figures in the race, and two American household names — offered a preview of the broader debate to come between Republicans who believe the party must be more inclusive to win the presidency again and those determined to speak to the boiling anger in the conservative grass roots. Few of the fights were over policy, however: Mr. Trump, for one, offered few substantive details about his plans for the country.

A trio of Fox News moderators, delving deep into the records of the 10 candidates, posed a series of difficult questions, while also trying, with occasional success, to provoke arguments among them over areas of disagreement. In the first question directly to Mr. Trump, for instance, Megyn Kelly cited his negative comments about some women, whom he has called "fat pigs" and "slobs," before Mr. Trump cut her off.

"Only Rosie O'Donnell," he said, clearly looking for a laugh.

"For the record, it was well beyond Rosie O'Donnell," Ms. Kelly said.

"Yes, I'm sure it was," Mr. Trump replied, before offering an explanation that reflected his tell-it-like-it-is sensibilities.

"I think the big problem this country has is being politically correct," he said. "I don't frankly have time for total political correctness. And to be honest with you, this country doesn't have time either. This country is in big trouble." He went on to complain about rough treatment by Ms. Kelly.
The biggest surprise of the night, although I suppose given the person we're talking about it's not really a surprise, came at the beginning when Trump said that he would not rule out the idea of running as a third-party candidate or endorsing someone other than the nominee of the part whose nomination he is seeking. In a rational universe, of course, this should have immediately excluded from being considered a serious contender for the GOP nomination,. In fact, as I have noted before, the Federal Election Commission's rules that govern party debates allow for the exclusion of candidates that refuse to rule out running against the party's eventual nominee. The truth of the matter, of course, is that the Republican Parry recognizes that Donald Trump has tapped into the hardcore right wing base of the Republican Party, which is largely fueled by populism, xenophobia, and a complete contempt for the so-called "establishment." Because of that, condemning Trump, even when he says on a public stage that he is not willing to support the Republican nominee unless it happens to him, is apparently too much of a political liability for the Republican Party even when he personally insults one of the prime time news hosts on Fox News Channel.
In any case, beyond Trump's theatrics, the prime time debate had some other interesting sparks. Perhaps the best came in an exchange between Rand Paul and Chris Christie that centered on civil liberties and the "War On Terror," in which, at least in my opinion, the Senator from Kentucky got the better of the Governor of New Jersey. Jeb Bush had his own moments, including in response to question regarding his family, his position on immigration reform, and his position on education. To give credit to the former Florida Governor, he did not repudiate his former positions on immigration and education notwithstanding the prevailing political zeitgeist in the Republican Party. Florida Senator Marco Rubio also did fairly well, especially on foreign policy question, but like most of the other candidates on the stage, he came across rather flat. Much the same goes for the rest of the candidate's on the stage, but perhaps that isn't surprising because, in the end, this was the Donald Trump debate
In the end, there is nothing that happened in the Republican debate that was not answered withing the first three minutes. As soon as Donald Trump refused to rule the idea that he might run as a third-party candidate. From that moment, the entire tone of the debate changed. The crowd in the Quicken Loans Arena, which presumably included people who supported Trump, reacted overwhelmingly negatively when Trump answered the question, and from that point forward it seemed as though he had lost the crowd's support. The exchange with Megyn Kelly about his obviously misogynistic comments over the years only seemed to seal the deal. At the point, the only question is whether anything that happened tonight, and the inevitable largely negative coverage that will follow, will hurt his campaign. A month ago, we all thought that insulting John McCain's military service would be the end of Donald Trump. That didn't happen. For that reason alone, I have no reason to believe that this is the end of the Trump fiasco.