The Truth About Those "Devastating" Sequester Cuts
To listen to President Obama, and even many Republicans, the budget cuts set to go into effect later this week will devastate a wide swath of America. However, Veronique de Rugy takes a look at the cuts and finds very little evidence for the assertion that these cuts are as damaging as we're being led to believe:
Changes in spending from sequestration result in new budget projections below the CBO's baseline projection of spending based on current law. The federal government would spend $3.62 trillion in the first year with sequestration versus the $3.69 trillion projected by CBO. By 2021, the government would spend $5.26 trillion versus the $5.41 trillion projected. Overall, without a sequester, federal spending would increase $1.7 trillion (blue line). With a sequester, federal spending would increase by $1.6 trillion (red line).

A further breakdown of the percentage of budget programs reveals that sequestration provides relatively small reductions in spending rates across the board. With sequestration, defense increases 18% (vs. 20%); nondefense discretionary increases 12% (vs. 14%); Medicare roughly increases at the same rate; and net interest increases 136% (vs. 152%).

While the sequester projections are nominal spending increases, most budget plans count them as cuts. Referring to decreases in the rate of growth of spending as "cuts" influences public perceptions about the budget. When the public hears "cut," it thinks that spending has been significantly reduced below current levels, not that spending has increased. Thus, calling a reduced growth rate of projected spending a "cut" leads to confusion, a growing deficit, and an ever-larger burden for future generations.
The best way to explain it, is with this chart, which shows very little actual change in Federal spending over the next eight years: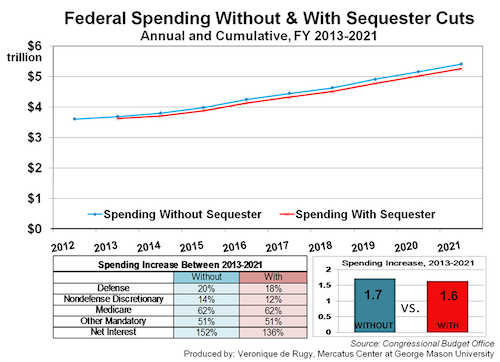 We can argue that the across the board method by which these cuts are being implemented is less than ideal, but to argue that the cuts themselves are "devastating" is simply not true. Any politician saying otherwise is lying. And, yes, that applies to President Obama.