Theresa May Likely To Survive No Confidence Vote, Next Steps Are Unclear
Theresa May is likely to survive today's no confidence vote, but what happens after that is unclear given that changes to her Brexit deal seem unlikely.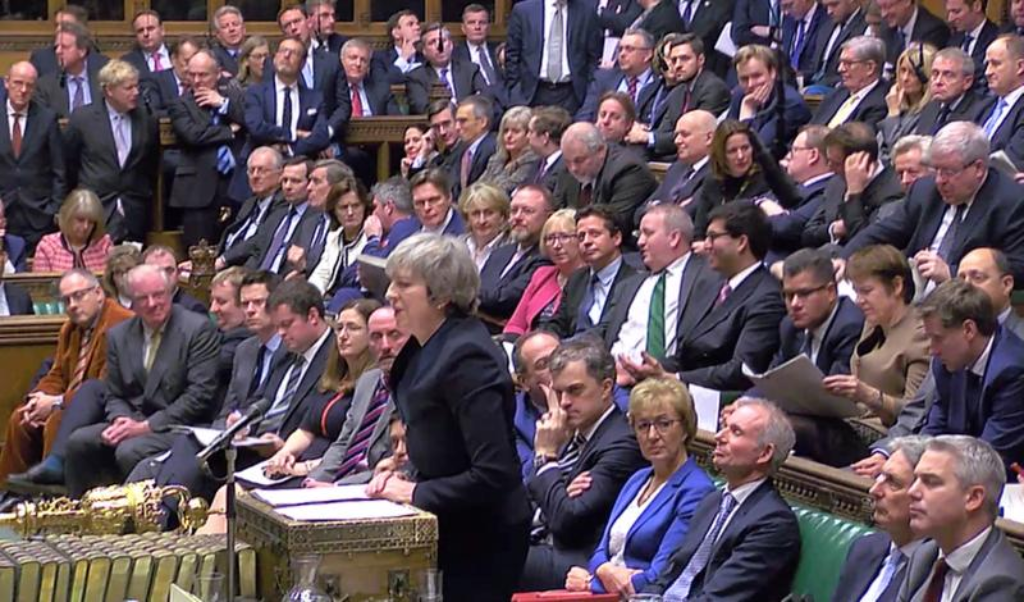 One day after suffering a humiliating defeat in the House of Commons over her Brexit deal, British Prime Minister Thersa May faces a no-confidence vote that in theory could bring down her government but which she seems likely to survive:
LONDON — After suffering the worst parliamentary defeat in modern times over her plans for leaving the European Union, Britain's prime minister, Theresa May, braced for another day of turmoil on Wednesday, when she will face a vote of no confidence in her battered government.

On Tuesday Mrs. May lost by a crushing margin, 432 to 202, when Parliament voted on her plan for European Union withdrawal, or Brexit, as the clock ticks toward March 29 when Britain is scheduled to leave.

Lawmakers will spend much of Wednesday debating whether Mrs. May's government should continue in power before voting at around 7 p.m. on a motion that could, in theory, lead to a general election.

That is an unlikely outcome, analysts say, because many of those who voted against Mrs. May's withdrawal plan, including hard-line pro-Brexit rebels in her Conservative Party, and a group of 10 lawmakers from Northern Ireland's Democratic Unionist Party, have said they will support the government on Wednesday.

They argue that they want to replace Mrs. May's deal, not her, and they prefer her badly weakened leadership to the prospect of an election that could bring the opposition Labour Party to power.

Nonetheless, another day of drama and political crisis in London underscores the extent to which Mrs. May's strategy for leaving the European Union is now in disarray, leaving Britain in a perilous position, just 10 weeks before the country is scheduled to depart the bloc.

Ordinarily, a prime minister would be expected to resign after suffering a big defeat on a signature bill, but Brexit has rewritten the rules of British politics. So Mrs. May, who is scheduled to answer questions in Parliament at noon, can expect to survive the no confidence debate that will then begin.

After Tuesday's defeat, Mrs. May's opponents are focusing on an array of contradictory objectives, demonstrating that more than two and a half years after Britons voted to leave the European Union, their politicians have failed to reach any consensus on how to do so.

One faction in Parliament advocates a more complete and abrupt break from Europe than the one the prime minister has negotiated with Brussels; another supports Mrs. May's plan; another wants a softer Brexit than she has proposed; and yet another still hopes for no Brexit at all.

Assuming that Mrs. May survives the day as expected, she has promised consultations and to reach out to political opponents — though not the Labour Party leader, Jeremy Corbyn — before she has to return to tell lawmakers on Monday how she plans to proceed.

For now, Mrs. May seems still to hope that she can do this without a fundamental change that would soften her plan and keep closer ties to the European Union, something that would almost certainly provoke resignations from pro-Brexit members of her own cabinet.

She is unlikely to win support from significant numbers of opposition lawmakers, however, unless she embraces the notion of keeping a permanent customs union with the bloc, a change that would prevent Britain from having an independent trade policy and keep it tied to some European rules.
Much like yesterday's debate in the House of Commons, today's debate on the no-confidence vote seems likely to take up the majority of the day, with a final vote scheduled again for 7:00 p.m. London time, or 2:00 p.m. Eastern time here in the United States. For the reasons noted above, it seems likely that, notwithstanding yesterday's vote, May will survive this vote for two reasons. First, while she lost the support of more than 100 Conservative backbenchers in yesterday's vote, it's unlikely that these Tories will vote against the government because they don't want to risk the possibility that Labour leader Jeremy Corbyn would be given the opportunity to try to form a government or that there would be another snap election the outcome of which would be highly uncertain. Secondly, the Democratic Unionist Party, with whom May had entered a confidence and supply agreement after the disappointing results of the 2017 snap election left the Tories short of an outright majority in the House of Commons, has already said that it will support the government in today's vote. Unless that changes, May will survive this challenge on a party-line vote.
Once that happens, though, it's unclear what happens next. May has until Monday to attempt to negotiate some kind of concessions from the European Union that would fix the Brexit deal sufficiently to gain approval. The problem she faces in that respect are multifaceted. First, as I noted yesterday, the negotiators for the E.U. have made clear that there is very little room on their side for changes to the deal that has been reached between the U.K. and the E.U. Second, even if changes are made, they would need to be approved not only by the House of Commons by also by the members of the European Union itself and it's unclear if that would happen. Finally, it's entirely unclear what changes May can make to the deal she negotiated that would make up for the massive deficit she's facing based on yesterday's vote. Somehow, she'd need to cobble together a majority from dissenters that include people who oppose the deal because it's too harsh, others who oppose it because it doesn't constitute a clear enough break with the E.U., and still others who don't support Brexit at all.  Amid all of this May doesn't appear to have any real guidance regarding what, if anything, she can do to change the deal in a way that will get sufficient support to pass. All this suggests that she won't be able to come up with any significant changes at all, and that means the entire future of Brexit, and May's government, will be up in the air.