Three Americans Held In North Korea Released
Some good news from North Korea.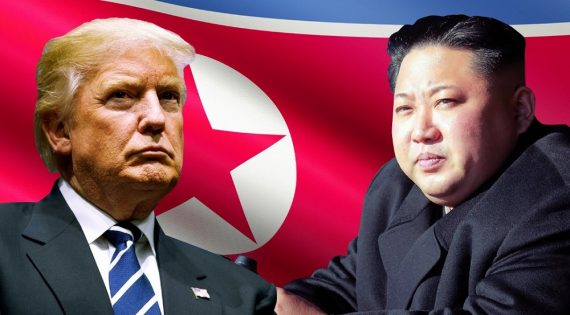 Three American citizens who have been held in North Korea for a year or more are flying home with Secretary of State Mike Pompeo:
SEOUL, South Korea — President Trump declared a diplomatic victory on Wednesday by announcing that North Korea had freed three American prisoners, removing a bitter and emotional obstacle ahead of a planned meeting between him and the young leader of the nuclear-armed nation.

The release of the three prisoners, all American citizens of Korean descent, was in some ways the most tangible gesture of sincerity shown by North Korea's leader, Kim Jong-un, to improve relations with the United States after nearly seven decades of mutual antagonism.

Mr. Trump said in a tweet that the three were freed following a visit to North Korea by Secretary of State Mike Pompeo, who was in Pyongyang, the North's capital, for more discussions with North Korean officials about the expected meeting between Mr. Kim and Mr. Trump.

The president said that Mr. Pompeo was "in the air and on his way back from North Korea with the 3 wonderful gentlemen" and that the group seemed "to be in good health."

South Korea welcomed their release, calling it "very positive for a successful North Korean-United States summit," said Yoon Young-chan, a spokesman for President Moon Jae-in.

A senior United States official said the prisoner release was an American condition to the planned talks between the leaders of the United States and North Korea. The meeting would be the first face-to-face encounter between the top leaders of the two nations; Mr. Trump, 71, hopes to persuade Mr. Kim, 34, to abandon his nuclear weapons and the missiles that can carry them.

"This show of good will is a positive signal for the U.S.-North Korean summit because it reflects a willingness to negotiate and compromise," said Lee Byong-chul, senior fellow at the Institute for Peace and Cooperation in Seoul. "It also delivers a political score for the scandal-ridden President Trump at home, giving him something to brag about."

Senator Edward J. Markey, a Massachusetts Democrat who serves on the Foreign Relations Committee, said in a statement that the release of the three men was a "positive step."

Their return "removes an obstacle to a successful summit between President Trump and Kim Jong-un," he said. "Their release before the meeting also demonstrates that the combination of pressure and direct engagement is critical for making progress with North Korea."

The prisoner release extended the turnabout from last year when the two leaders threatened each other with nuclear war. Mr. Kim recently announced that North Korea would stop all nuclear and long-range missile tests and shut down its nuclear test site as gestures of good will.

But unlike those announcements, the release of the three Americans is permanent, and Mr. Kim forfeited a bargaining chip in freeing them. No other Americans are believed to be held prisoner in North Korea.

The United States has persistently demanded the release of the three citizens — Kim Dong-chul, Tony Kim and Kim Hak-song — who were held on charges of committing espionage or unidentified "hostile acts" against North Korea.

The Washington-based Committee for Human Rights in North Korea welcomed the release of the three but urged the North to release other nationals allegedly abducted and held there, and to shut down its camps for political prisoners.

"It is a time to remember the nationals of Japan, South Korea, and other countries who were abducted and are still held in North Korea," said Greg Scarlatoiu, the committee's executive director. "It is also a time to remember the 120,000 men, women, and children held in North Korea's political prison camps as well as political prisoners held at other unlawful detention facilities."

Anticipation of the release had been building since Mr. Pompeo secretly visited North Korea over the Easter weekend. He was still the C.I.A. director then, and held initial talks with Mr. Kim and other top North Korean officials about the planned summit meeting, which could happen in the next few months.

Mr. Trump teased the possibility they would be freed last week in a Twitter post, in which he also incorrectly asserted that President Barack Obama's administration had unsuccessfully pressed for their release. Two of the three were seized after Mr. Trump took office.

(…)

The three Americans who were released had all been taken over the past two years.

Kim Dong-chul, a businessman, had been sentenced to 10 years of hard labor in April 2016 after being convicted of spying and other offenses.

A month before his trial, Mr. Kim appeared at a government-arranged news conference in Pyongyang and apologized for what he described as his attempted theft of military secrets in collusion with South Koreans. The South Korean spy agency has denied any involvement.

Mr. Kim's predicament was not known until January 2016, when the North Korean government let CNN interview him in Pyongyang. At that time, Mr. Kim identified himself as a 62-year-old naturalized American citizen who lived in Fairfax, Va. He said he had once run a trading and hotel services company in Rason, a special economic zone near North Korea's borders with China and Russia.

He said he had been arrested in October 2015 while meeting with a former North Korean soldier to receive classified data.

Tony Kim, also known as Kim Sang-duk, was arrested in April 2017. He had spent a month teaching accounting at Pyongyang University of Science and Technology, a Christian-funded college, and was trying to board a plane to leave the country when he was arrested, according to university officials.

Mr. Kim, who is in his 50s, studied accounting at the University of California, Riverside, and at Aurora University, and he worked as an accountant in the United States for more than a decade, according to his Facebook page.

Kim Hak-song was arrested on May 6, 2017. He volunteered at Pyongyang University of Science and Technology, doing agricultural development work at its research farm.

According to CNN, Mr. Kim, an ethnic Korean, was born in Jilin, China, near the North Korean border, and emigrated to the United States in the 1990s. After becoming an American citizen, the network said, Mr. Kim returned to China and studied agriculture in Yanbian before moving to Pyongyang.

"It's also worth remembering that North Korea's practice of seizing, imprisoning and, in one case, probably torturing Americans represents reprehensible behavior that says something about the nature of the regime," said Evans J.R. Revere, a former State Department diplomat who specializes in East Asia. "I would not give Pyongyang too much credit for undoing something it shouldn't have been doing in the first place."

Mr. Pompeo secured the freedom of the three Americans hours after he arrived in Pyongyang on Wednesday. Earlier in the day, he extended an olive branch to senior North Korean officials, promising better ties and a bright future for their country if it abandoned its nuclear weapons program, according to pool reports by journalists traveling with Mr. Pompeo.

"For decades, we have been adversaries," Mr. Pompeo said in a toast during a lunch that the North Koreans hosted for him. "Now we are hopeful that we can work together to resolve this conflict, take away threats to the world and make your country have all the opportunities your people so richly deserve."
Here are the President's Tweets on the release:
I am pleased to inform you that Secretary of State Mike Pompeo is in the air and on his way back from North Korea with the 3 wonderful gentlemen that everyone is looking so forward to meeting. They seem to be in good health. Also, good meeting with Kim Jong Un. Date & Place set.

— Donald J. Trump (@realDonaldTrump) May 9, 2018
Secretary Pompeo and his "guests" will be landing at Andrews Air Force Base at 2:00 A.M. in the morning. I will be there to greet them. Very exciting!

— Donald J. Trump (@realDonaldTrump) May 9, 2018
The release of these three men is certainly good news, and it's appropriate that the Administration insisted on their release prior to any summit meeting between the President and Kim Jong-Un. At the same time, though, it's worth noting that we've seen all of this before. Several times over the past two decades or more we have seen Americans and other westerners arrested in the DPRK on what are obviously phony charges and held as bargaining chips for some future benefit that the regime wants from the United States or other world powers. In this case, that benefit would seem to come in the form of a meeting between their leader and the President of the United States that will, no doubt, do much to serve the purpose of boosting the stature of the regime on the world stage. Whether or not the talks will actually lead to anything productive that will lead to a more peaceful Korean Peninsula is, of course, another question.