Today in Juxtapositions (Falwell v. Jesus Edition)
Extolling an "eye for an eye" kind of justice is not in keeping with the ethics of Jesus.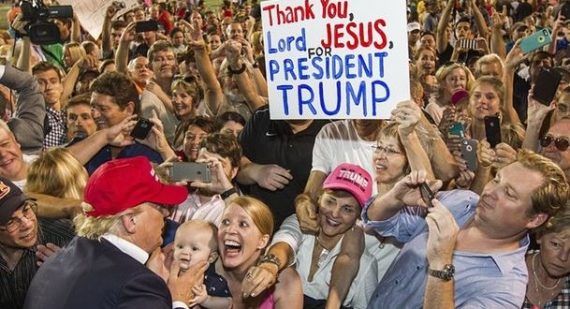 "He bombed those in the Middle East who were persecuting and killing Christians," Jerry Falwell Jr., President of the Liberty University praising President Donald J. Trump this weekend.*
In juxtaposition, the following from Jesus of Nazareth came to mind.
First, Matthew 5:38-40
38 "You have heard that it was said, 'Eye for eye, and tooth for tooth.'[a] 39 But I tell you, do not resist an evil person. If anyone slaps you on the right cheek, turn to them the other cheek also. 40 And if anyone wants to sue you and take your shirt, hand over your coat as well.
And, let's add in the following passage from Matthew 5:  9-11:
9Blessed are the peacemakers, for they will be called sons of God. 10Blessed are those who are persecuted because of righteousness,
for theirs is the kingdom of heaven. 11Blessed are you when people insult you, persecute you, and falsely say all kinds of evil against you because of Me. 12Rejoice and celebrate, because great is your reward in heaven; for in the same way they persecuted the prophets before you.
The contrast here remind me of a quotation from Gandhi:   "I like your Christ, I do not like your Christians. Your Christians are so unlike your Christ."  This notion clearly applies to Falwell and, quite frankly, applies to anyone who revels in the notion that we are bombing people for religious reasons.  To focus here:  extolling an "eye for an eye" kind of justice is not in keeping with the ethics of Jesus.
I would also note that this is a great way to help recruit more terrorists in the Middle East, given that much of the narrative that drives those actions is the notion that the West is engaged in a new version of the Crusades.  Linking our military actions to religious motivations only serves to confirm, and deepen, that narrative.
I will reiterate a point that I have noted before, which is I understand why conservative Christians are happy with the Gorsuch nomination, enough so that they are likely willing to ignore a lot of what is going on in the Trump presidency.  I can further understand how their general dislike for Hillary Clinton will have reinforced the ability to accept any Republican president.  Still, the notion that Donald Trump should be considered some kind of exemplar of a Christian president (which Falwell basically said this weekend) should give believers more than bit of pause.
*The audio can be found at Morning Edition for May 15, 2017 at roughly the 1 minute mark.
(Photo from a Trump rally).