Todd Akin Asks For "Forgiveness," Fundraises Off Of Vow To Stay In Race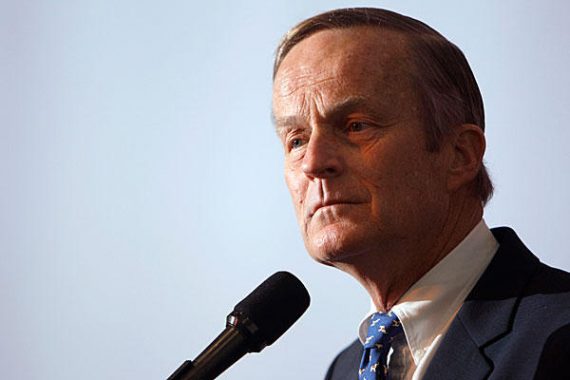 Missouri Congressman Todd Akin has recorded a television commercial asking for forgiveness for his universally condemned comments about rape:
Missouri Senate candidate Todd Akin has recorded a television ad asking for "forgiveness" from the voters of his state and acknowledging that he used "the wrong words in the wrong way" when he suggested last weekend that rape rarely leads to pregnancy.

The Republican congressman has come under heavy fire from national Republicans for his comments and has been urged by some to drop his candidacy before the no-penalty withdrawal deadline at 5 p.m. today. Akin has said he will move ahead with his bid against Democratic Sen. Claire McCaskill and the spot is an indication that he plans to follow through.

The commercial, which was shared with POLITICO, shows Akin speaking directly to the camera and explaining that he has compassion for the victims of rape.

"Rape is an evil act. I used the wrong words in the wrong way and for that I apologize. As the father of two daughters, I want tough justice for predators. I have a compassionate heart for the victims of sexual assault. I pray for them," Akin says. "The fact is, rape can lead to pregnancy. The truth is, rape has many victims."

Akin continues: "The mistake I made was in the words I said, not in the heart I hold. I ask for your forgiveness."
Here's the ad:
Meanwhile, Talking Points Memo is reporting that the same company that produced the ad is helping Akin with a drive to raise money off his vow to stay in the race:
Rep. Todd Akin (R-MO) has launched an online fundraising drive pegged to his pledge not to leave the Missouri Senate race, despite mounting pressure from broad swathes of the Republican and conservative establishment urging him to step down.

A Democratic source sent these screen grabs showing Akin seeking small donations off of his pledge not to drop out of the race, less than 24 hours before his final deadline to do so in a way that would allow Republicans to easily replace him as their nominee against Sen. Claire McCaskill (D).

The ads are appearing on Google and Facebook, according to copies obtained by TPM from a Democratic source.

Akin also sent out a fundraising email Monday night under the subject line "I'm in this to the end."

"The people from Missouri who elected me know I'm not perfect. They don't make perfect people. We all make mistakes. When you make a mistake you to tell people you're sorry, you don't try and hide it. I made a mistake and I'm sorry," Akin says in the email. "I have just begun to fight and I'm in this race to the end!"
You can see the screen grabs over at TPM.
So, is this a sign that Akin is still determined to stay in the race? Possibly, it could also be an effort on his part to test the waters to see if there is still some base of support out there that he could rally to run some type of campaign. Indeed, at this time, there's no confirmation that this ad will be running anywhere in Missouri today. As I write this, there are just a hair less than 11 hours left before Akin's opportunity to withdraw from the race without penalty expires. I think you can count on the phone lines between Washington, New York, Tampa, and Missouri to be burning up all day.