Todd Akin Says He'll Stay In Race, While Republicans Continue To Abandon Him
Todd Akin says he's staying in the race, but his party is abandoning him.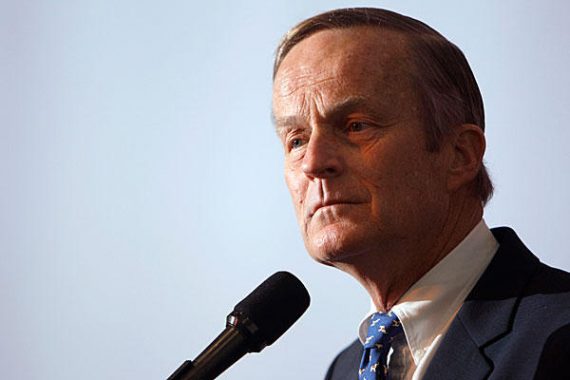 The Republican reaction to Todd Akin's controversial comments about rape continued apace this morning, with pretty much everyone who has spoken out doing everything they can to distance themselves from the Missouri Republican. It started this morning when Massachusetts Senator Scott Brown said that Akin should drop out of the race, which was quickly followed by Wisconsin Senator Ron Johnson, who did the same thing while calling Akin's remarks reprehensible and inexcusable.  Despite this and more from within his own party, though, Akin claims he's staying in the race:
Missouri Republican Rep. Todd Akin apologized Monday for comments he made about "legitimate rape" over the weekend, but rejected growing clamor even from fellow Republicans for him to abandon his Senate bid.

Akin, who's been embroiled in an uproar since suggesting that "legitimate rape" rarely results in victims' pregnancy, acknowledged he made "serious mistakes" in responding to a question about his stance on abortion rights in cases on rape.

"I made that statement in error. Let me be clear: rape is never legitimate; it's an evil act that's committed by violent predators," Akin said on former Arkansas Gov. Mike Huckabee's radio show. "I used the wrong words in the wrong way. What I said was ill-conceived and it was wrong, and for that, I apologize."

(…)

But the six-term congressman, who bested two other candidates in a GOP Senate primary earlier this month, resisted dropping his campaign to unseat incumbent Democratic Sen. Claire McCaskill.

"I feel just as strongly as ever that my background and ability will be a big asset in replacing Claire McCaskill and putting some sanity back in what's going on in our government," Akin said, explaining that no national Republican figure had specifically called to demand his resignation. "The good people of Missouri nominated me, and I'm not a quitter. And my belief is we're going to take this thing forward, and by the grace of God, to win this race."
That may be what Akin is saying in public, but he may be thinking something differently in private, because it's looking like the money is going to start drying up very quickly. First of all, National Republican Senatorial Committee head John Cornyn is calling on Akin to "rethink" his candidacy:
Troubles continued to mount for Rep. Todd Akin (R-Mo.) Monday afternoon when the head of the National Republican Senatorial Committee said it was time for him to reevaluate his campaign for Senate.

"Congressman Akin's statements were wrong, offensive, and indefensible," said Sen. John Cornyn (R-Texas), referring to the Missouri Senate candidate's comments that women who are victims of "legitimate rape" rarely become pregnant.

"I recognize that this is a difficult time for him, but over the next twenty-four hours, Congressman Akin should carefully consider what is best for him, his family, the Republican Party, and the values that he cares about and has fought for throughout his career in public service," added Cornyn.

Cornyn was not alone in his sentiment among Republicans. In an interview with WMUR on Monday, Mitt Romney said Akin should "spend 24 hours considering what will best help the country at this critical time."
As if that doesn't make clear enough what Cornyn thinks Akin should do, the NRSC has decided that it will not provide monetary support to Akin's campaign outside of the minimal donation required to a party nominee under NRSC rules. To add insult to injury, the powerful pro-GOP SuperPAC Crossroads GPS has pulled what was supposed to have been a major ad buy for Missouri:
The conservative outside-spending powerhouse Crossroads GPS is pulling its ads from the Missouri Senate race, three sources confirmed to POLITICO.

The group had originally booked a new round of ads to start Wednesday but began canceling them earlier today. The decision comes in the wake of comments by Missouri Rep. and GOP Senate nominee Todd Akin questioning how often women can get pregnant from "legitimate rape."

Contacted about the decision to withdraw its resources from Missouri, Crossroads spokesman Nate Hodson responded: "The act speaks for itself."
Indeed it does. I'm not sure whether this will cause Akin to change his mind or not. Given the fact that his closest advisers, as well as his top campaign officials, are all family members it's possible that nobody on the campaign will have the "come to Jesus" talk with him before the 5:00pm deadline for penalty-free withdrawal from the race. However, perhaps the realization that he will not be getting any outside support in this race, while McCaskill has likely gotten numerous pledges of support from Democratic fundraisers, will be enough to get him to face reality. If not, then he's likely headed to a lonely campaign in the fall, and a likely loss in November.
Of course, not everybody is abandoning Akin, the social conservatives in the GOP are rallying behind him:
Tampa, Florida (CNN) – While much of the Republican universe spent Monday condemning Missouri Senate hopeful Todd Akin for his comments about "legitimate rape" and abortion, one of the nation's most prominent conservative organizations rallied to his defense.

Two top officials from the Family Research Council said the Missouri congressman is the target of a Democratic smear campaign and chided those Republicans who have condemned Akin.

Connie Mackey, who heads the group's political action committee, said the group "strongly supports" Todd Akin.

"We feel this is a case of gotcha politics," Mackey told reporters in Tampa, where the Republican National Committee was gathering ahead of the party's convention next week. "He has been elected five times in that community in Missouri. They know who Todd Akin is. We know who Todd Akin is. We've worked with him up on the hill. He's a defender of life."

"Todd Akin is getting a really bad break here," she added. "I don't know anything about the science or the legal implications of his statement. I do know politics, and I know gotcha politics when I see it."

Family Research Council president Tony Perkins fired back at Massachusetts Sen. Scott Brown, a leading moderate voice in the GOP who called Akin's remarks "outrageous" and encouraged him to drop his challenge to Democrat Claire McCaskill.

"He should be careful because based on some of his statements there may be some call for him to get out of his race," Perkins said of Brown. "He has been off the reservation on a number of Republican issues, conservative issues I should say. His support among conservatives is very shallow."

Mackey said that Republicans calling on Akin to apologize or drop out should get "backbone."
This isn't surprising. After all, Akin merely repeated something that this wing of the Republican Party takes as gospel. They are among the most radical of the pro-life leaders in the party, refusing to support abortion in cases of both rape and incest, and pushing for state and federal Constitutional Amendments that would define human life as beginning at conception. This time, though, it would appear that they've backed the wrong horse. Even if he stays in, Akin is damaged goods and the reaction to his comments inside the GOP, while in most cases being made for simple self-protection rather than a principled reason, show that the radical ideas of social conservatives aren't going to get very far with Republicans as a whole. If these people were smart, they'd be pressuring Akin to step aside as well because, otherwise, they're likely sit back and watch while he does real damage to policy positions they consider important.
Update: The Editors of National Review are calling on Akin to step down:
Most Republicans who hold the view that unborn children have a right to life regardless of the circumstances of their conception will have the wit to explain themselves in a way that prevents most voters who disagree from vetoing them for that reason.

While Akin is a stalwart conservative and an honorable man, we regret to say that he inspires no such confidence. That is one reason why Senator Claire McCaskill, the sitting Democratic senator, boosted him during the Republican primaries with ads calling him a "true conservative." She knew that she is the weakest Senate incumbent on the ballot this year and that her only hope was to draw a weak opponent. Akin won a three-way primary with a plurality of the vote; there was no run-off. McCaskill's strategy is now paying off.

Akin has backed off from his remarks, albeit with the politician's excuse of "misspeaking." People who make such remarks on television are typically capable of making more like them, or rather incapable of exercising the judgment to refrain. We suspect that this same lack of judgment will cause Akin to blow past tomorrow evening's deadline for him to leave the race and allow the Republicans to select a better nominee. We hope the congressman, who surely wants to see a Senate with as much conservative strength as possible next year, will prove us wrong.
The vultures continue to circle.