Todd Akin Says He's Staying In The Race
Todd Akin says he will continue to be the Republican nominee for United States Senate from Missouri.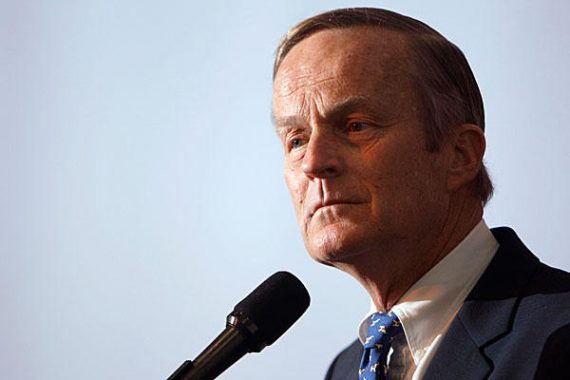 Technically, there are still just a bit more than three hours left for Congressman Todd Akin to advise Missouri election officials that he is dropping out of the race for Claire McCaskill's Senate seat and not worry about having to pay any penalties or seek judicial permission. However, just minutes ago on Mike Huckabee's radio show, the embattled Senate candidate, who has abandoned by pretty much every major Republican politician and pundit, says he's staying in the race:
In case it wasn't clear, Rep. Todd Akin (R-Mo.) went on Mike Huckabee's radio show again Tuesday and declared, "We are going to continue this race for the U.S. Senate."

The embattled Missouri Senate candidate is casting his campaign not just as a fight against Sen. Claire McCaskill (D) but as a grassroots charge against the GOP brass.

"We believe taking this stand is going to strengthen our country — going to strengthen, ultimately, the Republican Party," he said. "What we're doing here is standing on a principle of what America is."

Powerful Republicans both inside and outside the state have called on Akin to end his bidover his comments on "legitimate rape." But 24 hours of lobbying appears to have only strengthened the congressman's resolve.

Akin said that "good friends, closer than brothers" had also asked him to stick it out. "I believe there's a cause here and a part of the message that's missing." He added that he has received "continuing calls from other congressman" expressing their support. (He did not name any of these congressman.)

And he suggested that the calls to end his campaign simply weren't fair. "I haven't done anything morally or ethically wrong," he said. "It does seem like a little bit of an overreaction."
Akin seems hung up on the idea that he's being punished for one word he used in the interview on Sunday, the word "legitimate" before "rape." During the colloquy with Huckabee, he mentioned repeatedly the idea that women will lie about being raped in order to obtain an abortion, like Norma McCorvey, the Plaintiff in Roe v. Wade, supposedly did back in the early 1970s. Of course, it's worth noting that McCorvey did so in the context of a Texas law that made it impossible for anyone who wasn't raped to obtain an abortion unless their was a medical necessity. The idea that women are lying today about being raped to get abortions is, quite simply, absurd, and an effort by Akin and his supporters to deflect attention from the fact that (1) he thinks there's such a thing a "legitimate rape," and (2) that even a woman who is "legitimately raped" should not be allowed to get an abortion.
Akin's statement comes just after Senator Roy Blunt was joined by four other former Republican Missouri Senators (John Danforth, John Ashcroft, Kit Bond, and Jim Talent) in calling on Akin to step down, becoming just the latest major Republicans to do so but the first prominent Missouri Republicans to make the call. Akin, however, does not seem inclined to listen.
With time still left there is still the possibility, of course, that someone will cause him to change his mind. One possibility that was discussed this morning is that Akin would trade places with Ann Wagner, who won the nomination for Akin's Congressional seat. Wagner was an Ambassador to Luxembourg during the Bush Administration and has been a prominent player in Republican politics in Missouri and nationally for years. The imagery of replacing Akin with a woman after his comments is, of course, rather obvious. If Akin isn't willing to take the deal, though, or otherwise get out of the way, there's really nothing that the GOP can do here to force him. As I noted yesterday, there's still the possibility that he could get off the ballot between tomorrow and September 25th, but it would require judicial approval and for Akin's campaign to pick up the cost of reprinting ballots. No doubt, there will be pressure on Akin between now and then, and if he plunges in the polls Republicans nationwide will have a strong argument to present to him, but it's still up to him. Based on what he said on Huckabee's show, I don't think he's at all inclined to get out, either now or by September 25th.
This presents big problems for the Republican Party, quite obviously. It pretty much guarantees that Akin's name will remain in the news cycle in the run-up to the Republican Convention will be about Todd Akin, rape, and abortion. It also means that the Democrats are going to continue bringing up the connections between Akin's views on abortion and Paul Ryan's views on abortion that I mentioned in an earlier post. We'll likely see commercials about this too. Then, there's the high probability that, at some point between now and Election Day, Akin will say more stupid things that will draw national attention, divert attention away from what should be the GOP's top issue, the economy, and focus it on issues that help the Democrats, and suck the news cycle away from Romney/Ryan. This isn't going to end well, I think.
Update: For some reason, comments weren't being allowed on this post. I've fixed that.
Update #2:  The 5pm CT deadline has passed, and Akin is still in the race.