Trump Ambassador: Yes, There Was A Quid Pro Quo
Donald Trump's Ambassador to the European Union provides yet more evidence to support impeachment of the President.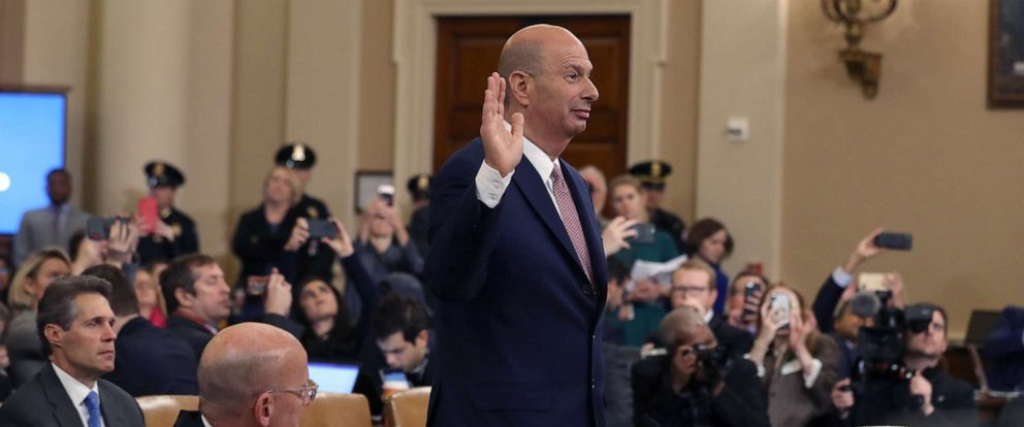 The morning session of today's impeachment hearing before the Senate Intelligence Committee, which lasted well into the afternoon, featured a single witness, the U.S. Ambassador to the European Union Gordon Sondland. No matter how the President or his supporters may choose to characterize him, Ambassador Sondland, who for the moment at least continues to serve, Sondland was a Trump supporter during the campaign who was essentially given his position as a political reward, which is typical for Ambassadorships. In addition to helping to raise money for the campaign, Sondland paid a million dollars for tickets to the President's Inauguration and related events. In any case, as part of his portfolio, Sondland was also responsible for Ukrainian matters along with a group of other Trump officials that included Ambassador to Ukraine Bill Taylor and Energy Secretary Rick Perry.
Given his background, one might have expected that Sondland would remain loyal to the President but instead, he chose to be loyal to the truth, and it tuned out to be a truth that could be quite injurious to the President:
Ambassador Gordon Sondland testified Wednesday more bluntly than he had before that President Trump and his personal lawyer, Rudolph W. Giuliani, sought to condition a White House invite for Ukraine's new president to their demands that his country publicly launch investigations that could damage Trump's political opponents.

"I know that members of this committee have frequently framed these complicated issues in the form of a simple question: Was there a 'quid pro quo?' " Sondland said in sworn testimony. "With regard to the requested White House call and White House meeting, the answer is yes."

Trump's U.S. ambassador to the European Union — a longtime Republican donor who gave $1 million to the presidential inaugural committee and was confirmed by the Republican Senate — gave the House Intelligence Committee an account of the president's culpability in leveraging the power of the Oval Office for his own political gain.

Sondland said he and senior administration officials "followed the president's orders" — coordinating with Trump's personal attorney to pressure Ukraine to launch investigations.

The much-anticipated testimony by a top Trump political appointee provided perhaps the most dramatic moments yet in the ongoing impeachment inquiry and ratcheted up the pressure on Trump, who earlier this fall called Sondland "a really good man and great American."

In brief remarks to reporters outside the White House, Trump distanced himself from Sondland, saying, "This is not a man I know well." He noted that Sondland testified that the president had denied to him there was a quid pro quo.

That means it's all over," Trump said.

But Democrats said Sondland's testimony pulled back the curtain on the extent of the Ukraine pressure campaign, implicating not just the president but Vice President Pence, Secretary of State Mike Pompeo and acting chief of staff Mick Mulvaney.

"We now can see the veneer has been torn away," House Intelligence Committee Chairman Adam Schiff (D-Calif.) told reporters during a break in the testimony, arguing that the situation as described by Sondland "goes right to the heart of the issue of bribery, as well as other potential high crimes or misdemeanors.

"I think a very important moment in the history of this inquiry," he added.

Sondland identified Giuliani as Trump's conduit, saying he communicated the "topics important to the president." One of those was having Ukraine announce an investigation into a widely discredited conspiracy theory that the country was involved in peddling misinformation in the 2016 presidential election. Another was getting Ukraine to publicly announce an investigation into Burisma, a Ukrainian energy company where a board position had been held by the son of former vice president Joe Biden

Sondland said the work he and others carried out with Giuliani seeking a Ukrainian announcement of the investigations was done "at the express direction of the president of the United States."

He also said "there was no secret" about the work within a much larger circle of Trump's Cabinet.
More from The New York Times:
WASHINGTON — An ambassador at the center of the House impeachment inquiry testified on Wednesday that he was following President Trump's orders with the full knowledge of several other top administration officials when he pressured the Ukrainians to conduct investigations into Mr. Trump's political rivals, detailing a "clear quid pro quo" directed by the president.

Gordon D. Sondland, a wealthy Republican megadonor appointed by Mr. Trump as the United States ambassador to the European Union, told the House Intelligence Committee in sworn testimony that he reluctantly followed Mr. Trump's directive to work with Rudolph W. Giuliani, the president's personal lawyer, as he pressured Ukraine to publicly commit to investigating former Vice President Joseph R. Biden Jr. and an unproven theory that Democrats conspired with Kyiv to interfere in the 2016 election.

"We followed the president's orders," Mr. Sondland said.

In explosive testimony that amounted to an act of defiance by an official who has been described by other witnesses as a point man in the effort to extract from Ukraine the investigations Mr. Trump wanted, Mr. Sondland tied the senior-most members of the administration to the effort — including the vice president, the secretary of state, the acting chief of staff and others — saying they were informed of it at key moments.

Yet as striking as his account was, Mr. Sondland appeared on Wednesday as a highly problematic witness, one who has had to revise his account several times based on testimony from others, repeatedly claimed not to have recalled key episodes, and conceded before the committee that he did not take notes that could give him certainty about precisely what happened. Still, the revelations he offered were stunning.

Secretary of State Mike Pompeo signed off on parts of the pressure campaign, Mr. Sondland testified, and Mick Mulvaney, the acting White House chief of staff, was deeply involved. They understood, as he did, that there was a "clear quid pro quo" linking a White House meeting for President Volodymyr Zelensky of Ukraine to a promise by him to announce investigations into Mr. Trump's political rivals, he said.

"I know that members of this committee have frequently framed these complicated issues in the form of a simple question: Was there a quid pro quo?" Mr. Sondland said. "As I testified previously, with regard to the requested White House call and White House meeting, the answer is yes."

"Everyone was in the loop," he said. "It was no secret."

And Mr. Sondland testified that he grew to believe that there was another linkage being made by Mr. Trump, between vital military assistance approved by Congress for Ukraine and a public commitment by its president to investigate Mr. Trump's political adversaries. Mr. Sondland said he informed Vice President Mike Pence of his concern about that connection during a Sept. 1 meeting in Warsaw.

Almost two months after House Democrats began their impeachment inquiry, Mr. Sondland's account came as close as investigators have gotten to an admission from an official who dealt directly with Mr. Trump. But it came with the blemishes of Mr. Sondland's shifting accounts that have evolved since the committee first deposed him in October, opening him up to criticism from Republicans who claimed he was unreliable and not credible.

Still, Democrats quickly seized on Mr. Sondland's testimony as a bombshell.

"It goes right to the heart of the issue of bribery, as well as other potential high crimes and misdemeanors," Representative Adam B. Schiff, Democrat of California and the chairman of the Intelligence Committee, told reporters during a brief break in the hearing.
While Republicans will seek to dismiss Sondland's testimony on the ground that he could not state with specificity that he received direct orders from the President that there was a linkage between military aid and progress in U.S./Ukrainian relations and the investigations that Trump was demanding, his testimony makes clear that this is exactly what was going on. Rather than hearing it from the President, it's clear that this was the guide stone of Administration policy toward Ukraine and that it was made clear to both the Ukrainians and to the small group, which referred to themselves as the so-called "three amigos" that included Sondland, Ukrainian Ambassador William Taylor, and Energy Secretary Rick Perry.
Sondland also corroborated the testimony of previous testimony in his testimony about the extent to which American foreign policy in Ukraine was placed in the hand of someone who was not a formal member of the Administration, President Trump's attorney Rudy Giuliani. It was Giuliani, Sondland said, who made it clear that that there would be no progress on Ukraine issues until the leaders of Ukraine agreed to follow his wishes with regard to an investigation of Joe and Hunter Biden and the debunked conspiracy theory regarding Ukrainian interference in the election. More importantly, it was made clear that Trump would not agree to any policy regarding Ukraine. This is the most direct link that has been drawn between the President and the existence of a quid pro quo, which essentially amounts to the crime of bribery as well as the violation of several other statutes that should form the basis for impeachment of the President of the United States.
To say that this is groundbreaking testimony is by no means an understatement. We now have a public acknowledgment that there was a direct link between aid to the Ukrainian government and the agreement by that government to conduct investigations into the President's political enemies. In one sense, this isn't exactly news since it has been self-evident from the day that the whistleblower's complaint was made public In another sense, though, it is intensely important because we now have live witnesses corroborating what that complaint said. To say that the walls are closing in is an understatement. Whether that will ever be enough for Republicans to do what is right and put their country before their party is quite another.
Here is Ambassador Sondland's opening statement:
Gordon Sondland Opening Sta… by Doug Mataconis on Scribd