Trump And Obama Continue A Long And Important Tradition
Despite resentments, power will transition peacefully from President Obama to President Trump. We should be thankful for that rather than protesting it.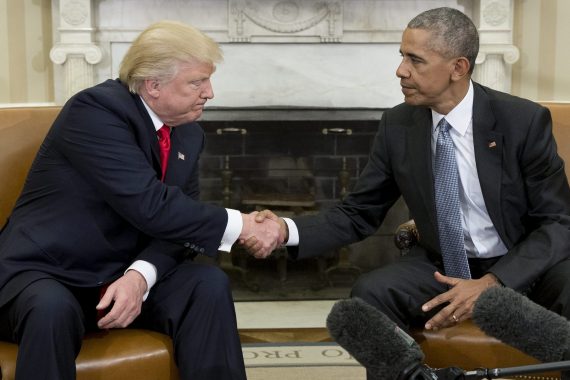 Repeating a ritual that has played itself out in some former or another only forty-three other times in American history, President-Elect Donald Trump and President Barack Obama met today in the Oval Office to discuss the transition that will play itself out over the the next two months, the state of the world that President Obama remains responsible for at the moment and which the President-Elect will soon become responsible for, and no doubt other matters both mundane and difficult:
WASHINGTON — President Obama and Donald J. Trump made a public show on Thursday of putting their bitter differences aside after a stunning election upset. The Oval Office meeting brought together a president who has darkly warned that Mr. Trump could not be trusted with the nuclear codes and a successor who rose to political prominence questioning Mr. Obama's birthplace and legitimacy.

"I want to emphasize to you, Mr. President-elect, that we now are going to want to do everything we can to help you succeed because if you succeed, then the country succeeds," Mr. Obama told Mr. Trump as the two sat side-by-side after the roughly 90-minute meeting. The president called the session "excellent" and wide-ranging.

Mr. Trump, who said he had never met Mr. Obama before and expected the meeting to last only 10 or 15 minutes, said it had been a "great honor" to sit with the president.

"We discussed a lot of different situations, some wonderful and some difficulties. I very much look forward to dealing with the president in the future, including counsel," Mr. Trump said.

It was an extraordinary show of cordiality and respect between two men who have been political enemies and are stylistic opposites — Mr. Trump a brash real estate executive and reality television star whose campaign was defined in opposition to the sitting president, and Mr. Obama, a cool-tempered intellectual who has pressed a progressive agenda in office.

Mr. Trump, whose election on Tuesday stunned the president and rocked the political establishment in Washington, arrived in the White House driveway on Thursday out of sight of the crowds of reporters and news media cameras assembled there. His staff had refused to arrange for journalists to document his movements, as is customary both for the president and the president-elect, and Mr. Obama's team did not arrange for the traditional photograph of the sitting president and his wife greeting their successors in front of the White House.

Mr. Obama said his wife, Michelle, who emerged this fall as an outspoken critic of Mr. Trump on the campaign trail, met with Melania Trump while their husbands spoke in the Oval Office.

"We want to make sure that they feel welcome," Mr. Obama said of the Trumps.

The meetings unfolded as Mr. Obama's staff was starting the daunting business of handing over the vast bureaucracy of the United States government to Mr. Trump's staff, including vital national security information and resources he would need in the event of a catastrophic attack.

Ahead of Mr. Trump's arrival in Washington on Thursday morning, top advisers to Mr. Obama had spent months preparing for a transition, a highly complex venture condensed into the 72-day period between now and the Jan. 20 inauguration. It is up to them and the Trump team to set it in motion, pairing Obama administration staff members with representatives of the president-elect for crash courses in the inner workings of the White House and federal agencies. Two war-gaming exercises are planned to help ready the new team for a terrorist strike or other national security crisis.

Mr. Obama said Wednesday that he had instructed his staff to follow the example set by President George W. Bush in 2008 and provide a professional and smooth transition for Mr. Trump's team, despite the vast policy differences that separate the president and his successor. For all the public drama and division of the presidential campaign, in private, Mr. Obama's aides have since July been quietly working with advisers to both Hillary Clinton and Mr. Trump to plan for the passing of power.

"As everyone has been ramping down and wrapping things up elsewhere around this building, I have been ramping up here for this next phase," said Anita Decker Breckenridge, Mr. Obama's deputy chief of staff. She said she had been impressed by the personnel sent by both campaigns to plan the transition.

"They have taken it seriously," she said in an interview.

Still, given that Mr. Trump's was a nontraditional campaign that did not have scores of seasoned policy staff members or deep relationships within Washington, it is not clear who will be assigned to do the highly technical work of taking the reins of government.

"Landing teams" now in place at each federal agency will begin working as early as Thursday with aides designated by Mr. Trump to hand over crucial operations, some of them using sensitive technology tools, such as secure websites, to make the information more easily digestible.

At the Department of Homeland Security, officials have loaded briefing materials onto tablets for the president-elect's team in a searchable format. At the Department of Justice, officials created a cloud portal for the information.

"Our emphasis here has been putting together quality not quantity – we want to have targeted materials," said Lee Lofthus, the Justice Department's assistant attorney general for administration. "The goal here is not to be putting together phone books that people have to file through."

But the crush of information may be onerous, particularly when it comes to Mr. Trump's task of hiring 4,000 political appointees over a matter of weeks. Saddled with an antiquated personnel system when Mr. Obama was elected in 2008, his aides moved this year to build a new one designed to make it easier to track the positions, as well as the applicants and their personal and professional information.

In December, Mr. Obama's team plans to hold the first of two war-gaming exercises to prepare Mr. Trump and his staff for a potential national security crisis.
This was no doubt a difficult meeting for both men, even though they have apparently never actually met before today. President Obama spent the past year and a half listening to Donald Trump say things and advocate ideas that he no doubt highly objects to, and the past several months not only campaigning against Trump's election as President but doing so in a manner far more vigorous than any sitting President has ever campaigned against a potential successor as far as we can tell from the historical record. It was only a few days ago, for example, that President Obama was telling crowds in North Carolina, Ohio, Pennsylvania and elsewhere that Donald Trump was not only wrong and shouldn't be elected President, but that he was intellectually and temperamentally unqualified to be President of the United States. For his part, Trump, despite the fact that he had originally apparently been a fan of President Obama's according to his own Twitter feed from 2008 and 2009, has been a harsh critic of this President who spent the last five years denouncing everything he did and the last seventeen  months campaigning to replace him on a platform that promises to undo many of what President Obama considers to be the signature accomplishments of his Administration. That's been true many times when a sitting President has been replaced by a President-Elect of an opposing party or a President-Elect with different policy ideas, but hanging there was something far more personal hanging over this meeting. As far as we know, never before in American history has a President been replaced by someone who not only opposed him politically but also spent the better part of a year or more openly questioning the legitimacy of the sitting President's birth and questioning whether the sitting President legitimately holds his office under the Constitution. Although President Obama has never spoken about it publicly, reports have indicated that President Obama took Donald Trump's birther campaign in 2011 very personally and continued to harbor resentments against him for it long after Trump finally stopped speaking about the matter after the Obama White House produced a copy of the President's birth certificate. In fact, that campaign on Trump's part was part of the reason that Obama was so eager for the General Election campaign to start so he could get out on the campaign trail and take Trump on head to head.
This isn't to say that there haven't been situations in history before where candidates for President didn't like each other. Most recently, President George H.W. Bush had to hand over power to President-Elect Clinton after a particularly rough campaign during which the two men traded sharp barbs and attacks that made it seem like there was something personal between them, but when the time came to hand over power President Bush was as cordial as he would have been to any other candidate, as Clinton himself as noted many times. Since then, the two men have become close and very unlikely friends. The most well-known example of rivals following each other in office, though, came after the hard-fought Election of 1800 during which Thomas Jefferson and John Adams, once close friends who helped forge a revolution and create what would become the United States of America waged a campaign, mostly through surrogates, that had both of them attacking each other in manners that make the worst of some of the campaigns we call "negative" today seem tame by comparison. The resentments were so strong that, when the outcome of the election was finally decided by the House of Representatives and it came time for Jefferson to be inaugurated, John and Abigail Adams left Washington in the dark of night on March 3rd, 1801 rather than participate in Jefferson's inauguration. In addition to that, there is no record of Jefferson and Adams having met at any time after the election that put Jefferson in office. Indeed, there is no record that Jefferson and Adams were ever in each other's presence after serving together in George Washington's Cabinet, although it's probable that they were on at least some occasions during Jefferson's time as Vice-President under Adams, and they never met again after the two men left Washington, D.C even though they became famous for eventually healing their relationship and writing some of the most famous correspondence in American history. Additionally, Abraham Lincoln's transition was no doubt difficult given the fact that he was inheriting the job from an incompetent man who did little to prevent the nation from falling apart during the transition period and who seemed openly hostile to Lincoln and sympathetic to the South, not to mention the fact that Lincoln had to travel to Washington, D.C, incognito in order to make sure he wasn't killed along the way.
This time, though, the differences between the two men seem to be far more severe and personal. However, we can be assured that the transition will be as smooth as most of the others in American history, and that the Trump Administration will take over on January 20, 2017. No doubt there will be resentments on both sides of the table, and most likely some of the same relatively harmless pranks that Administration staffers have played on members of the incoming staff have played probably from the time that the Adams Administration took over from the Washington Administration in 1797. Additionally, as we've already seen, supporters of the outgoing Administration and often the losing candidate in the election will be protesting the newcomer, claiming that the new President means gloom and doom for the nation, and generally resenting the fact that their preferred candidate lost a free and fair election. For the most part, though, the process between now and that cold morning in January will unfold in a peaceful and cordial manner with the goal of ensuring that the people taking over in Washington have access to all the information and material they need to do a job whose ramifications can only be undersold by a relatively small handful of people.
The United States isn't the only nation where this peaceful transition of power happens, of course, but that isn't a good reason for us not be proud of the fact that we have such a long-standing tradition of such transitions notwithstanding the extent to which our political battles can come to resemble warfare in another form. In some parts of the world, it still doesn't work that way, though. Opposing parties that win elections find the ballots manipulated so they lose. Candidates for office who opposing a sitting government often find their names removed fro the ballot in "democratic" elections and that they have no power to prevent the sitting government from using its power to prevent true competitive elections. In some cases, the winner of an election has found it impossible to take office due to the fact that his opponents supporters, or even the nation's military, are using violence or the threat of violence to prevent him or her from taking office. In the most extreme cases, the military itself has stepped in to take power away from people elected in free and fair elections in the name of "keeping order," which usually means maintaining the preferred status of the military and its supporters and pursuing policies that benefit them rather than the nation as a whole.
Our nation has been lucky enough to survive more than two centuries of mostly peaceful transitions of power. Yes, there have been painful times. For the most part, though, power has passed between Presidents without incident and with at least a veneer of respect and good will. This is why I find the protests that have occurred since Tuesday night to be so troublesome. What, exactly, is it that these people are protesting? Donald Trump is the President-Elect of the United States, until January 20, 2017 he will have no power to do anything at all and the Presidency will be in the hands of someone who the protesters no doubt find much more acceptable. At this point, there is nothing under the law that can be done to stop him from becoming President. When he does become President, he will have to accept the fact that his ability to act will be checked by equally powerful branches of the Federal Government in the form of Congress and the Courts. Protesting now, when he has no power to act on anything, seems utterly pointless. Indeed, instead of protesting Trump it seems clear that these people are protesting democracy itself simply because their preferred candidate lost the election. I have to wonder if these protesters voted in the election, or whether they stayed home. I also have to wonder what they think protests after the election are going to accomplish. As someone on TV put it, the election is over, it's decided and, at least for now,, we have to accept that fact and let the process work itself out. What these people are protesting now isn't Trump and it isn't Trump's ideas, it's the fact that Trump won. They're protesting a free and fair election that didn;t turn out the way they wanted. In the end, they're no different than Trump supporters who talked about taking up arms if Trump lost. They have every right to do this, but they are being childish.
This scene from Game Change, the book about the 2008 campaign for President that was made into an HBO movie, put it perfectly:
As I think I have made clear since June 14th 2015, I vehemently oppose Donald Trump and wish he wasn't President. But I also opposed Barack Obama on many issues he had campaigned on in 2008. Nonetheless, I hope that he ends up at least being an effective President who executes the basic duties of his job effectively and competently because our country can't afford a President who is a failure. However, I'm not going to protest the fact that he won a free and fair election. If and when Trump does something I think is wrong, I will be among the first to speak out against him and I encourage others to do so as well. Until then, I am going to continue to marvel at the fact that, notwithstanding the passions that the recent election aroused, our system encourages and supports the peaceful transition of power from one Administration to the next and that, for the most part, Americans have abided by that practice. The idea of living in a nation where the only way to change power is through violence, threats, and protests, or where such methods are considered acceptable is even scarier than the worst I can contemplate from a politician I despise with all my heart. The transition from President Obama to President Trump will be hard on many people, I understand that, but it will happen and it will be peaceful. We should be thankful for that rather than protesting it."