Trump Basically Let Rudy Giuliani Hijack American Foreign Policy
New testimony from a former Trump adviser details how Rudy Giuliani was able to hijek American foreign policy.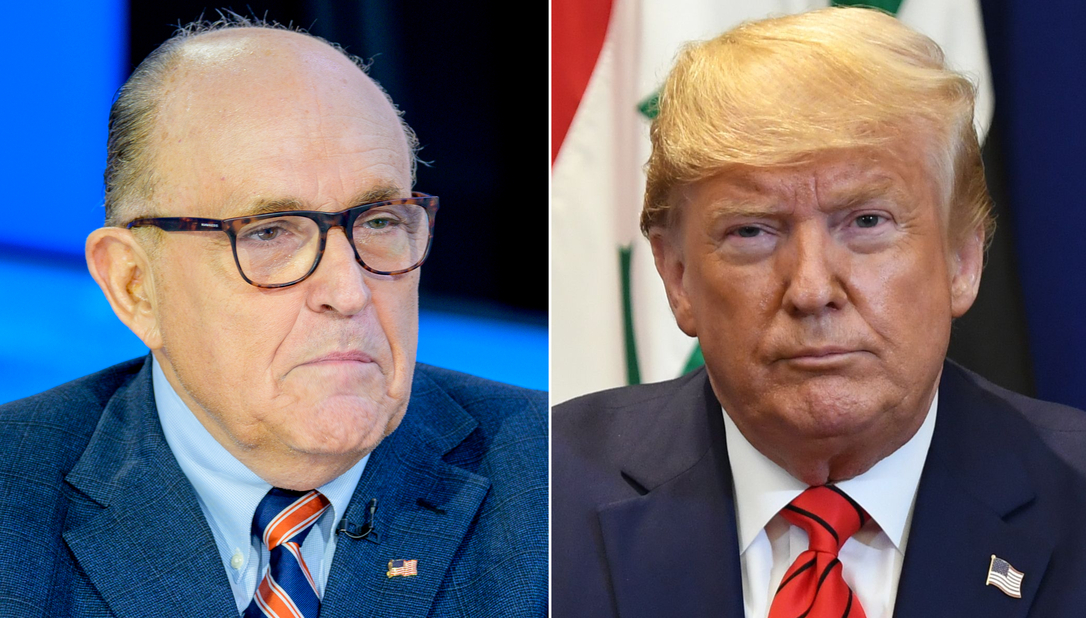 Fiona Hill, who once served as President Trump's top adviser on Russian matters, told members of the House Intelligence Committee yesterday that American foreign policy toward Ukraine had essentially been hijacked by Rudy Giuliani long before the President's now-infamous July 25th phone call with the President of Ukraine:
Fiona Hill, the White House's former top Russia adviser, told impeachment investigators on Monday that Rudolph W. Giuliani, the president's personal lawyer, ran a shadow foreign policy in Ukraine that circumvented U.S. officials and career diplomats in order to personally benefit President Trump, according to people familiar with her testimony.

Hill, who served as the senior official for Russia and Europe on the National Security Council, was the latest witness in a fast-moving impeachment inquiry focused on whether the president abused his office by using the promise of military aid and diplomatic support to pressure Ukraine into investigating his political rivals.

In a closed-door session that lasted roughly 10 hours, Hill told lawmakers that she confronted Gordon Sondland, the U.S. ambassador to the European Union, about Giuliani's activities which, she testified, were not coordinated with the officials responsible for carrying out U.S. foreign policy, these people said, speaking on the condition of anonymity to disclose details of her deposition.

Sondland played a leading role in the Trump administration's efforts to pressure Ukraine to open investigations of the president's political rivals, text messages obtained and later released by House Democrats show. Three congressional committees are now probing how Trump pressured Ukraine to investigate former vice president Joe Biden and his son, Hunter, who was on the board of a Ukrainian energy company, as well as a debunked theory that Ukraine interfered in the 2016 U.S. election in an attempt to damage Trump's candidacy.

Sondland is set to appear before lawmakers later this week.
The New York Times, meanwhile, reports that former National Security Adviser John Bolton was outraged over the influence that Giuliani was asserting over American foreign policy, calling him a "hand grenade" who could blow up the whole Administration:
WASHINGTON — The effort to pressure Ukraine for political help provoked a heated confrontation inside the White House last summer that so alarmed John R. Bolton, then the national security adviser, that he told an aide to alert White House lawyers, House investigators were told on Monday.

Mr. Bolton got into a tense exchange on July 10 with Gordon D. Sondland, the Trump donor turned ambassador to the European Union, who was working with Rudolph W. Giuliani, the president's personal lawyer, to press Ukraine to investigate Democrats, according to three people who heard the testimony.

The aide, Fiona Hill, testified that Mr. Bolton told her to notify the chief lawyer for the National Security Council about a rogue effort by Mr. Sondland, Mr. Giuliani and Mick Mulvaney, the acting White House chief of staff, according to the people familiar with the testimony.

"I am not part of whatever drug deal Sondland and Mulvaney are cooking up," Mr. Bolton, a Yale-trained lawyer, told Ms. Hill to tell White House lawyers, according to two people at the deposition. (Another person in the room initially said Mr. Bolton referred to Mr. Giuliani and Mr. Mulvaney, but two others said he cited Mr. Sondland.)'

It was not the first time Mr. Bolton expressed grave concerns to Ms. Hill about the campaign being run by Mr. Giuliani. "Giuliani's a hand grenade who's going to blow everybody up," Ms. Hill quoted Mr. Bolton as saying during an earlier conversation.

The testimony revealed in a powerful way just how divisive Mr. Giuliani's efforts to extract damaging information about Democrats from Ukraine on President Trump's behalf were within the White House. Ms. Hill, the senior director for European and Russian affairs, testified that Mr. Giuliani and his allies circumvented the usual national security process to run their own foreign policy efforts, leaving the president's official advisers aware of the rogue operation yet powerless to stop it.

At one point, she confronted Mr. Sondland, who had inserted himself into dealings with Ukraine even though it was not part of his official portfolio, according to the people informed about Ms. Hill's testimony.
He told her that he was in charge of Ukraine, a moment she compared to Secretary of State Alexander M. Haig Jr.'s declaration that he was in charge after the Ronald Reagan assassination attempt, according to those who heard the testimony.

According to whom, she asked.

The president, he answered.
What's truly problematic about this, of course, is that Giuliani is neither a foreign policy expert nor has he at any time been a White House or State Department employee. He was, and remains, an "attorney," (I put the word in quotes because it is utterly unclear if Rudy was even acting as an attorney for anyone throughout this matter) who was acting as a representative of his client, Donald Trump. In that respect, he was using his connections to the President to attempt to extort information out of the Ukrainian government that would be helpful to his client in the 2020 Presidential campaign. This includes not only information on Vice-President Biden and his son Hunter regarding Hunter's business dealings, but also information to support the fever swamp conspiracy theory that it was Ukraine, not Russia, that was behind the inference in the 2016 election and that Ukraine was colluding with the Clinton campaign, the Obama Administration, and the so-called "Deep State" to bring down Trump. The fact that he was able to use this as leverage to give him what effectively amounted to the hijacking of American foreign policy to serve the interests of the President and his "attorney" is to say the least alarming.
All of this means, of course, that Bolton is likely to be the next big witness that Congressional investigators are going to want to talk to about all of this. Given the circumstances of his departure and the fact that he apparently strongly objected to much of what he saw going on around him, it seems likely that he would be a willing witness who would be unlikely to listen to White House instructions on how to testify. Especially important will be what he knows about the efforts of Giuliani, Sunderland, and others to gain influence over policy toward Ukraine and what that meant for his own ability to do his job. It also reminds one of the facts that when he did leave office, Bolton made clear in background communications with reporters that he didn't intend to remain silent about his time in the White House and that he would be speaking out in due course. It appears that this will happen sooner rather than later,
Or, as I put it on Twitter this morning:
Indeed,