Trump Nominates Jerome Powell To Head Federal Reserve Board
President Trump has selected Jerome Powell, a member of the Federal Reserve's Board of Governors, to replace Janet Yellen as Chairman.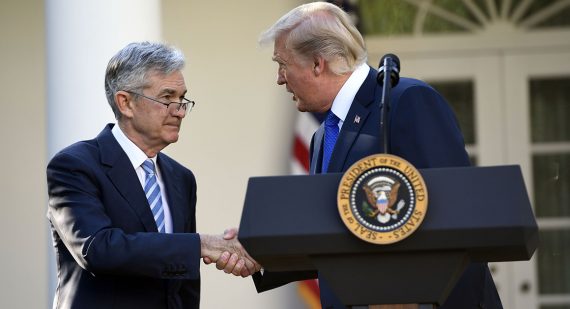 As expected, President Trump has nominated Jerome Powell, a member of the Federal Reserve's Board of Governors to be the new Chairman of the Federal Reserve Board:
WASHINGTON — President Trump nominated Jerome H. Powell to chair the Federal Reserve on Thursday afternoon, bypassing Janet L. Yellen for a second term but turning to a replacement who is expected to stay the course on monetary policy if the economy continues its steady growth.

"He's strong, he's committed, he's smart," Mr. Trump said in the Rose Garden, where he introduced Mr. Powell as his choice. Using Mr. Powell's nickname, the president said, "Based on his record, I am confident that Jay has the wisdom and leadership to guide our economy through any challenges that our great economy will face."

Less certain is where Mr. Powell would lead the Fed if the economy falters. Mr. Powell, a member of the Fed's board of governors since 2012, has consistently voted with Ms. Yellen, and colleagues consider him a centrist and pragmatist. But his tenure as a central banker has been relatively brief, and he has expressed skepticism in the past about the unconventional measures that the Fed has taken in the wake of the severe recession of 2008 and 2009.

Mr. Powell could also depart from the Fed's current trajectory when it comes to regulating banks and other financial institutions — rules Mr. Trump has said should be loosened.

Mr. Powell is a Republican with deep roots in the party's establishment and in the financial industry, a lawyer by training and investment banker by trade. As chair, a position some consider as the second most powerful post in government, he will be the voice of an institution that is charged with keeping the economy on track by adjusting interest rates that influence the decisions of millions of Americans.

In replacing Ms. Yellen, Mr. Trump is breaking with precedent. The previous three Fed chairman were reappointed, in each case by a president of the opposite political party.

Mr. Trump said that he respected Ms. Yellen and on Wednesday called her "excellent." The Fed under her leadership has sharply reduced unemployment while maintaining control of inflation, coming as close to achieving its congressional mandate as at any time in its history. But Mr. Trump and his advisers wanted to pick their own Fed chairman.

The position requires Senate confirmation, but Mr. Powell is likely to attract broad support from the Republican majority. He won some Democratic votes when he was confirmed as a Fed governor in 2012, and when he was confirmed again in 2014.

Most expect Mr. Powell to maintain the slow but steady approach that Ms. Yellen has taken in raising rates and unwinding the portfolio of assets that the Fed purchased to boost the economy after the 2008 financial crisis. Mr. Powell remains a centrist voice in the Fed's internal debates, arguing for the Fed to end its stimulus campaign at a slow and steady pace. Over the last year, that has placed him solidly among the majority led by Ms. Yellen.

"Our view is Powell is the G.O.P. version of Yellen, with the added kicker of wanting to reduce regulation," said Tom Porcelli, chief United States economist at RBC Capital Markets. He said Mr. Powell was "the easy choice if you want to maintain continuity."

But some argue that there is more uncertainty surrounding Mr. Powell's approach than for other recent Fed chairs. Lewis Alexander, chief United States economist at Nomura Securities, said it is unclear how aggressive Mr. Powell would be in responding to an economic slowdown.

"I don't think it's right to think of Powell as a Yellen clone," Mr. Alexander said. "In terms of the core issues of monetary policy, we just don't have much of a baseline for him."

Mr. Powell would also be the first Fed chair in four decades who does not have a degree in economics — meaning he lacks a body of academic work that analysts can parse for his views.

Ms. Yellen's work on the labor market and former Fed chair Ben Bernanke's focus on financial crises both gave insight into their leadership at the Fed, said Sarah Binder, a political scientist at George Washington University. But beyond Mr. Powell's performance as a "loyal lieutenant" to Mr. Bernanke and Ms. Yellen, "we don't know all that much about any existing priors Powell has about monetary policy," she said.

As a member of the Fed's board of governors, Mr. Powell also raised concerns that the Fed was trying too hard to revive economic growth with its massive bond-buying program — calling into question whether he would be as willing as Mr. Bernanke and Ms. Yellen to use such tools again.

The Fed announced in September 2012 that it would launch a third round of bond buying, purchasing $85 billion a month in Treasuries and mortgage-backed securities until economic conditions improved to its satisfaction. The program was backed by Mr. Bernanke, then Fed chair, and Ms. Yellen, then the vice chairwoman, who argued the Fed had not done enough to reduce unemployment.

A group of three Fed governors, including Mr. Powell, pressed Mr. Bernanke to clarify the Fed's goals, establishing what Mr. Powell called an "off-ramp" for the program. Jeremy Stein, the Harvard economist who was a governor at the time, described his concerns in public speeches, but Mr. Powell characteristically worked behind the scenes, raising his concerns with Mr. Bernanke in private conversations.

Mr. Bernanke responded by announcing a wind-down plan in May 2013, but fear of a premature retreat caused a "taper tantrum" in financial markets. The Fed ended up continuing the purchases for longer than it had expected.

A survey of 144 investors conducted by Evercore ISI found investors expected that Mr. Powell would push rates modestly higher over time compared to Ms. Yellen.

Coming appointments could also complicate Mr. Powell's task of forging consensus at the Fed. The president has three more open seats on the board of governors, and may have a fourth if Ms. Yellen decides to step down from her position on the board as she departs as chair. Mr. Trump may decide to appoint John Taylor, a Stanford economist who is among the Fed's most vocal critics, and who was a top choice for Fed chief along with Mr. Powell.

Mr. Powell may also diverge from his predecessor on financial regulation. In a June appearance before the Senate Banking Committee, Mr. Powell made clear that he did not fully embrace the Trump administration's plans for significant reductions in regulation, released a few weeks earlier, but said that the Fed's current rules showed opportunities for improvement.

"I see it is a mixed bag," he said. "There are some ideas in the report that make sense, maybe not as expressed there, but it would enable us to reduce the cost of regulation without affecting safety and soundness."

But, he continued, "There are some ideas that I would not support."
As noted above, Yellen is the first Federal Reserve Chairman in some forty years who wasn't nominated for at least one additional term after their initial term in office. Each of her three predecessors, Paul Volcker, Alan Greenspan, and Ben Bernanke, were reappointed at least once and in Greenspan's case an additional three times over the course of their tenure. That being said, though, it's not unusual that a President from a new party would seek to have their own appointee in a position that has been described as among the most important in the Federal Government as well as a position that has significant influence over the monetary policy around the world. Additionally, it's unclear from the reporting if Yellen actually desired to continue in office or if, like Greenspan when he was offered a fifth term by President George W. Bush she decided to retire on her own. For the most part, Yellen's term has been a successful one, at least as measured by the economy, although one could argue that under her watch the Federal Reserve did wait too long to reverse course on the loose money policies it had adopted in the wake of the Great Recession and that all those policies succeeded in doing was propping up the stock market by keeping interest rates artificially low. Whether that's true will be something for financial historians and others to judge.
In any case, it appears from all the available information that Powell will prove to be an uncontroversial nominee likely to pass through the Senate rather easily. As the President noted when announcing his choice today, Powell was confirmed unanimously when he was appointed to the Board of Governors several years ago and while he's likely to receive more scrutiny for this position than he did for his previous post there doesn't seem to be much of anything to indicate any areas of controversy that would hold the nomination up for any reason. When it comes to interest rate policy, Powell has been largely supportive of the approach that Yellin and the other members of the Board of Governors have laid out, so there's unlikely to be any major changes in that area when he is confirmed. To the extent there are differences between the two, they lie with issues regarding banking regulation and Powell could face some questioning there. However, given the fact that there are more than enough Republican votes to confirm him, it's unlikely that Powell will have much of a problem getting confirmed.