Trump Once Again Reveals His Horrible Foreign Policy Instincts
Donald Trump had to be talked down from considering military intervention in Venezuela.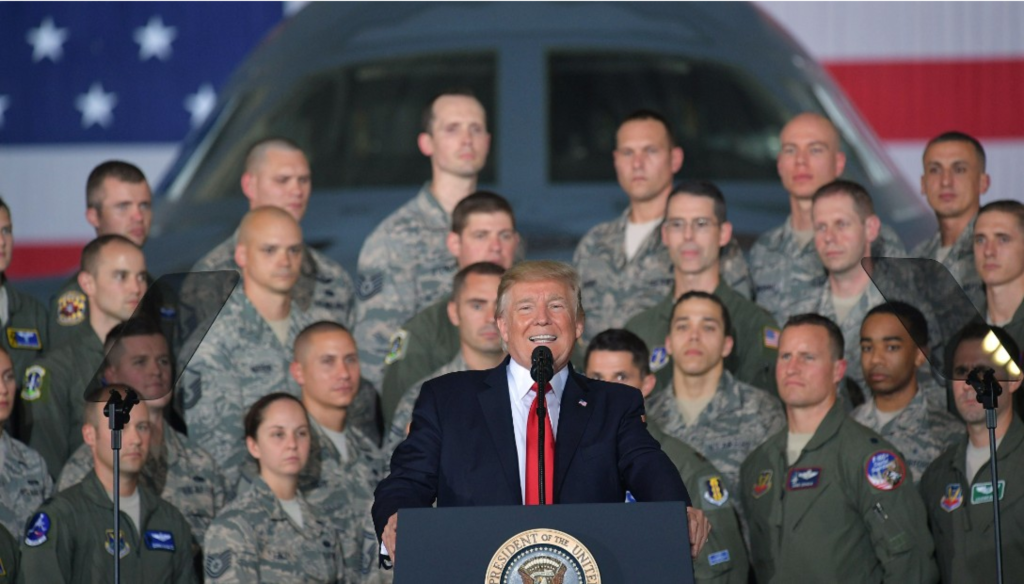 The Associated Press is reporting that President Trump has apparently pressed his aides about military intervention in Venezuela that would be designed to bring down the government of Venezuelan President Nicolas Maduro:
BOGOTA, Colombia (AP) — As a meeting last August in the Oval Office to discuss sanctions on Venezuela was concluding, President Donald Trump turned to his top aides and asked an unsettling question: With a fast unraveling Venezuela threatening regional security, why can't the U.S. just simply invade the troubled country?

The suggestion stunned those present at the meeting, including U.S. Secretary of State Rex Tillerson and national security adviser H.R. McMaster, both of whom have since left the administration. This account of the previously undisclosed conversation comes from a senior administration official familiar with what was said.

In an exchange that lasted around five minutes, McMaster and others took turns explaining to Trump how military action could backfire and risk losing hard-won support among Latin American governments to punish President Nicolas Maduro for taking Venezuela down the path of dictatorship, according to the official. The official spoke on the condition of anonymity because of the sensitive nature of the discussions.

But Trump pushed back. Although he gave no indication he was about to order up military plans, he pointed to what he considered past cases of successful gunboat diplomacy in the region, according to the official, like the invasions of Panama and Grenada in the 1980s.

The idea, despite his aides' best attempts to shoot it down, would nonetheless persist in the president's head.

The next day, Aug. 11, Trump alarmed friends and foes alike with talk of a "military option" to remove Maduro from power. The public remarks were initially dismissed in U.S. policy circles as the sort of martial bluster people have come to expect from the reality TV star turned commander in chief.

But shortly afterward, he raised the issue with Colombian President Juan Manuel Santos, according to the U.S. official. Two high-ranking Colombian officials who spoke on condition of anonymity to avoid antagonizing Trump confirmed the report.

Then in September, on the sidelines of the U.N. General Assembly, Trump discussed it again, this time at greater length, in a private dinner with leaders from four Latin American allies that included Santos, the same three people said and Politico reported in February.

The U.S. official said Trump was specifically briefed not to raise the issue and told it wouldn't play well, but the first thing the president said at the dinner was, "My staff told me not to say this." Trump then went around asking each leader if they were sure they didn't want a military solution, according to the official, who added that each leader told Trump in clear terms they were sure.

Eventually, McMaster would pull aside the president and walk him through the dangers of an invasion, the official said.

Taken together, the behind-the-scenes talks, the extent and details of which have not been previously reported, highlight how Venezuela's political and economic crisis has received top attention under Trump in a way that was unimaginable in the Obama administration. But critics say it also underscores how his "America First" foreign policy at times can seem outright reckless, providing ammunition to America's adversaries.
The downsides to this idea should be so blindingly obvious that they hardly need to be pointed out.
First of all, rhetoric such as the kind that Trump engages in when he does things like this is only going to end up reinforcing the position of people like Maduro who have built their political careers on accusing the United States of being an international bully in Latin America and elsewhere. If nothing else, it's a throwback to an era when American military intervention in the region was far more common, and it typically ended up with the installation of authoritarian right-wing regimes that engaged in extensive human rights violations while the United States basically looked the other way. This happened over the course of the 20th Century most notably in cases such as those that occurred in Cuba, the Dominican Republic, Guatemala, Honduras, El Salvador, and Nicaragua, and eventually led to popular uprisings and civil war and, in some cases, the rise of populist left-wing governments that were openly hostile to the United States and openly friendly toward adversaries such as Castro's Cuba and the Soviet Union.
Second, even if we were successful in overturning the Maduro government that would hardly be the end of the affair. Such an action would inevitably make us responsible for the political future of Venezuela just as the unjustified and unnecessary invasion of Iraq that led to the toppling of Saddam Hussein forced us to become responsible for the political future of Iraq. The result back then, of course, was what effectively amounted to a civil war in which American forces became little more than cannon fodder fighting for a dubious and unclear cause. Add into this the dangers that could be posed to the United States and Central and South America by a destabilized Venezuela and the very idea of doing what the President apparently suggested, and the idea becomes even more silly and stupid.
Finally, even suggesting something such as this has the potential to undo decades of American diplomacy in the region that has sought to repair relationships that were frayed largely due to the reflexive tendency of the United States to intervene in the affairs of sovereign nations in Central and South America based largely on the idea that their geographic closeness to us gave us the right do so. Not surprisingly, such attitudes didn't exactly work out so well for the native populations in those nations and indeed the entire region. For the most part, we've accomplished that goal. Someone like Trump, with irresponsible talk such as invading a nation of 31 million people because we don't like the government, threatens to ruin all of that just as he's ruining our relationships with allies like Canada Mexico, and Europe.
As Daniel Larison notes, this kind of reports is yet another indication of how ill-informed the President is when it comes to foreign affairs:
The report makes clear that Trump's first instinct was to resort to military action, and he kept coming back to it on the foolish assumption it would be like the invasions of Panama and Grenada. He was not opposed to starting an unprovoked and unnecessary war against a country th2at posed no threat to the United States, and it was only because he encountered overwhelming opposition from everyone he talked to about it that he appears to have given up on the idea for now.

The story confirms what we have seen elsewhere: Trump has bad instincts and bad judgment especially when it comes to foreign policy, he has no problem with using force as a first resort, and it takes the concerted effort of everyone around him to stop him from doing exceptionally stupid and dangerous things. That suggests he is likely to start a war somewhere else when his advisers and Cabinet members are urging him to do it, and he is surrounded by Iran hawks that have publicly advocated attacking Iran. As U.S. policy keeps stoking tensions with Iran, the risk of a new and very costly war is growing.
Fortunately, Trump was talked down from his irresponsible talk about Venezuela, or at least he was for the time being, whether that's going to work the next time the instinct to use force comes into his mind is another question.