Trump Promised To Bring Jobs Back To America. It's Not Happening.
As a candidate, Donald Trump promised to bring jobs back to the United States, especially manufacturing jobs. It hasn't worked out that way.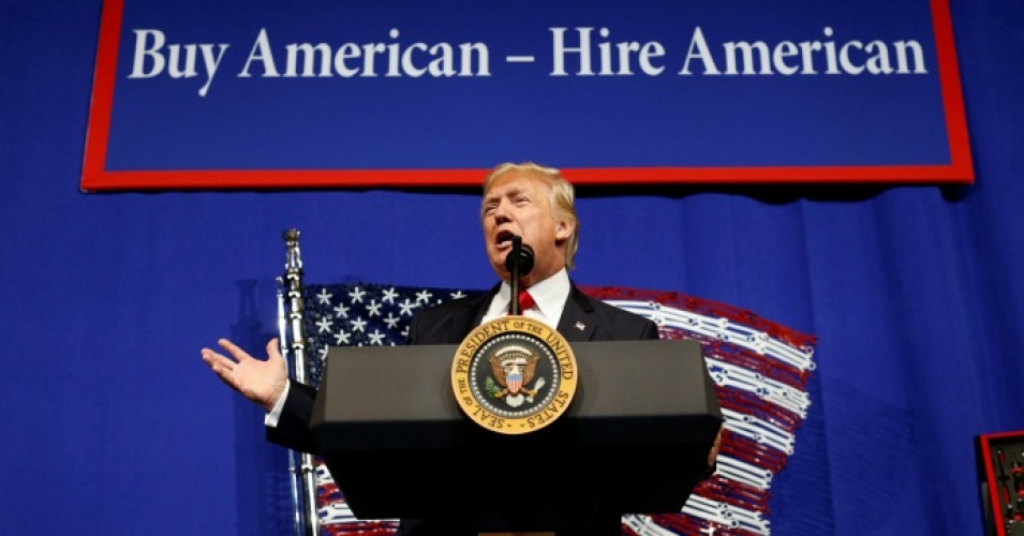 Throughout his campaign for President, Donald Trump promised to bring jobs in manufacturing and other areas that had been transferred overseas back to the United States. As Jim Tankersley notes in The New York Times, it hasn't exactly worked out that way:
WASHINGTON — From tax cuts to relaxed regulations to tariffs, each of President Trump's economic initiatives is based on a promise: to set off a wave of investment and bring back jobs that the president says the United States has lost to foreign countries.

"We have the greatest companies anywhere in the world," Mr. Trump said at the White House recently. "They're all coming back now. They're coming back to the United States."

Mr. Trump's tax cuts unquestionably stimulated the American economy in 2018, helping to push economic growth to 2.5 percent for the year and fueling an increase in manufacturing jobs. But statistics from the government and other sources do not support Mr. Trump's claim about his policies' effectiveness in drawing investment and jobs from abroad.

Foreign investment in the United States grew at a slower annual pace in the first two years of Mr. Trump's tenure than during Barack Obama's presidency, according to Commerce Department data released in July. Growth in business investment from all sources, foreign and domestic, accelerated briefly after Mr. Trump signed a $1.5 trillion tax-cut package in late 2017 but then slowed. Investment growth turned negative this spring, providing a drag on economic output.

In Mr. Trump's first two years in office, companies announced plans to relocate just under 145,000 factory jobs to the United States, according to data and modeling by the Reshoring Initiative, a nonprofit group. That is a record high in the group's data, which dates back to the late 1980s, but it adds up to less than one month of average job gains in the United States in its decade-long expansion. More than half of those jobs — about 82,000 — were announced in 2017, before Mr. Trump's tax cuts took effect.

Moreover, the Reshoring Initiative data show fewer than 30,000 jobs that companies say they will relocate to the United States because of Mr. Trump's tariffs on imported steel, aluminum, solar panels, washing machines and a variety of Chinese goods. Researchers at A. T. Kearney said last month that Mr. Trump's trade policies, including tariffs, had pushed factory activity not to the United States but to low-cost Asian countries other than China, like Vietnam.

On Tuesday in Pennsylvania, Mr. Trump declared that his tariffs had turned things around for the domestic steel industry and that "now your business is thriving." But manufacturers of primary metals, which include steel and aluminum, have added fewer than 15,000 jobs since Mr. Trump took office, with more than half of those gains coming before he imposed tariffs on foreign-made metals last year.

Now manufacturing is struggling amid a global slowdown and fallout from the trade war, which Mr. Trump has escalated by imposing additional tariffs on Chinese goods and by labeling China a "currency manipulator."

(…)

On another front, administration officials point to companies like Mylan and Allergan — which had moved their corporate addresses overseas in a process known as inversion but recently said they would return to the United States — as a sign of success for the tax law. Larry Kudlow, the director of the National Economic Council, said last week that "you're seeing American firms move back."

When a CNBC interviewer said the Mylan and Allergan moves would not bring back manufacturing jobs, Mr. Kudlow agreed. But he said, "You're also going to have factories moving back in from other places around the world, including China."

Brad Setser, a senior fellow at the Council on Foreign Relations who tracks international investment flows, said it was notable that relatively few pharmaceutical companies were moving plants and activity back to the United States from countries like Ireland or Switzerland. Pharmaceutical imports from those countries actually rose in 2018, he noted.

And a May report by researchers at the International Monetary Fund concluded that the investment impact of the tax bill "has been smaller than would have been predicted based on the effects of previous U.S. tax-cut episodes" and that the strongest effects on investment were likely to have shown up in the first year after the law was enacted. Morgan Stanley's Business Conditions Index shows that companies' plans for new investment plummeted this summer.
On some level, the fact that Trump's largely short-term policies have not led to the kind of long-term repatriation of American jobs in manufacturing and other fields that he promised is not surprising. For one thing, the factors that led to the trend of companies moving facilities and jobs overseasons are far more complex than just tax policy, and most of them are beyond the ability of a President or Congress to address. These factors include not just differences in wages that make it less expensive to conduct some business operations overseas but also changes in demand that causes American companies to move overseas for efficiency reasons.
For example, when a car manufacturer finds that it would be less expensive to build automobiles overseas due to the fact that it decreases the expenses such as shipping involved in manufacturing product in the United States and shipping it overseas, they're obviously going to look seriously at the idea of moving production overseas. We've seen this happen in reverse in the form of Japanese, South Korean, and European car manufacturers who have invested billions of dollars in factories in the American south. American manufacturers in a wide variety of industries have reached the same conclusion and there's very little that the Trump Administration can do about that.
It's also worth noting that the changes in employment in manufacturing are not simply due to jobs that have moved overseas, there are other factors that have played a role that has nothing to do with jobs being shipped overseas. One of these, of course, is the role that technology has played in transforming manufacturing over the past several decades, a trend that is inevitably going to continue no matter who the President is. Even if a manufacturer builds a new plant here in the United States, it's going to need far fewer workers than it did in previous decades. Similarly, changes in worker productivity, which in part are due to the increased use of technology in industry across the board, means that employers need fewer workers to get the same amount of work, or more, done and that it becomes far less expensive to invest in new technology that increases productivity than they are to hire new workers.
All of this means that it was never realistic to believe the President when he promised as a candidate to bring jobs back to the United States. In most cases, those jobs are gone and unlikely to come back. Of course, the President will never admit this and his supporters are going to continue to believe his lies about the rebirth American manufacturing.