Trump Pulls The Rug Out From Under Congress On Spending Bill
Hours before the House was set to vote on a temporary funding bill for the government, President Trump has apparently changed his mind.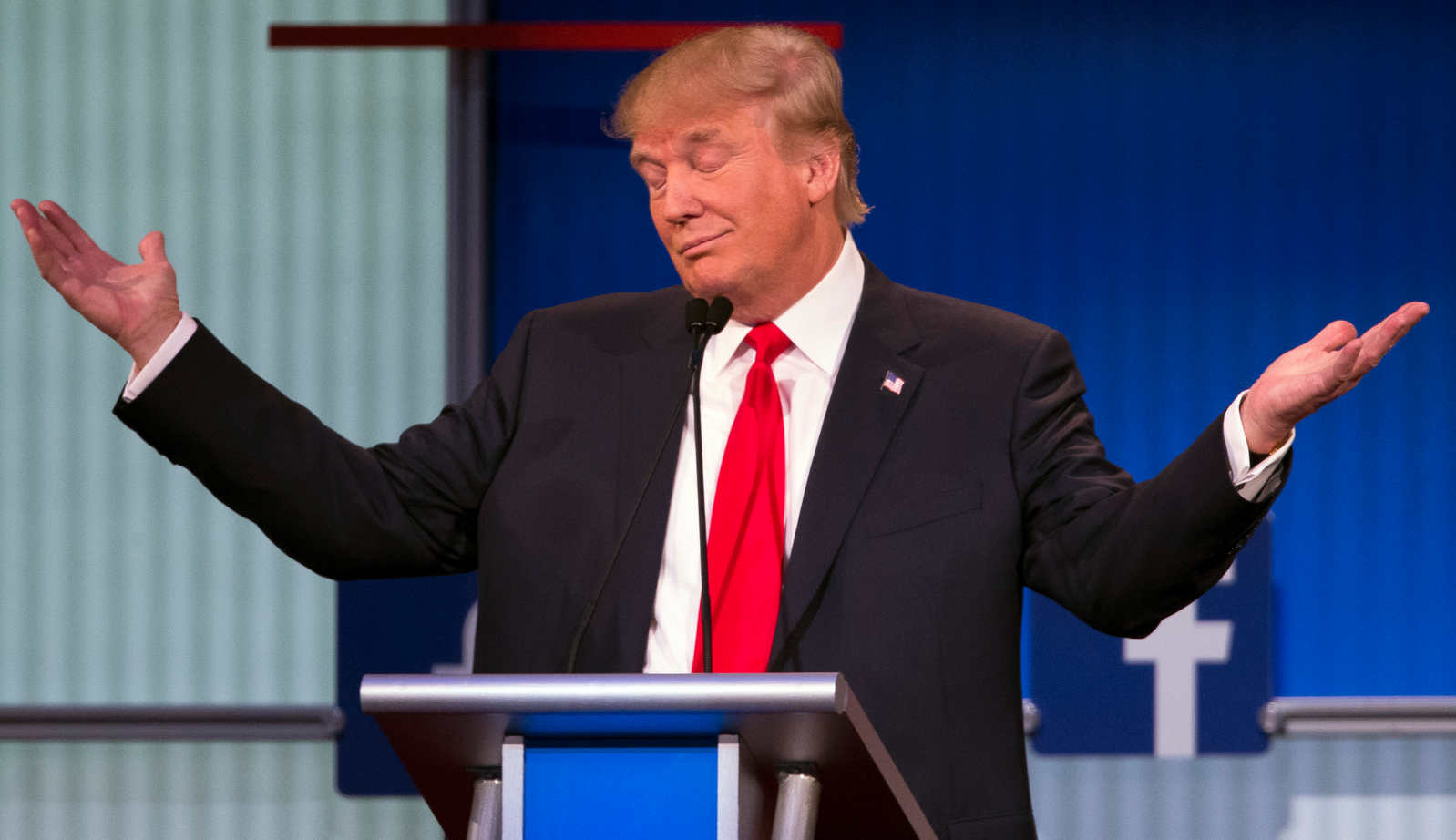 In a seeming about-face, the President now apparently opposes the short-term spending bill passed by the Senate last night and is demanding funding for his border wall:
President Trump will not commit to signing legislation that would avoid a partial government shutdown on Saturday, his press secretary said, further roiling a chaotic debate that is splintering the Republican Party.

"At this moment, the President does not want to go further without border security, which includes steel slats or a wall. The President is continuing to weigh his options," White House press secretary Sarah Sanders said Thursday in a statement.

The tumultuous turn of events has seen Trump reverse himself numerous times in recent days on the issue, first demanding $5 billion from Congress for a wall along the Mexico border, then declaring the military would pay for it, only to insist that the money come from Democrats next year.

As talks appeared to break down Thursday, senior Republicans in Congress even appeared unsure of what Trump actually wanted before he would sign legislation. The breakdown has prompted a hastily arranged meeting between Trump and House Republicans at noon Thursday.

The Senate unanimously passed a spending bill Wednesday night that would fund many federal agencies through February 8, following days of acrimony after Democrats refused to advance any new funding for a wall along the Mexico border.

House Republican leaders had hoped to advance an identical measure on Thursday morning, but they were met with an insurrection from some of their most conservative members and a blizzard of negative coverage from right-wing media outlets. That led Speaker of the House Paul Ryan (R-Wis.) to cancel a press conference and head to the White House for a meeting with Trump over how to proceed.

Last week, Trump told Democrats he would be "proud" to shut down the government if they refused to give him $5 billion for the construction of a wall along the Mexico border. Democrats held firm and prevented such a bill from advancing in Congress, leading GOP leaders to backtrack and instead pursue a short-term spending bill that would avoid a shutdown and delay further debate until February.

Trump appeared to signal he was on board with backing down, writing in a series of Twitter posts Thursday morning that he would continue to press Democrats for wall funding next year and also claiming that he had taken other steps to make the border "tight."

A number of federal agencies, including those that govern homeland security, law enforcement, transportation, and the Treasury Department, are set to run out of money after midnight Friday.

"I think the next few days could get complicated real fast," said Rep. Carlos Curbelo (R-Fla.).

If Congress doesn't appropriate new money by Friday night, much of the operations at these agencies would halt, and thousands of federal workers and contractors around the country would be sent home without pay.
The first sign that things weren't going to go smoothly today came from the President's Twitter feed, where he seemed to be responding to criticism of the short-term spending bill from Fox News Channel and elsewhere:
The Democrats, who know Steel Slats (Wall) are necessary for Border Security, are putting politics over Country. What they are just beginning to realize is that I will not sign any of their legislation, including infrastructure, unless it has perfect Border Security. U.S.A. WINS!

— Donald J. Trump (@realDonaldTrump) December 20, 2018
With so much talk about the Wall, people are losing sight of the great job being done on our Southern Border by Border Patrol, ICE and our great Military. Remember the Caravans? Well, they didn't get through and none are forming or on their way. Border is tight. Fake News silent!

— Donald J. Trump (@realDonaldTrump) December 20, 2018
When I begrudgingly signed the Omnibus Bill, I was promised the Wall and Border Security by leadership. Would be done by end of year (NOW). It didn't happen! We foolishly fight for Border Security for other countries – but not for our beloved U.S.A. Not good!

— Donald J. Trump (@realDonaldTrump) December 20, 2018
As I said this morning, Senate Majority Leader Mitch McConnell would not have gone forward with last night's vote if he didn't have at least some assurance that the President would sign off on it once it got to his desk. Indeed, based on statements from the White House last night and early this morning it seemed as though the President had backed away from his insistence on border wall funding in the Continuing Resolution notwithstanding the position he had taken last week when he said that he would let the government shut down if he didn't get the funding he wanted. That all seemed to change, though within a matter of hours this morning as House Republicans met to discuss the spending bill and how they would proceed today. According to multiple reports, there are large numbers of members, principally from the House Freedom Caucus, who are insisting on a vote on a spending bill that includes border wall funding notwithstanding what happened in the Senate and the fact that such a bill would most likely not pass the Senate if it were asked to vote on such a measure. After that, the meeting was disrupted as Speaker Paul Ryan took a phone call from the President that appeared to signal that he had changed his mind on the border wall issue and that he could not guarantee that he would sign whatever the House passed later today.
All of this throws a monkey wrench into what seemed like it was going to be an easy procedure today. As the day dawned, it seemed as though the House would take the spending bill up, pass it with at least some Democratic support, and move the matter to the President who would sign off on the bill. Now it seems as if nobody knows what will happen. As I write this post, the President is meeting with House Republican leaders and members of the Freedom Caucus at the White House, but it seems as though these talks are rather pointless. Democrats are making clear that they will not support a spending bill that includes border wall funding, and without their support in the Senate, there's no way the bill can be passed at this late hour. In that case, we'll head into tomorrow with no spending bill and less than twenty-four hours to go before a government shutdown heading into a holiday weekend.
Update @ 1:25 p.m.: The meeting at the White House just concluded and the path forward isn't any clearer:
Paul Ryan says Trump "won't sign this bill," referring to a Senate-passed stop-gap spending bill to avoid a shutdown by Friday. Shutdown now appears far more likely. Trump had signaled to Hill earlier he would sign

— Manu Raju (@mkraju) December 20, 2018
BREAKING: Paul Ryan says Trump will not sign the continuing resolution, wants border wall money added. Republicans will amend bill and try to pass it.

— Natalie Andrews (@nataliewsj) December 20, 2018
BREAKING: Speaker Ryan at the White House says Pres Trump has said he will not sign the Senate-passed CR.

— Frank Thorp V (@frankthorp) December 20, 2018
More to come, I'm sure.
Update # 2 @ 8:00 p.m.: The House has passed the Senate CR with an amendment that adds $5 billion for the border wall and additional funds for unspecified "disaster relief":
House passes bill to keep government open with $5B for Trump's wall by a vote of 217-185.

Eight Republicans voted against the bill, which the Senate will reject

— Manu Raju (@mkraju) December 21, 2018
As Raju notes, there is no chance this bill will pass the Senate.