Trump Reportedly Considering Firing Special Counsel Bob Mueller
There are reports that the President is considering firing Special Counsel Bob Mueller. Are we headed for another Saturday Night Massacre?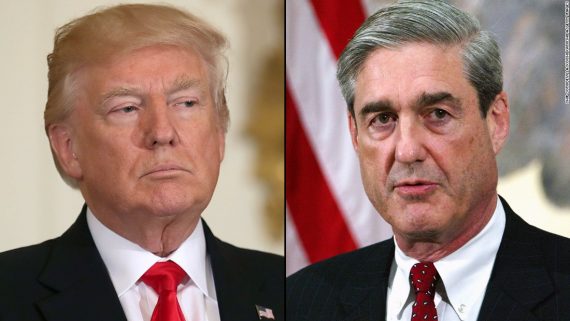 A friend and political ally of President Trump's says that he is considering firing Robert Mueller, the former F.B.I Director who was appointed by Deputy Attorney General Rod Rosenstein to investigate Russian interference in the election and contacts between the Trump campaign and Russian officials:
WASHINGTON — A longtime friend of President Trump said on Monday that Mr. Trump was considering whether to fire Robert S. Mueller III, the special counsel investigating possible ties between the president's campaign and Russian officials.

The startling assertion comes as some of Mr. Trump's conservative allies, who initially praised Mr. Mueller's selection as special counsel, have begun trying to attack his credibility.

The friend, Christopher Ruddy, the chief executive of Newsmax Media, who was at the White House on Monday, said on PBS's "NewsHour" that Mr. Trump was "considering, perhaps, terminating the special counsel."

"I think he's weighing that option," Mr. Ruddy said.

His comments appeared to take the White House by surprise.

"Mr. Ruddy never spoke to the president regarding this issue," Sean Spicer, the White House press secretary, said in a statement hours later. "With respect to this subject, only the president or his attorneys are authorized to comment."

Allies of the president cast doubt on the idea that Mr. Trump would take such a drastic step, and White House officials said Mr. Ruddy had not met directly with the president while he was there.

Firing Mr. Mueller would be a politically explosive move that would raise new questions about Mr. Trump, whose abrupt dismissal of James B. Comey as F.B.I. director generated accusations of obstruction of justice and led to Mr. Mueller's appointment.

Mr. Trump has been known, in moments of frustration and stress, to vent threats of action to members of his inner circle. In the past, some of those private expressions of anger have been made public by friends and associates, only to generate speculation about moves that never take place — including a senior staff shake-up that has yet to happen.

Such moments sometimes reflect the deep division among Mr. Trump's White House advisers about the best course for the president to take in the face of political or legal adversity.

Under Justice Department rules, Mr. Trump would seemingly have to order Deputy Attorney General Rod J. Rosenstein to rescind department regulations protecting a special counsel from being fired for no good reason, and then to fire Mr. Mueller. If Mr. Rosenstein refused, Mr. Trump could fire him, too — a series of events that would recall the "Saturday Night Massacre" during Watergate, when President Richard M. Nixon sought to dismiss a special prosecutor, Archibald Cox.

White House officials referred questions to Mr. Trump's personal lawyer, Marc E. Kasowitz, as they have recently on all matters relating to the Russia investigation. A spokesman for Mr. Kasowitz declined to comment.

The former House speaker Newt Gingrich, a longtime supporter of Mr. Trump's, said in a tweet on Monday that it was time to "rethink" Mr. Mueller's ability to be fair.

"Republicans are delusional if they think the special counsel is going to be fair," Mr. Gingrich tweeted after praising Mr. Mueller's integrity in recent weeks. Apparently referring to Federal Election Commission reports, he added: "Look who he is hiring. check fec reports. Time to rethink."

The idea that the investigation is illegitimate and politically motivated has been gaining currency on the political right for months. Conservative writers, radio hosts and cable personalities — emboldened by the president himself, who has called it a witch hunt — have repeatedly sought to discredit the inquiry, its investigators, the mainstream news accounts of it, and the lawmakers on Capitol Hill who are demanding more answers.

Initially, Mr. Comey was the subject of much of their derision. Now they have moved on to Mr. Mueller, whom they are attacking as too compromised and conflicted to lead an independent inquiry.

In the PBS interview, Mr. Ruddy said Mr. Trump had considered replacing Mr. Comey with Mr. Mueller, who served as F.B.I. director during the George W. Bush and Obama administrations. A senior White House official confirmed that the president had interviewed Mr. Mueller for the F.B.I. post in the Oval Office the day before Mr. Rosenstein tapped him to be the special counsel in the Russia investigation.

Mr. Ruddy said the president was weighing whether to dismiss Mr. Mueller because of concerns about conflicts of interest. He said those concerns included the interview for the F.B.I. post and connections between Mr. Mueller's law firm and White House officials.

"There are some real conflicts. He comes from a law firm that represents members of the Trump family," Mr. Ruddy said. "I know for a fact that he was under consideration and that the president did talk with him in the days before he was named special counsel. I think there's a conflict there."

He also said that he believed it would be "a very significant mistake" for Mr. Trump to fire Mr. Mueller, but emphasized that he was concerned about what he described as conflicts.

The criticism of Mr. Mueller has intensified in recent days, spreading from Trump surrogates like Mr. Gingrich to powerful media personalities like Rush Limbaugh. On his radio program last week, Mr. Limbaugh endorsed the suggestion that Mr. Trump fire Mr. Mueller.

Mark Levin, another prominent radio host, has also called for Mr. Mueller's firing. "Mueller must step aside," he wrote on Facebook over the weekend.

Much of the criticism has focused on whether Mr. Mueller is too close to Mr. Comey. The two became friends after working closely together during the Bush administration.
Politco's Playbook notes that the idea has apparently been on the table inside the White House:
"The reality is that Trump has sounded out associates about his concerns over Mueller — and no one knows what he might do. Trump would be making a big mistake if he tried to fire Mueller, and they don't believe he will, aides said. He has been warned against it 'by almost everyone,' one adviser said. But he is often governed by self-preservation. He hates losing control of situations. He often lashes out when he feels someone could damage him. Plus, surrogates have begun telling him what trouble Mueller could pose. He met several times with New Jersey Gov. Chris Christie at Bedminster over the weekend.

"So, yes, it seems unlikely Trump will try to fire Mueller. But then again, no one expected him to fire James Comey."
As noted, the White House is denying that Trump met with Ruddy yesterday, but it isn't denying that he is considering the idea of firing the special counsel appointed to investigate the election in general and his campaign specifically. However, it isn't denying that the President is considering firing Mueller. Instead, they are referring questions regarding the investigation to Trump's outside counsel, who apparently has not commented on the claims by Ruddy as of this morning. Given that, we should probably take Ruddy's report with a grain of salt. At the same time, though, this is the same President who fired the Director of the F.B.I. seemingly out of the blue just a month ago and who said that the decision to appoint Mueller in the first place 'hurts the country', so I suppose anything is possible.
Jack Goldsmith at Lawfare has an excellent post up examining the legal and political issues behind this report that is too detailed to fairly excerpt but still highly recommended for anyone interested. Jonathan Adler has a similar take on the issue at The Volokh Conspiracy. Meanwhile, CNN's Chris Cillizza speculates that Ruddy's decision to disclose this, assuming that it's true, was to send a message to Trump that it would be a mistake to take this step:
My (educated) guess is that during his visit to the White House on Monday, Ruddy heard that Trump was considering firing Mueller. Ruddy thought, rightly, that doing so would be an absolutely terrible political move. Rather than calling the President to tell him that, Ruddy took to a medium where he knew Trump would listen: TV.

We know from the 2016 campaign that Trump's advisers and friends would use cable television appearances to send messages to Trump that he was simply not hearing in private conversations. For Trump, seeing things on TV somehow validated them, gave them an added level of importance that one-on-one communications lacked.

Yes, this is strange, unorthodox and unlike any past president. But, so is almost everything Trump has said and done since he became a candidate for president almost exactly two years ago today.

Those who successfully influence Trump meet him on his terms, not their own. That's what Ruddy is doing here. Telling Trump his opinions through the TV filter. Because he knows that's the only way to ensure Trump will hear it.
Under the law, Trump can't fire Mueller directly since he was appointed pursuant to Justice Department regulations that cannot easily be changed without the cooperation of Attorney General Sessions and Deputy Attorney General Rod Rosenstein. In that regard, Rosenstein told Congress that he could not foresee any circumstances where he would be able to comply with an order to fire Mueller, something he repeated in testimony this morning. since he is now the senior Department of Justice official regarding the Russia investigation thanks to Sessions decided to recuse himself from the Russia investigation. In that case, of course, Trump could fire Rosenstein for refusing to fire Mueller and proceed to go through the list of senior Justice Department personnel until he found someone willing to comply with his order. Of course, we've seen that happen before.
As for the whole idea of firing Mueller, it strikes me that this would be an even bigger mistake on Trump's part than his decision to fire Comey turns out to have been. While the comparisons between that decision and President Nixon's infamous Saturday Night Massacre may have been slightly exaggerated in this case they would be completely spot-on. Once again, we would have a President seeking to remove an independent prosecutor that is investigating his own Administration and the only logical conclusion that one can reach in such a situation is that they are doing so in an effort to impede that investigation. Rather than succeeding in stopping or slowing down the investigation, though, it's likely that a decision by Trump to fire Mueller would likely have the same impact that Nixon's order to fire Cox did. Such a decision would also tend to guarantee that the investigation would not only continue, but that it would be ramped up, and that the White House would be even more under siege than it is today.
Rationally speaking, then, it's clear that firing Mueller would be a tremendous political error on Trump's part. However, we've seen Donald Trump make entirely illogical decisions in the past so I suppose anything is possible. If it does happen, though, you can count on the fact that it would turn the Russia investigation into something even bigger than it already is today.
In the meantime, if you're on Twitter, I've put up a poll on the issue:
Would Trump really try to fire Special Counsel Bob Mueller? (Vote)

— Doug Mataconis (@dmataconis) June 13, 2017
Meanwhile, I guess we'll have to wait and see what Trump does.